10 ideas (not just for first courses)
Tasty, always fresh and suitable for any moment, recipes with pesto are our favorites! Here are the top 10.
Recipes with pesto are a real joker in the kitchen: everyone loves them, there are few who turn up their noses. Behind this sauce there is an ancient tradition and its genuine and simple ingredients such as pine nuts and basil make it a treasure of our tradition. Pesto is a condiment that makes every dish unique and is known and loved all over the world.
very versatile, suited first and second courses, pesto is also easy to freeze and use at a later date, with little notice. In Italian cuisine it is used for first courses as a sauce, to marinate second courses, give more flavor in soups and soups, but also as a "strong" ingredient in some vegetarian recipes.
How is pesto made? History and ingredients
Liguria has a great tradition linked to the use of aromatic herbs, which has its roots in the Middle Ages. Herbs were used in banquets of the rich, or by the poor to flavor soups that are not very "lively". It seems that this ancient custom has given rise to pesto, a condiment created cold with the basil, plant that grew almost everywhere. Pine nuts, which can be picked from the ground, were also one of the resources accessible to the poor.
Usually made with pine nuts, basil, parmesan and oil, pesto sometimes sees the addition of garlic. The basil must be fresh and very aromatic, better if coming from the splendid Liguria. The presence of pine nuts is unmistakable and precious, which give recipes with pesto a unique and special texture.
Obviously, there may be many variants of pesto, such as that of rocket, that of asparagus, or the one made with almonds.
Our recipes with pesto
Versatile, delicious, children like it too, but if you are fed up of the "usual" pasta with pesto, here are ten recipes with pesto chosen for you. Second courses, bread, focaccia… there really is something for all tastes: let's get started!
1. Veal with pesto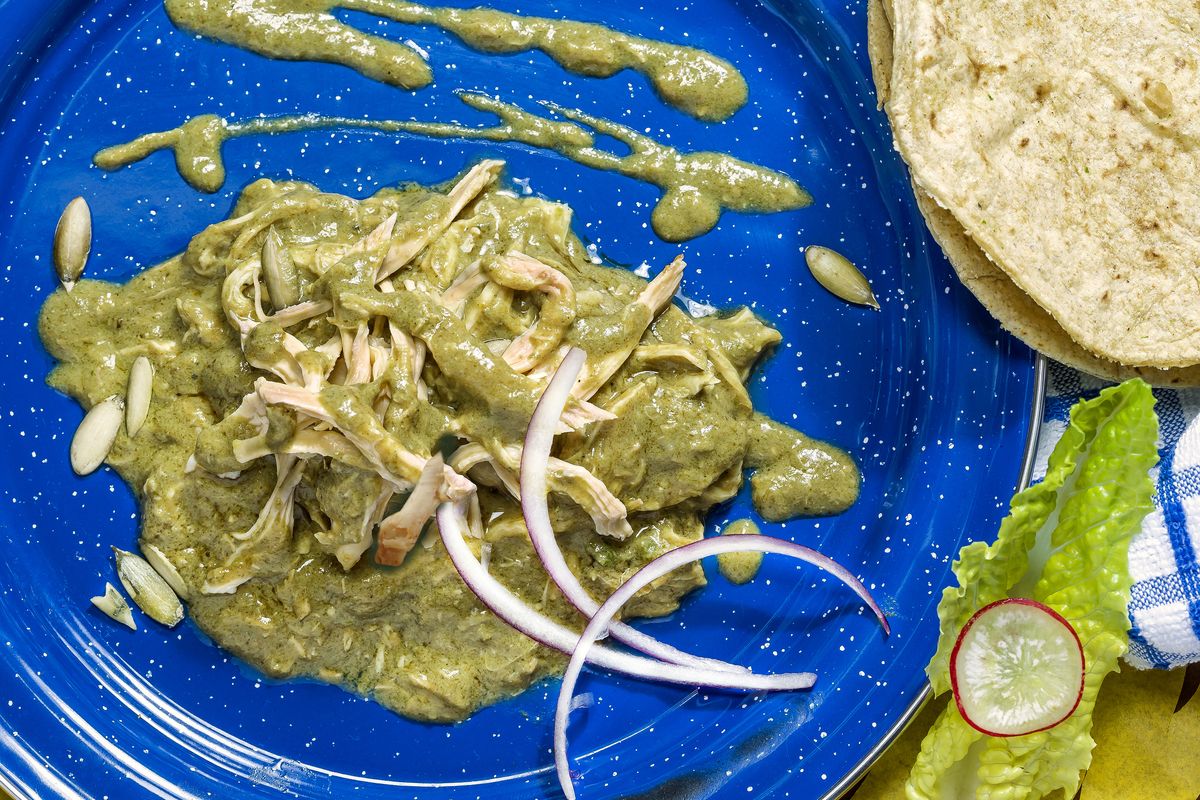 Among the many possible recipes with pesto, we like this second one: let's talk about slices of veal in pesto cream. This dish is ready in the blink of an eye, it's good, delicious and suitable for any occasion!
Our version of pesto distances itself a bit from that traditional Ligurian, but it has one advantage: it can be prepared in seconds. Don't you even have this time available? No problem: buy a package of ready-made pesto directly from the supermarket, your veal with pesto will still be sensational!
The ingredients needed for this pesto recipe are:
600 g of veal slices
Half a clove of garlic
10 basil leaves
50 g of pine nuts
50 g of grated pecorino
6 tablespoon of EVO oil
4 spoons of white wine
Sale q.b.
Pepe q.b.
2. Gnocchi with pesto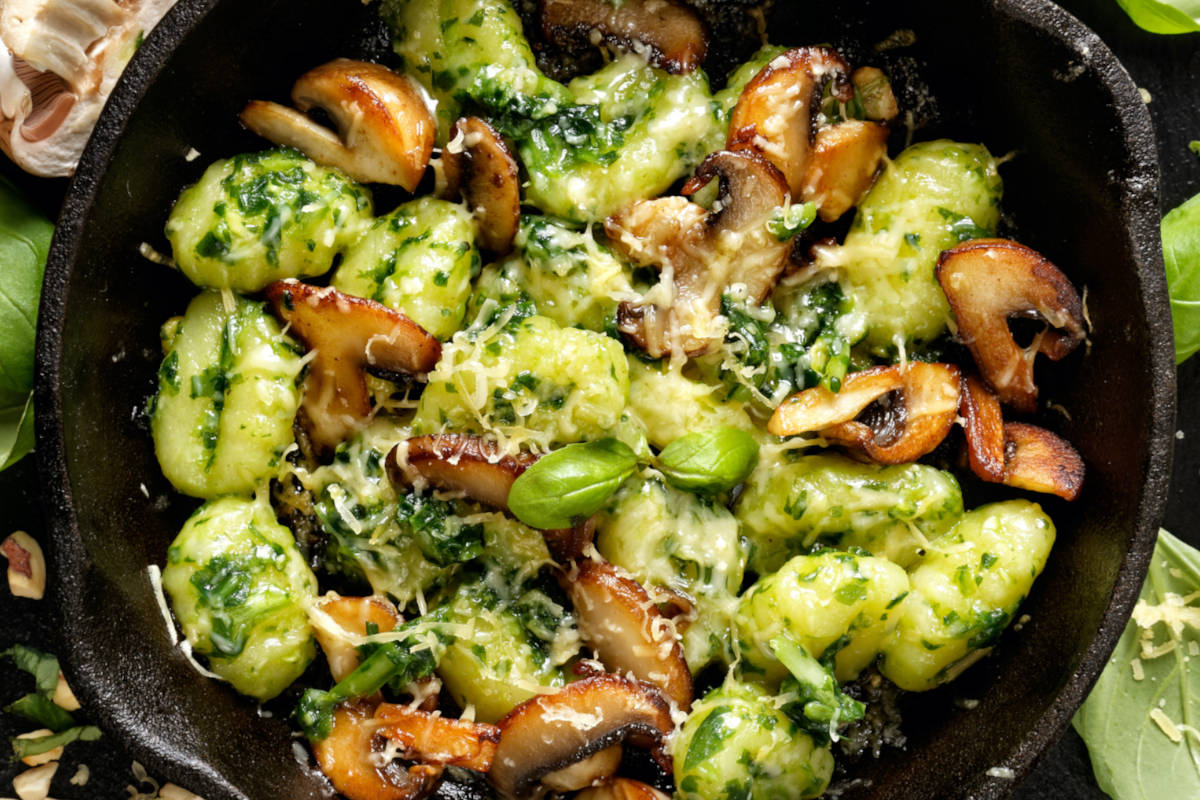 The recipes with pesto find one in gnocchi unique flavor dimension. In fact, today we offer you gnocchi al pesto with mushrooms, a tasty and unusual first course at the same time: it is rare, in fact, to see pesto and mushrooms declined in the same dish. We are sure, however, that this dish will win you over.
We use ready-made gnocchi for a matter of timing, but if you can make them at home: there is no comparison. The rest of the preparation is very simple: make the pesto by placing all the ingredients in the mixer and cook in a pan. Now combine the three main elements of the dish and the game is done! Here's what you'll need:
500 g of ready-made potato gnocchi
100 g of basil pesto
500 g of champignon mushrooms
50 g of grated Grana Padano
1 bunch of parsley
1 clove of garlic
extra virgin olive oil to taste
sale q.b.
pepe q.b.
3. Pesto lasagna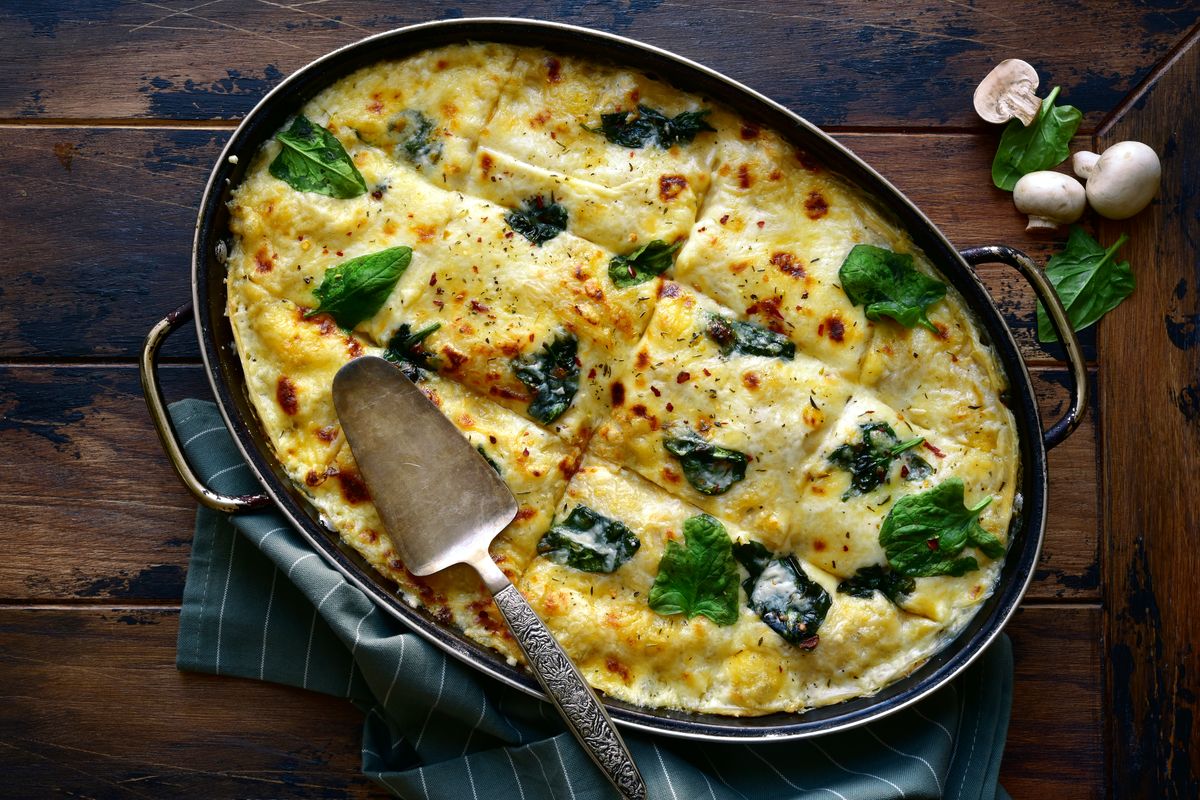 When we talk about recipes with pesto, those with pasta immediately come to mind. We offer you lasagna with pesto, one timeless recipe that speaks of home and simple and genuine flavors.
We make lasagna with pesto with béchamel, thus creating a combination of succulent colors and flavors, which will also be appreciated by the little ones. Here are the ingredients we used to prepare this first course with pesto:
500 g of lasagna
300 ml of béchamel + to taste
250 g of pesto
200 g of Parmesan
sale q.b.
pepe q.b.
burro q.b.
4. Aubergine rolls with basil pesto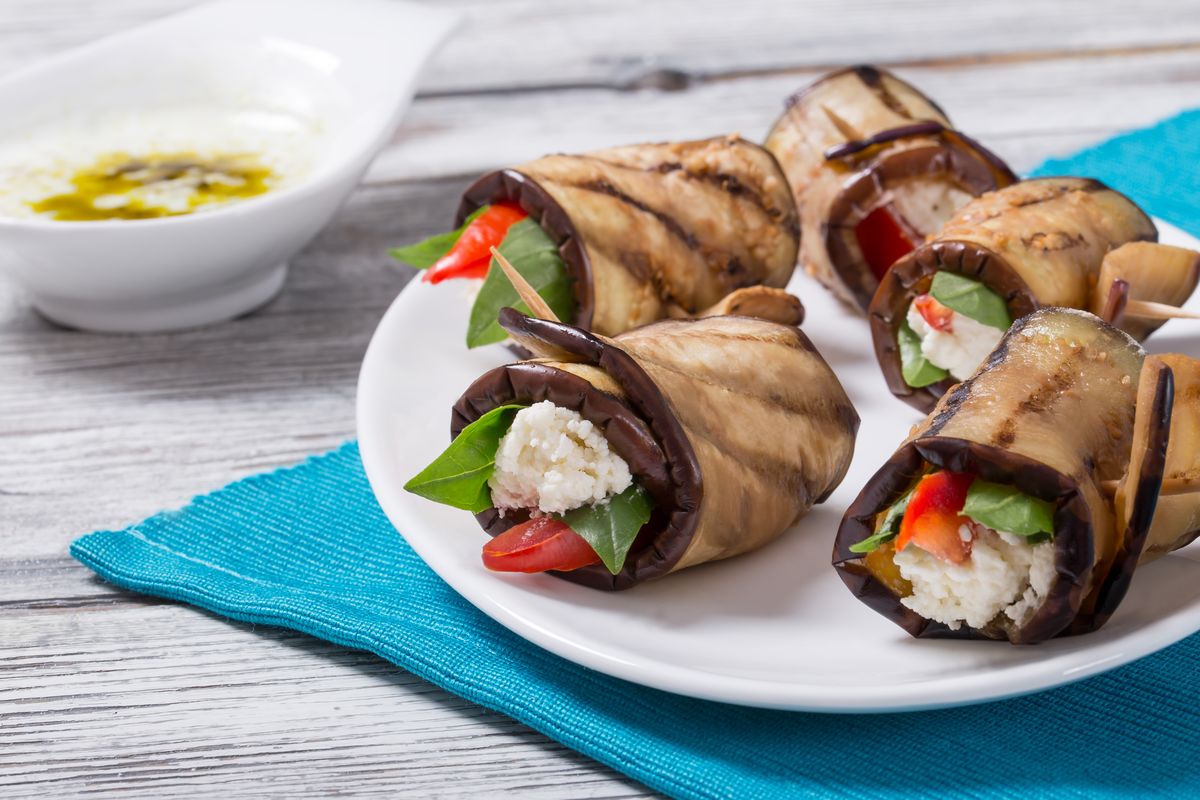 Eggplant rolls with pesto are a delicious and fresh idea that even kids will love vegetarians: they can be served both as an appetizer and as a main course.
They are at their best when freshly made, so it is advisable to consume them immediately the preparation. To make this easy recipe, the ingredients are:
1 eggplant
75 g of cottage cheese
30 basil leaves
20 rocket leaves
1 pomodoro
1/2 cup of pine nuts
1 small glass of extra virgin olive oil
1 clove of garlic
grated Parmesan cheese
sale grosso q.b.
black pepper
5. Cherry tomatoes and pesto salad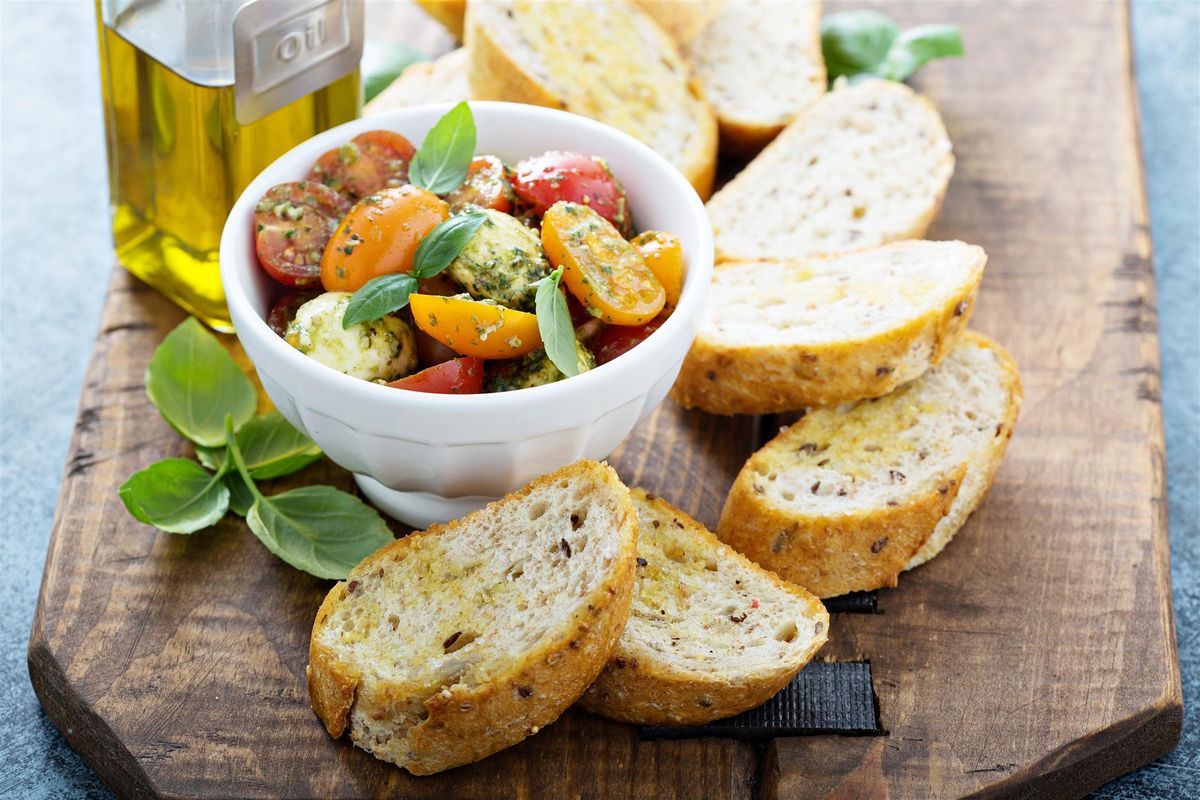 We will not deal only first and second courses but also side dishes with pesto such as salad with pesto and cherry tomatoes. This is a dish that is ready in just a few minutes: all the ingredients must be inserted cold and you don't even have to touch the stove!
It's perfect especially in the summer, when the tomatoes are at their best and cold dishes are ideal, but of course, us We recommend it all year round. Here are the ingredients needed to make this pesto salad:
1 bunch of rocket
300 g of small mozzarella
200 g of cherry tomatoes
1 bunch of basil
40 g of Parmesan cheese
15 g of pine nuts
1 clove of garlic
100ml of olive oil
sale q.b.
6. Focaccia with pesto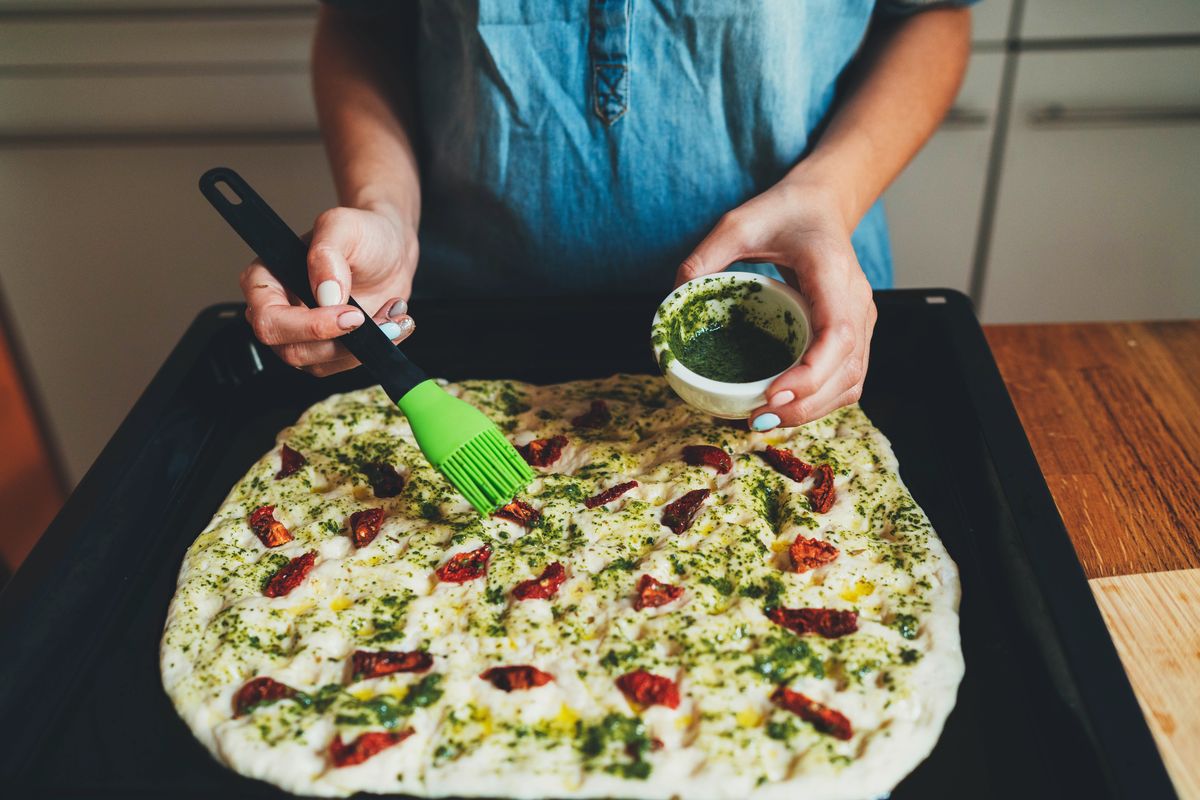 Liguria has not only given us pesto, but also the focaccia! Can you then think of a more apt combination of focaccia with pesto to celebrate this region of Italy?
In our recipe, basil sauce is used both in the dough that on the surface to flavor and the whole is completed by cherry tomatoes. As with all leavened products, however, you will have to wait for the dough to rest. Ready to start? Here are the necessary ingredients:
600 g of flour
300 g of water
1 pinch of sugar
10 g of fine salt
20 g of olive oil
15 g of fresh brewer's yeast
100 g of Genoese pesto
cherry tomatoes to taste
basil leaves to taste
7. Turbot rolls with pesto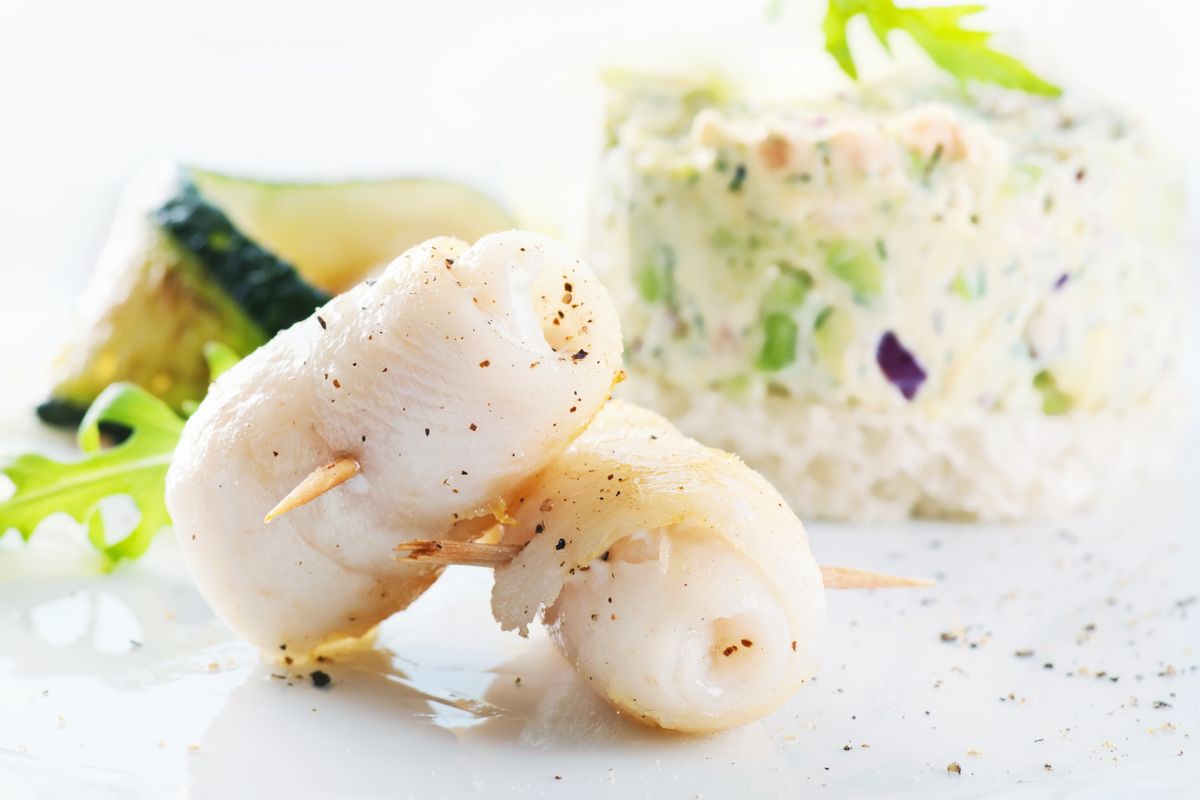 The fish rolls with pesto are tasty and delicious. In addition to the turbot, we have chosen some Genoese sauce and lard, which will wrap everything for a result with a truly enveloping and incomparable!
We advise you to start with already cleaned fillets to save some time; you don't have to do anything but flavor them with the pesto, roll up and wrap in lard. After baking in the oven they are ready to be enjoyed! Here's what you need:
8 turbot fillets
8 thin slices of Colonnata lard
Genoese pesto to taste
extra virgin olive oil to taste
sale q.b.
pepe q.b.
8. Chicken pesto and cherry tomatoes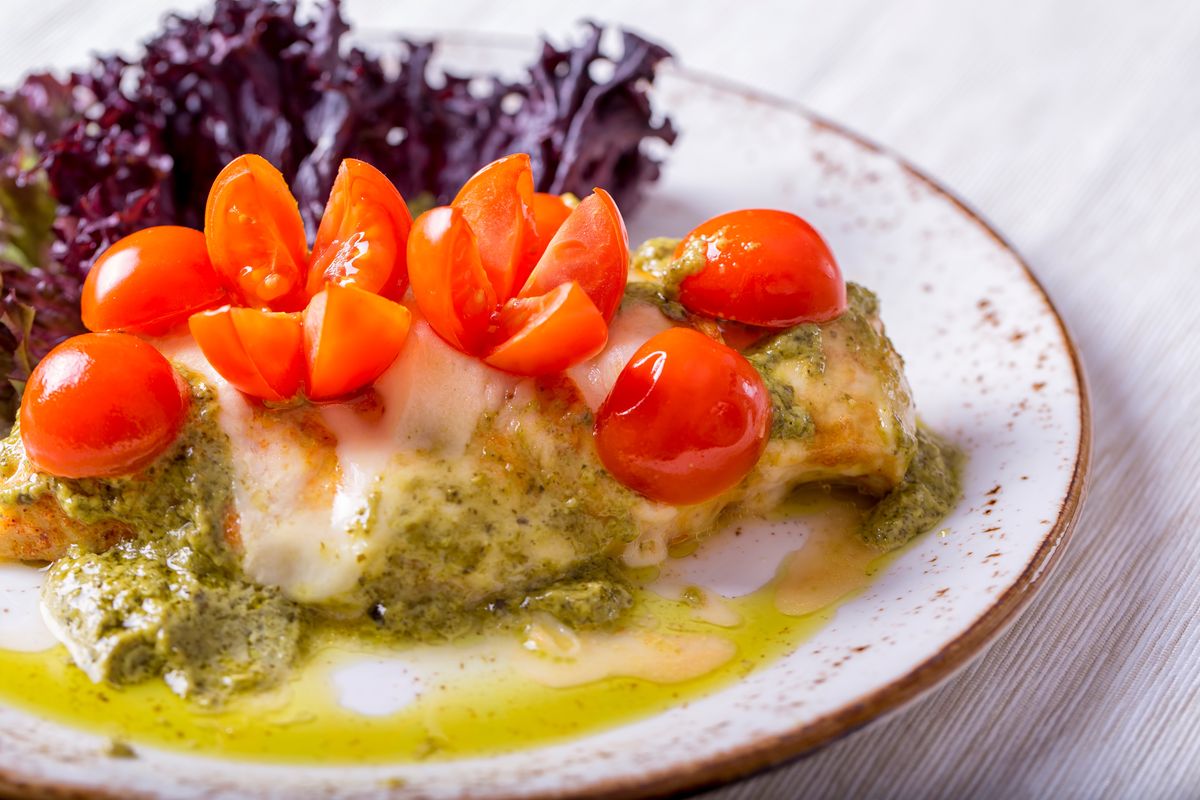 A second course or a single dish? Pesto chicken with cherry tomatoes really fits all your needs at the table. You can decide if cut the chicken into small pieces or leave the breasts whole, and after cooking it in a pan you will only have to season it with pesto and cherry tomatoes: easier than that…
We offer you a classic basil pesto but even the spinach one (always made in the same way) goes very well. Here is what you need:
600 g of chicken breasts
250 g of pesto
fresh cherry tomatoes to taste
sale q.b.
9. Baked sea bream with pesto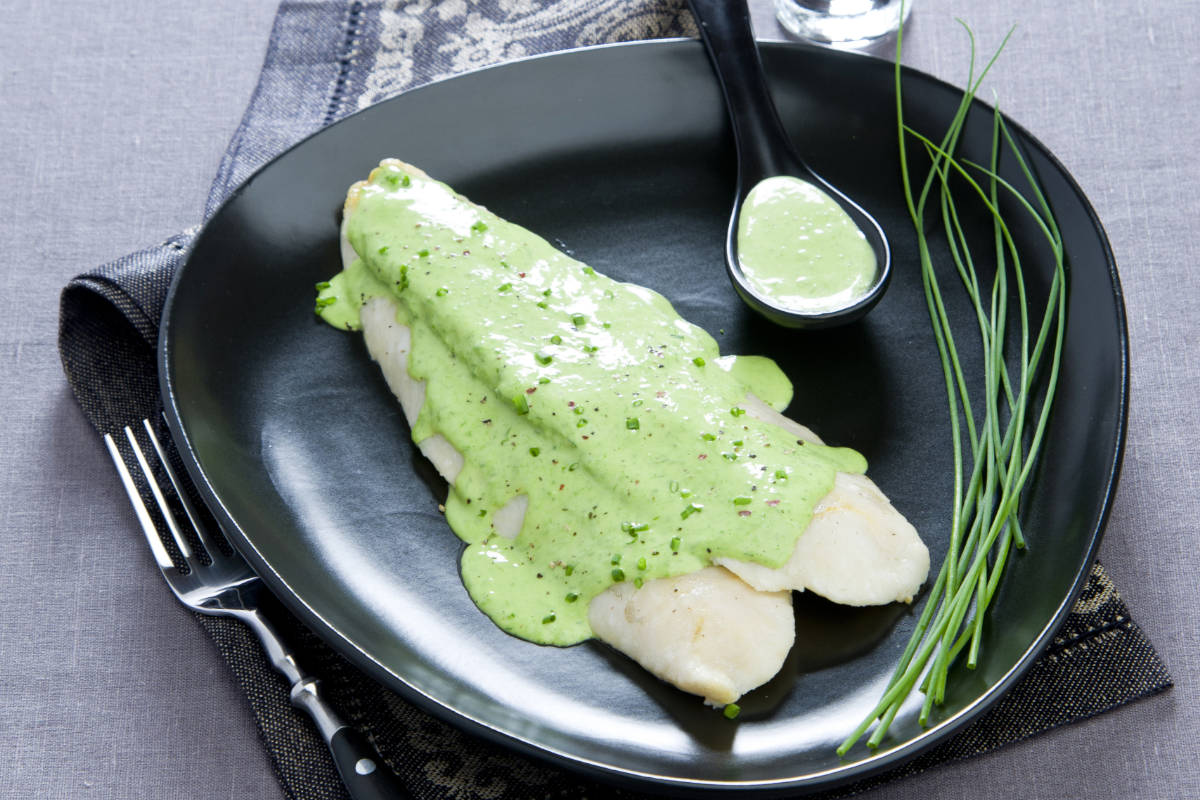 Looking for other recipes with fish and pesto? Then linger over our baked sea bream with pesto. We added zucchini and baked potatoes for a more complete and interesting dish.
For the preparation you will have to cook the fish in the oven for about 20 minutes and in the meantime you can dedicate yourself to the preparation of the green basil sauce by blending all the ingredients in a mixer. Then get the fillets and served with generous pesto. For this fish recipe, get:
1 kg of fresh sea bream
2 medium zucchini
45 basil leaves
1 clove of garlic
sale q.b.
extra virgin olive oil to taste
pinoli q.b.
2 tablespoons of grated Parmesan cheese
2 potatoes
10. Pesto savory plumcake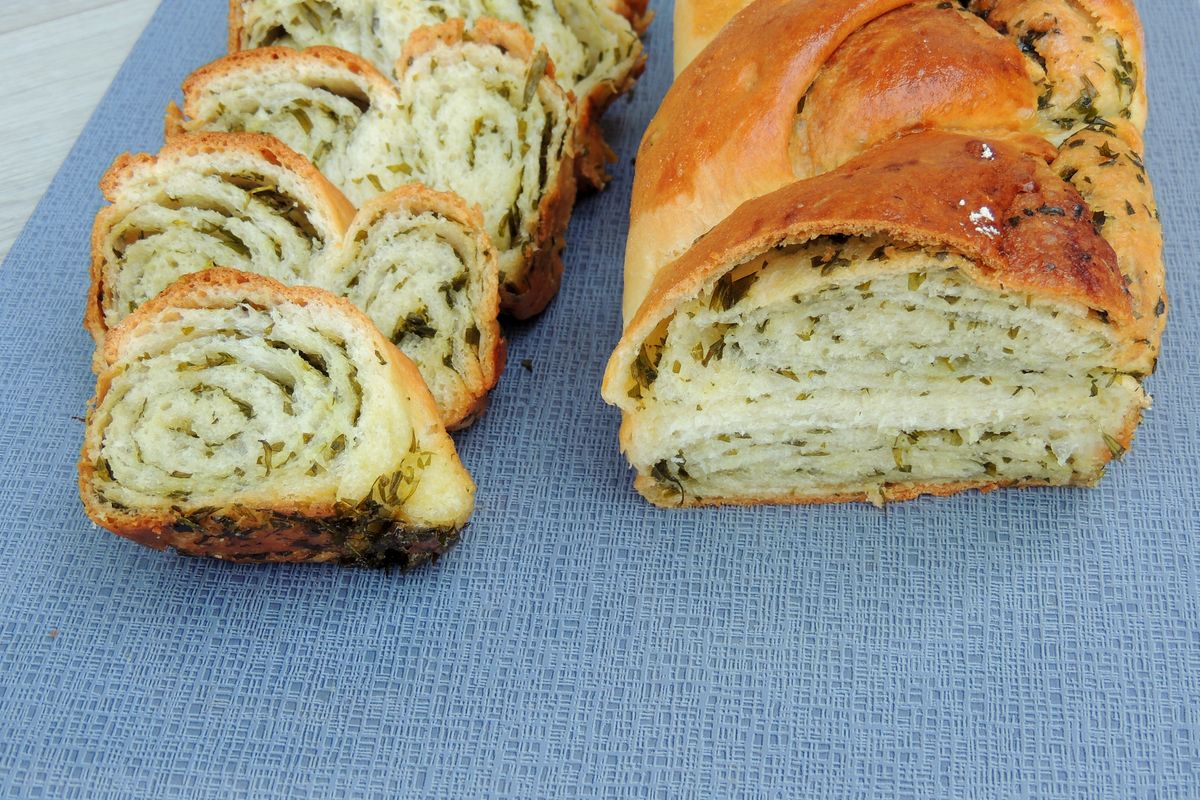 We conclude our recipes with pesto with this one braid of plumcake, a sort of braided and seasoned leavened product.
The hardest part will be wait for the rising times and, if you're not very practical, you can skip the plot part. For the rest, your leavened pesto plumcake is easy and delicious. Here are the ingredients needed for this recipe:
125 g of 00 flour
125 g of manitoba flour
1/2 sachet of dry brewer's yeast
30 g of plain yogurt
30 g of milk
60 g of water
1 teaspoon of sugar
1/2 teaspoon salt
2 tablespoons of sunflower oil
3 tablespoons of Genoese pesto
grated parmesan to taste
Sign up for the Primo Chef newsletter to find out about new recipes, advice and news. Before anyone else.

Reserved reproduction © 2023 – PC

#ideas #courses