10 vegan recipes for Valentine's Day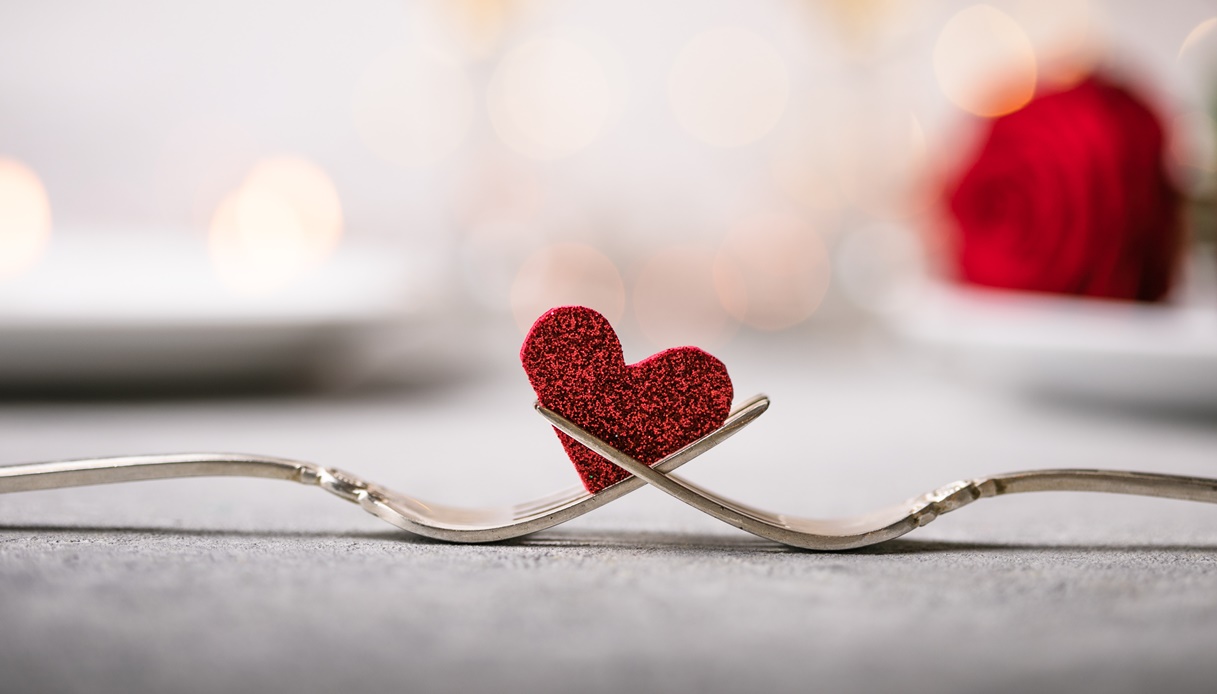 Are you going to prepare one vegan romantic dinner for an unforgettable Valentine's Day? Know that it will not be enough to prepare a salad because the Vegan Valentine's Day Dinner it will have to be taken care of from appetizer to dessert. The first tip for the realization of the the menu at San Valentino is vegan is to choose a raw material of excellence and if possible seasonal. In fact, with seasonal fruit and vegetables, the flavors of your vegan dishes will be more intense and overwhelming. Think about yours vegan menu at San Valentino starting from these very simple rules:
it should not be too abundant;
try to maintain consistency in the succession of courses;
limit the use of garlic and onion;
dedicate some time to plating;
if you are not familiar with wine, opt for bubbles which are perfect for a romantic evening and go well with everything;
dessert cannot be missing.
If you follow these tricks, your vegan Valentine's dinner will be a success. Here are 10 vegan recipes to inspire you for your Valentine's menu.
Valentine's vegan appetizers
Start this dinner with gusto it is important, the two appetizers of this menu can be served together in small bowls and forks. Don't overdo the doses, you have a whole dinner ahead. The keyword of these two proposals is crunchiness!
Roasted potatoes with aromatic herbs
It is a very traditional dish and for this considered simple. But as with all easy recipes there are pitfalls. To obtain crunchy baked potatoes, you can leave them with the peel (washing them very well first) or you can blanch the potato wedges in boiling water for a few minutes, drain them, dry them very well and cook them in the oven. Accompany them with a sinuous Vegan mayonnaise which is prepared in a few minutes and you will make a great impression.
Pumpkin Chips
Another way to start with taste veggie valentine dinnerit's pumpkin chips. Crispy, colorful and spicy, these chips are perfect as a light appetizer or for an aperitif served with a good glass drink not too alcoholic.
Vegan starters for Valentine's Day
For many, the first course is the most important of a dinner. Remember to cook the pasta al dente and not to skimp on the use of extra virgin olive oil to cream the pasta so that it is creamy at the right point. As for the soup, the following is just a proposal, nothing prevents you from replacing the purple potatoes with traditional potatoes or with other vegetables such as cauliflower, pumpkin or celeriac.
Paccheri with yellow datterini tomatoes and capers
Simplicity is often a real luxury. In fact, there is nothing more elegant than this vegan-based first course paccheri with yellow cherry tomatoes and capers. To add a glamorous touch to this dish, you can enrich it with colorful sprouts which will not change the flavor but will make the dish really chic.
Malloreddus with vegetable ragu
Light and tasty, i malloreddus with vegetable ragu they are perfect for this important dinner. Remember not to overcook the vegetables which should remain crunchy. Herbs are important, but don't forget to add a sprinkling of pepper to give a note of character to the dish.
Purple potato purée
Warm, refined and elegant, the cream of purple potatoes it is also very beautiful to look at. Garnish it with crumble of crackers vegania few thyme leaves and even a few edible flower.
Vegan second courses for Valentine's Day
The second vegan dishes proposed for this romantic menu so special they are certainly not side dishes, but real courses. At this point in the dinner you should already be almost full, but if you're a foodie, don't overdo it with side dishes and sauces: a nice fresh salad will be enough, perhaps enriched with pomegranate seeds, orange wedges and mixed seeds.
Aubergines in gremolada
This is a vegan inspired recipe Milanese cuisine. The aubergines in gremolada they are perfect warm, but also at room temperature and this plays in your favor because you can prepare them in advance and dedicate yourself to the other courses.
Roasted endive with vinaigrette
The sour and slightly bitter taste of this recipe will win you over from the first bite. L'roasted endive with vinaigrette can be enriched with one dried fruit grains before the service.
Radicchio rolls
With a captivating color and an intense taste, the radicchio rolls they are perfect as the last savory course of the Valentine's menu. You can stuff them as per the recipe, but also with tofu or mashed potatoes and rosemary.
Vegan Valentine's Day desserts
IS Valentine's dessert is the main course on the menu, always try to present it in single portions, which are much more suited to the occasion. The advice is to don't overdo the sugar, this rule applies to all desserts. This is because it shouldn't be cloying but it should make you want to finish it.
Vegan tiramisu
If you are a lover of traditional recipeshere is the vegan tiramisu it is the worthy way to close the Valentine's dinner. Prepare it in advance and store it in the refrigerator so that it arrives fresh and compact dessert moment. If you want to add style to your tiramisu, all you have to do is prepare it in small single-portion cups and enrich it with dark chocolate chips.
Vegan chocolate mousse
There is something more sinuous than vegan chocolate mousse to sweetly end this romantic dinner? The answer is no. You can also put edible flowers here, but also some small red fruit to decorate.

#vegan #recipes #Valentines #Day