20 Chic Christmas Appetizers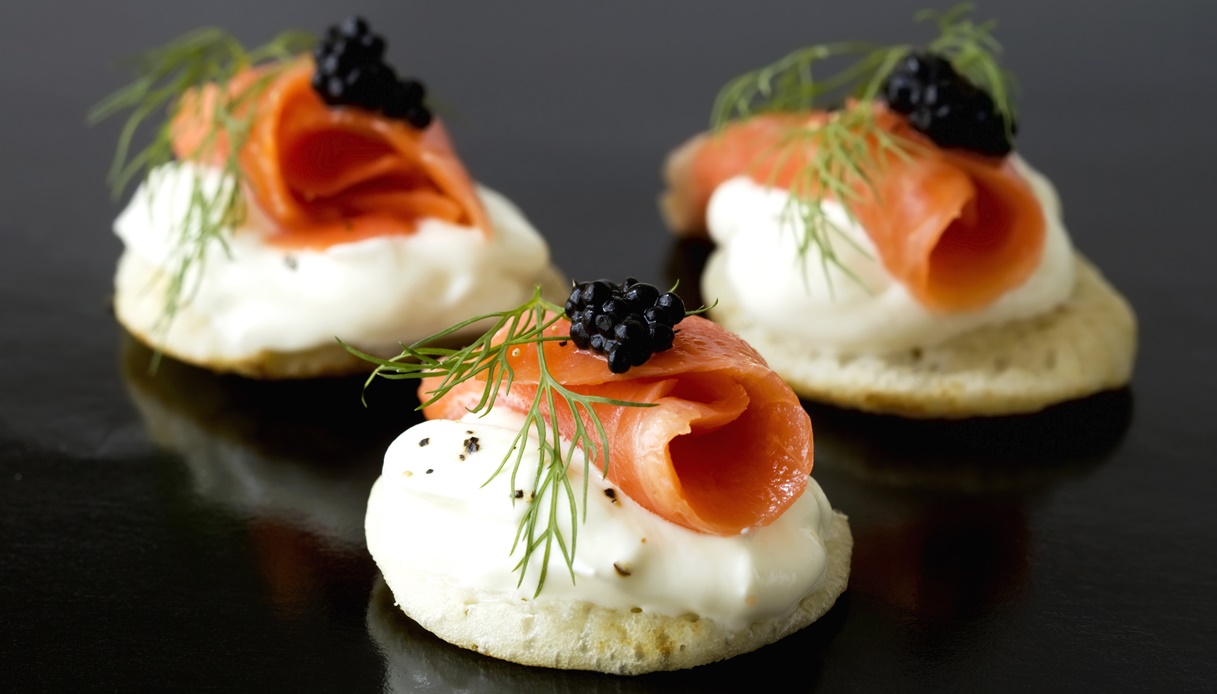 As soon as December begins, with the arrival of the first winter colds, an insistent thought also arrives: what are the chic Christmas appetizers to put on the table during the holidays? As well as Christmas first and second courses are less important, but it is the appetizers that capture the attention. Because? The reasons are not yet clear, but probably the fact that among the great traditional recipes that can never miss, it is precisely with the Christmas appetizers that you can bring something new to the table.
You can opt for the great classics familiar, like gourmet panettone, Russian salad and canapés with various mousseor try to serve the chic Christmas appetizers. Chic Christmas appetizers include all those ingredients that are indulged in from time to time (either for their high cost, or for their particular tastes) such as for example wild salmon, oysters and caviar. Before we get started on chic holiday appetizer recipes, it's good to recognize these special ingredients to avoid disappointment.
What is caviar
Don't confuse it with the uova in lompo or with the salmon roewhen we talk about caviar we mean le sturgeon eggs. It's about small and precious black pearls which give each dish a unique and special taste. If at Christmas you want to impress with simplicity and sophisticationcaviar will help you for sure. Why does caviar cost so much? This is the question many people ask and the answer is simple. Since it is fish roe, it is one very small amount of product for each specimen. It is also very complex take out the egg sac without breaking it and then boxing these very delicate little beads. It is a job that must be done strictly by hand which also requires a relatively long time.
Which oysters to choose
Still on the trend of chic appetizers for Christmas lunches and dinners are the oysters. Precious, fresh and very fragrant, you can choose them according to your tastes. There are more or less savory oysters, more or less crunchy and more or less… expensive. Your trusted fishmonger will certainly be able to direct you towards the best choice, but keep in mind that very expensive oysters are more suitable for raw consumption, in order to be able to savor all their characteristics. The finest oyster it seems to be the one named Balloonsthe most valuable of the Eat oysters and you will recognize it by the flat and rounded shape of the shell.
How to recognize wild salmon
Greek culture, but also Roman culture, has taught us that the smoked salmon it was a dish to be served during great celebrations. The technique of preserving this fish which involves smoking is therefore very ancient. Smoked salmon is always present among Christmas appetizers, but choose it wild means giving a truly chic touch to special occasions. Wild salmon has a darker meat, leaning more towards the bright orange than the pink we see in farmed salmon. Its flavor is intense and its meat is very firm.
20 Chic Christmas Appetizer Recipes
Christmas appetizers with caviar
Caviar Quiche: perfect to start Christmas Eve dinner or Christmas lunch. You can serve it warm or at room temperature and is therefore ideal for preparing in advance.
Caviar Butter: ideal to serve in the bread plate of each diner, everyone can season their own bread or the vegetables of the pinzimonio. A very chic touch!
Tuna tartare with caviar: choose a very fresh tuna and cut it along the lines of the meat in order to obtain a very soft tartare.
Caviar and salmon canapes: inevitable, simple but of great effect. As a base, use a spreadable cheese enriched with lemon juice, the acidity will bring out the flavor of the caviar.
Boiled eggs with caviar and rocket: to obtain the perfect hard-boiled eggs for this recipe, immerse them in cold water and calculate 8 minutes from the moment they boil.
Caviar with potatoes and sour cream: this is the most classic way to consume caviar. For a more elegant plating, choose small potatoes.
Christmas appetizers with oysters
Marinated oysters: the longer the marinade is, the more the seafood will tend to "cook", nothing wrong, just consider this according to your tastes.
Natural oysters: it is the best way to consume oysters. Opening them may seem difficult at first, but equip yourself with the special knife and use a kitchen cloth to avoid hurting yourself.
Oyster croutons: the contrast between crunchy bread and the softness of the oysters will delight even the most demanding palates.
Oysters au gratin with mushrooms: this combination will amaze you. The marine and mountain scents together are a real riot of flavours.
Oysters with Mango Salsa: the freshness and sweetness of the mango enhance the savory flavor of the oyster for a truly unusual appetizer.
Carpaccio of oysters and Champagne: it is a truly refined carpaccio, especially if served with a glass of Champagne.
Warm oysters in saffron sauce: this is not a simple appetizer, but a bite of pure pleasure. The saffron sauce will make the oyster even more fragrant and tasty.
Christmas appetizers with wild salmon
Salmon canapes with mascarpone: give a touch of crunchiness with chives or with a grain of dried fruit.
Salmon stick: a great Christmas classic but in a savory version to bring to the table whole and slice in front of your guests.
Salmon rolls: delicate little morsels full of perfumes, these rolls are the worthy start of the Christmas Eve dinner.
Salmon Sauce: perfect for flavoring toasted bread or croutons.
Salmon Tartare: delicate, light and always welcome, salmon tartare is a perfect appetizer for a fish-based lunch or dinner but also with meat courses to follow.
Croutons with salmon: tired of the usual canapés? Try this crouton, rich in contrasts and aromas.
Salmon carpaccio: refined and beautiful to look at, you can bring it to the table on a single plate or present it already in portions.

#Chic #Christmas #Appetizers