a rich and tasty first course!
Be careful not to confuse the Abruzzo timbale with lasagna! This first course is much richer and tastier, a must try.
The Abruzzo timbale, also known as Teramo timbale, is a typical product of Abruzzo often confused with lasagna. But the timbale, despite having the appearance of a lasagna, is prepared by making layers of crepes from Abruzzo known precisely as scrippelle. The filling, on the other hand, is not the classic ragù but a mixture of meatballs and sauce, lightly seasoned with tomato and which therefore tends not to drip.
It is a tasty and rich first course, initially prepared for most important occasions while today it cheers up family tables even on Sundays. The preparation is quite long but we can guarantee you that once you taste it you will forget the effort made. As always, in fact, a little organization is enough and even a recipe like this becomes simple.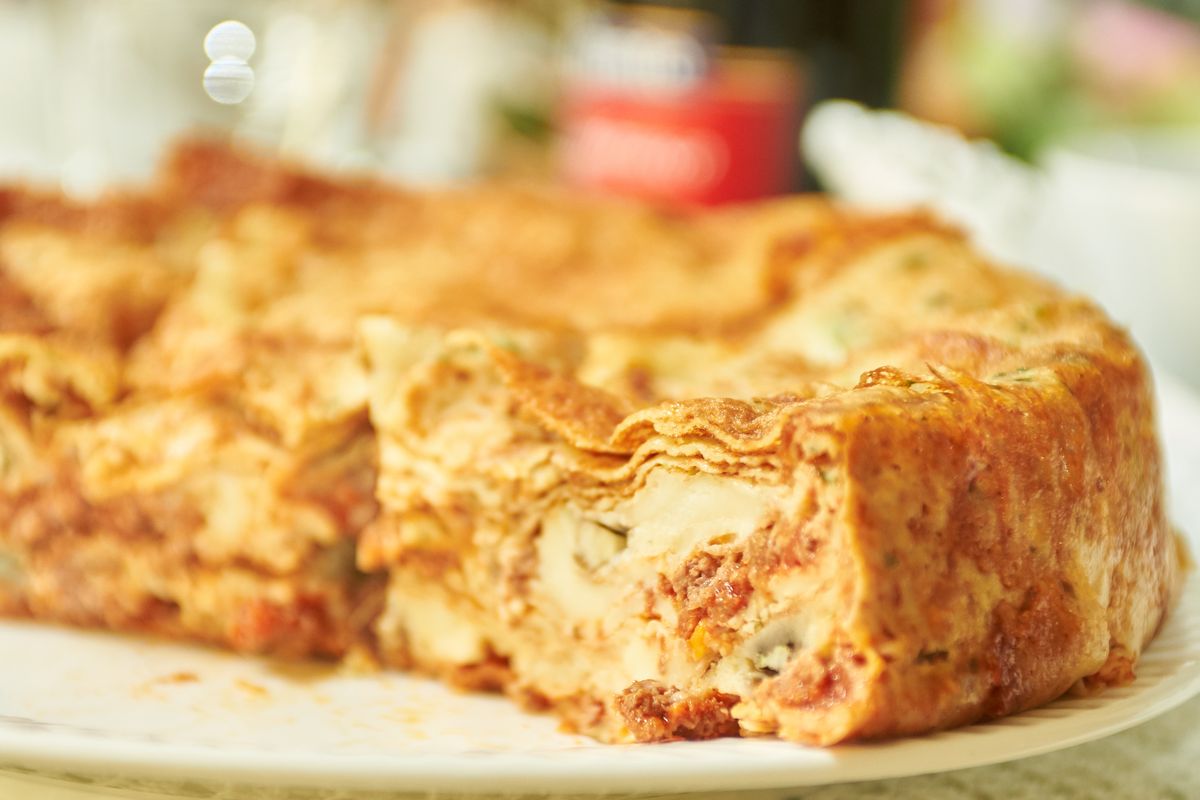 How to prepare the Abruzzo timbale recipe
First of all prepare the sauce. Chop the onion and brown it in a drizzle of oil, then add the ribs and the mixed meat cut into chunks and brown for a couple of minutes. Deglaze with the white wine and carry on cooking with the lid on for 40 minutes. Then pour the tomato puree and cook for an hour and a half, finally adjusting with salt. Then fray all the meat by removing the bones.
In the meantime prepare the pallottine: mix the minced meat, the egg, the minced garlic clove and parsley, the Parmesan, the pecorino cheese and a little breadcrumbs to dry the mixture in a bowl. Season everything with a pinch of salt and one of pepper and mix with your hands.
Form some meatballs of about 1 cm in diameter and then pass them in the flour.
Fry them in a finger of seed oil until they are golden, then drain and pass them on absorbent paper.
Also prepare the scrippelle: beat the eggs, water and flour in a bowl until you get a smooth batter. Heat one no stick pan and grease it with lard then pour a ladle of batter making sure that it is distributed in a thin layer. Cook them 30 seconds each sideturning them as soon as the edges start to lift. As the scrippelle are ready, stack them on a plate.
Now all that remains is to assemble the dish: spread a layer of sauce on the bottom of a baking dish, cover with a layer of scrippelle, then more sauce, meatballs, diced mozzarella and Parmesan. Continue until you run out of ingredients.
Cook at 180°C for 1 hour and leave to cool for about ten minutes before serving.
For a dinner entirely dedicated to Abruzzo cuisine, we suggest you also try the cacio e ova lamb.
storage
The timbale can be kept in the refrigerator for a couple of days. Our advice is to warm it up in the refrigerator before consuming it.
Sign up for the Primo Chef newsletter to find out about new recipes, advice and news. Before anyone else.

Reserved reproduction © 2022 – PC

#rich #tasty