a rich second course with cheese and bacon
Stuffed potatoes are an excellent second course. You can stuff them as you like but the perfect match is with spreadable cheese and chives!
Baked stuffed potatoes are a must in English pubs. There they call them jacket potatoes for the custom of cook them in their skins and then taste them digging with a spoon directly inside. I'm a rich dishusually served with salmon, sour cream and chives, but today we see how to prepare baked stuffed potatoes with cheese.
This seemingly simple recipe hides some pitfalls. Cooking whole potatoes in the oven takes quite a long time, so the advice I give you is to boil them first and then pass them back in the oven with the rest of the ingredients. In this way the potato will be tender and well cooked. As filling we have chosen spreadable cheese and chives, while to give an extra touch of flavour, we will complete the au gratin with smoked bacon and cheddar.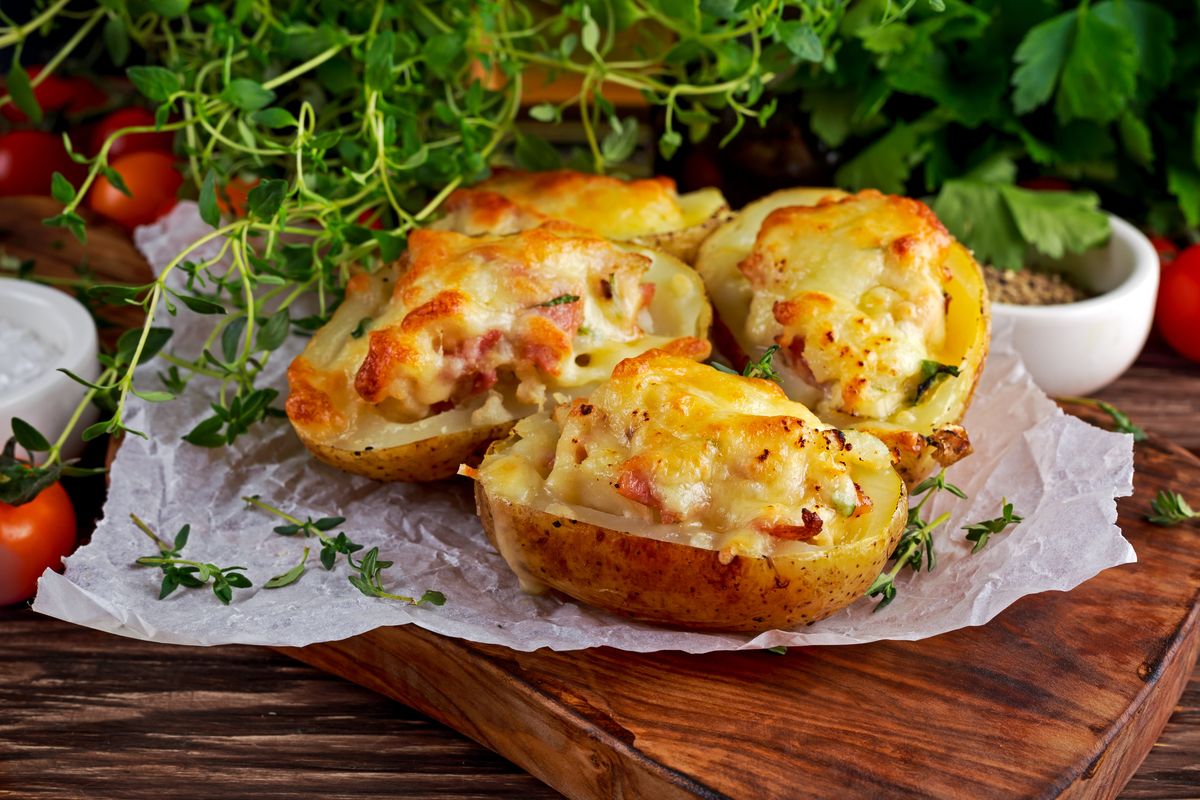 How to cook stuffed potatoes in the oven
Since we will keep the peel of the potato in cooking, wash it well under running water, also cleaning it with a small brush.
Dry them and boil them in plenty of salted water 30 minutes. Like all tubers, even for cooking potatoes it is better to start with cold water.
When the potatoes are almost cooked, drain them and leave them to cool.
At this point cut them all in half and, with a spoon, dig out the pulp to form a hollow. You can also leave your stuffed potatoes whole, you will have to make a cut and extract the pulp from there.
Transfer the compound extracted from the potatoes into a bowl and mix it with the cubed provola and bacon, adding salt and pepper to taste. Add the sliced ​​chives and stuff the potatoes with the mixture.
Bake in grill mode for 10-15 minutes at 200°C and serve hot with a pint of beer.
Another delicious dish that you can prepare is the omelette with potatoes: an easy recipe which everyone likes.
The delicious variants of stuffed potatoes: with meat, tuna and…
You've all learned the very easy recipe for stuffed potatoes by now (and we're sure in no time). Now is the time to experiment with combinations and the fantasy. This is why we want to offer you some variations that will surely make you love this tuber with a thousand facets and the possibility of combinations even more.
Vegetarian Baked Stuffed Potatoes. To prepare this side dish you won't have to make many changes to the original recipe just proposed: just omit the bacon, if you want don't replace it, or add some vegetables cut into cubes of your taste (you can try squash if it's in season, or courgettes or aubergines). Alternatively you can also add different types of cheeses to make this dish a real pleasure and a cholesterol bomb. Always vegetarian are the potatoes stuffed with onions and cheese. You can mix them raw with the provola cheese and the potato pulp or cut the red onion into strips and brown it lightly in a pan before adding it to the other ingredients.
Potatoes stuffed with tuna. This fish recipe is, also in this case, very simple and quick. Remove the cheese and mix the potato pulp with about 120 g of tuna in oil frayed. Add a little chives, pepper and the zest of half a lemon and then you can stuff the boats with tubers.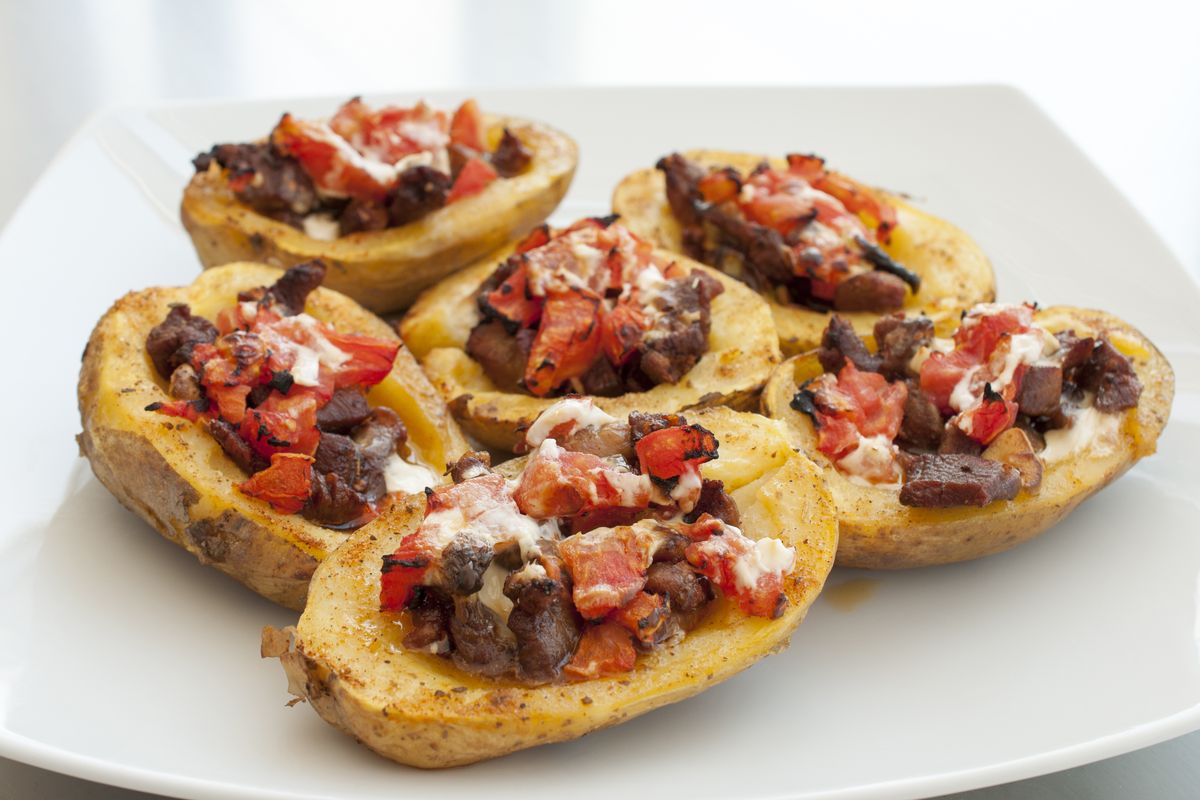 Stuffed potatoes with sausage. But how good is the sausage?! With potatoes it creates an almost irresistible combination. We advise you to take the casing and brown it for a few minutes in a pan over high heat, add the beer if you like, then let it cool and mix it with the potato pulp, cheese and a few spoonfuls of grated Parmesan to make it even tastier.
Boiled potatoes stuffed with minced meat. Among the last options that we propose, this is perhaps the slightly more complex one. Take about 150 g of choice beef pulp and brown it in a pan with a drizzle of oil. Deglaze with the white wine and wait for it to be completely cooked. At this point, turn off the flame and mix it with the other ingredients.
Vegan stuffed potatoes. Last variant, but certainly not least. To prepare it, we advise you to use vegetable cheese, made with soy milk, o del tofu. The other ingredients can remain unchanged, but you can make them even tastier by adding some spices such as curry.
storage
The basic recipe and the variations can be kept in the refrigerator for maximum 2 daysinside a container with an airtight lid. We do not recommend freezing in the freezer.
Sign up for the Primo Chef newsletter to find out about new recipes, advice and news. Before anyone else.

Reserved reproduction © 2022 – PC

#rich #cheese #bacon