Adjika from tomatoes with garlic and pepper for the winter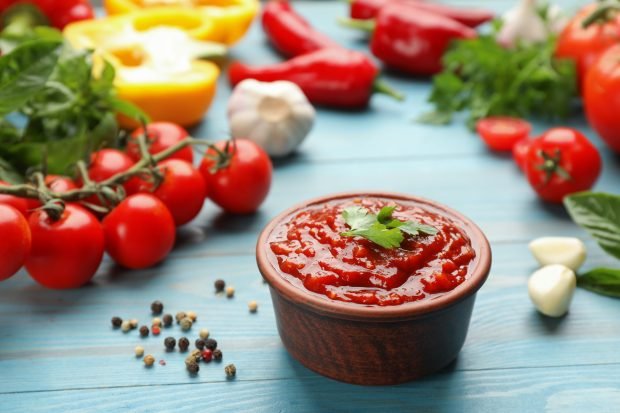 Adjika is the favorite "winter" sauce of many housewives. It is loved for its taste and aroma, versatility and ease of preparation. It goes well with pasta, rice and any meat. The recipe does not involve the use of vinegar, while adjika is stored for quite a long time.
Step by step cooking recipe
Rinse the tomatoes, remove the middle, cut into 4 parts. Remove seeds from bell peppers and chili peppers, chop as desired. Peel the garlic.
Pass all prepared vegetables through a meat grinder.
Place the vegetable mass in a bowl for cooking, salt, mix and bring to a boil over high heat. Boil the sauce, stirring, for 5 minutes.
Pour boiling adjika into pre-sterilized small jars, seal tightly, turn upside down, wrap and cool completely. Such a blank can be safely stored at room temperature for 1 year.
#Adjika #tomatoes #garlic #pepper #winter