Beet salad for the winter – a simple and tasty recipe, how to cook step by step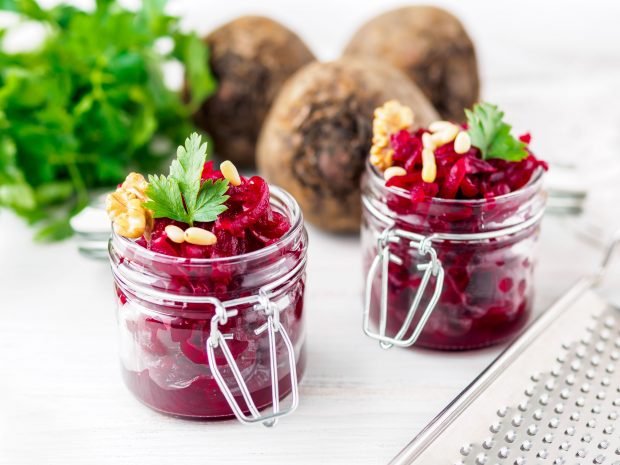 This recipe is for you if you love beets in any of its manifestations. Salads from boiled beets, as a rule, are not prepared quickly. This recipe will save you time in the kitchen. In winter, open a jar, and a delicious vegetable salad is on your table!
Step by step cooking recipe
Boil the beets until tender, cool and peel.
Cut the onion into small cubes, peel the bell pepper from seeds and stalks, chop finely (you can grate it on a coarse grater).
Place the onion and pepper in a saucepan, add a little water and simmer until soft (about 10 minutes).
Grate beets on a coarse grater and send to a saucepan with vegetables. Add salt, sugar and vegetable oil. Stir and cook over low heat for about half an hour. At the end of cooking, add vinegar, boil for another 2-3 minutes and remove from heat.
Pack the hot salad in sterile jars, roll up and cool upside down (I get 5 jars of 0.5 l each). Store the finished workpiece in a cool dark place.
#Beet #salad #winter #simple #tasty #recipe #cook #step #step