Buckwheat with mushrooms in the oven recipe with photos step by step and video
Step 1: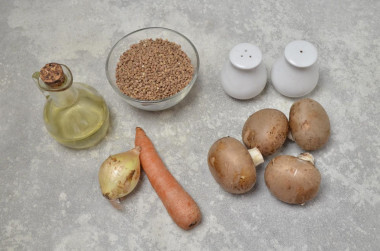 How to make buckwheat with mushrooms in the oven? Prepare food. Any mushrooms are suitable – both forest, and champignons, and oyster mushrooms. Forest pre-boil in time, depending on the variety. Wash and clean vegetables. Sort the buckwheat, removing black grains and debris.
Step 2: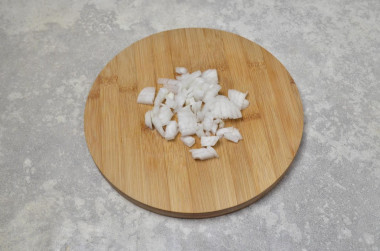 Onion cut into small cubes.
Step 3: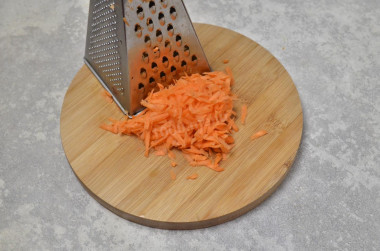 Grate carrots on a coarse grater.
Step 4: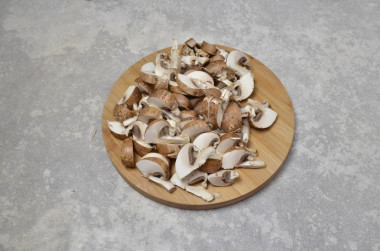 Clean the mushrooms carefully. Do not soak them too much – saturated with moisture, champignons become watery and tasteless. I wipe the mushrooms with a damp sponge and then pat dry with a paper towel. Cut the mushrooms into small plates.
Step 5: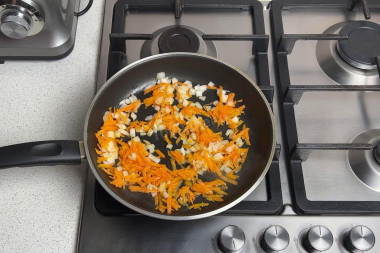 Heat a frying pan over medium heat, pour vegetable oil into it for frying. Fry onions and carrots, stirring occasionally, for a few minutes.
Step 6: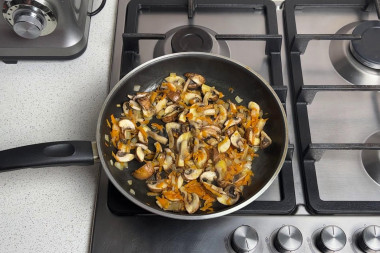 Then add the mushrooms to the vegetables. Salt and pepper them, mix. Saute mushrooms for about 10 minutes, stirring occasionally. If you have forest mushrooms, then fry them only after boiling.
Step 7: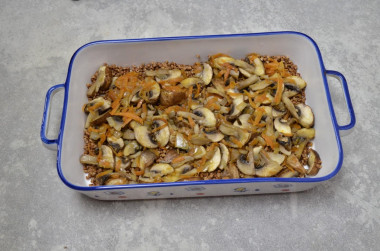 Take a suitable baking dish. Rinse the buckwheat several times in cool water. Pour it into the bottom of the mold. Put the mushrooms fried with vegetables on top.
Step 8: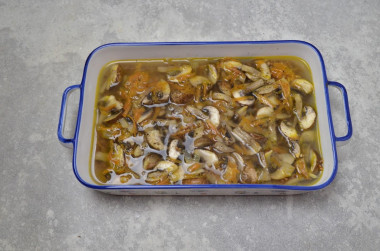 Pour the contents of the form with boiling water at the rate of 1:2.5 (for one glass of cereal, two and a half glasses of water). Lightly salt everything on top. You don't need to mix.
Step 9: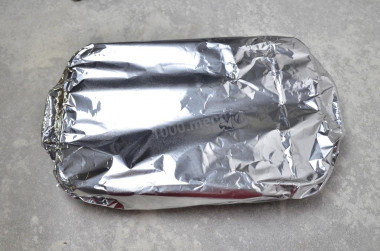 Cover the mold with foil and place in the oven, preheated to 180°C, for 35-40 minutes. The exact time will depend on the characteristics of your oven and the volume of buckwheat.
Step 10: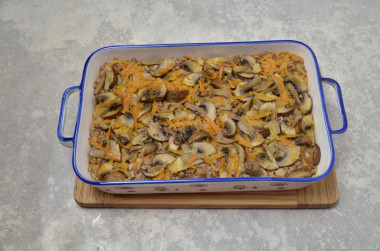 After the lapse of time, remove the form with buckwheat from the oven – it should completely absorb all the water.
Step 11: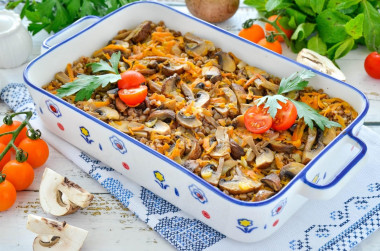 Mix buckwheat with mushrooms and onions, season with oil if desired and serve. Bon appetit!
#Buckwheat #mushrooms #oven #recipe #photos #step #step #video