Bulmeni with butter recipe with photo step by step and video
Step 1: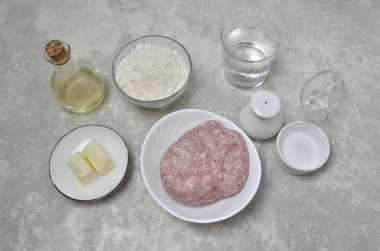 How to make bulmeni with butter? Prepare food. My minced meat is homemade, from pork and beef, it is already with onions. You can buy store bought or make your own. Any meat is also suitable – chicken, turkey, separately pork and beef. Vinegar take table, 6 or 9%. Do not be afraid of the presence of vinegar, it is not felt in the finished dish, but gives the dough elasticity. Butter – high-quality, natural. Cool it well before cooking.
Step 2: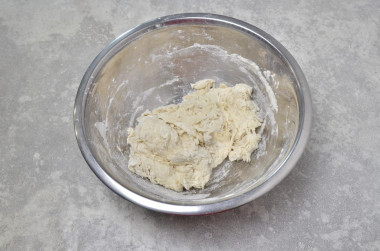 Pour the flour into a bowl, mix it with salt. Pour vinegar, odorless vegetable oil and water into the flour. Pour water in portions, stirring and evaluating the condition of the dough. Knead the dough first with a fork, then by hand. You may need less or more flour, you can read more about this in the article, a link to it is at the end of the recipe.
Step 3: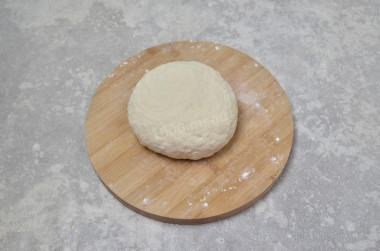 Transfer the dough onto a board dusted with flour. Knead it, adding flour if necessary, for about 10 minutes, until smooth and homogeneous. It will practically stop sticking to your hands.
Step 4: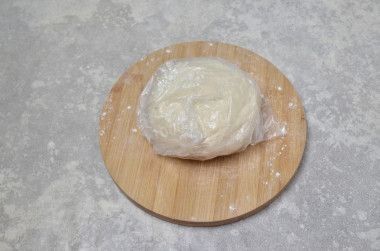 Wrap the dough in a bag and let it rest for 30 minutes. During this time, the flour will absorb all the liquid and gluten will develop well in it, which will make the dough more elastic. While the dough is resting, you can work on the filling. Scroll the meat and onions in a meat grinder, season the minced meat with salt and pepper.
Step 5: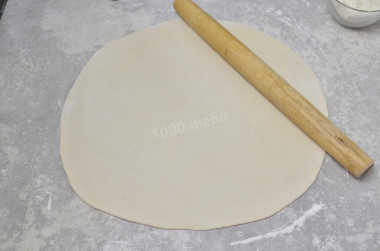 After half an hour, cut a piece from the dough and roll it into a round layer 2-3 mm thick. Dust the table with flour if necessary.
Step 6: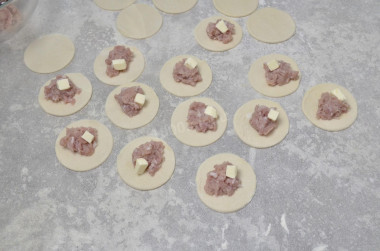 Cut the dough into circles in a suitable shape, I have a glass. Place a piece of minced meat in the center of each circle. Cut the butter into cubes about 1cm in size. Place one or two cubes of butter in the center of the minced meat.
Step 7: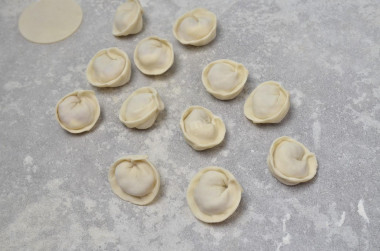 Blind bulmeni in the classic way – first fold the blank in half, like a pie, close it up. Then connect the ends and blind them. Transfer the finished bulmeni to a board dusted with flour. You can freeze them or cook them right away.
Step 8: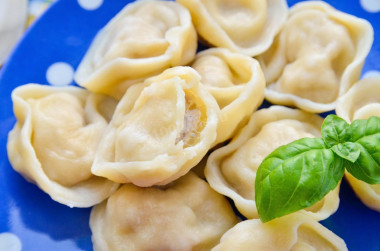 Boil the bulmeni in plenty of salted water, stirring occasionally to keep them from sticking to the bottom, about 5 minutes after boiling. Serve them with sour cream. Bon appetit!
#Bulmeni #butter #recipe #photo #step #step #video