Canned fish salad with rice and egg recipe with photo step by step
For any holiday, in haste, easy and simple! Canned fish salad with rice and egg will please you with a special taste. All ingredients nicely complement each other, so it will become a frequent guest on your table.
Canned fish salad with rice and egg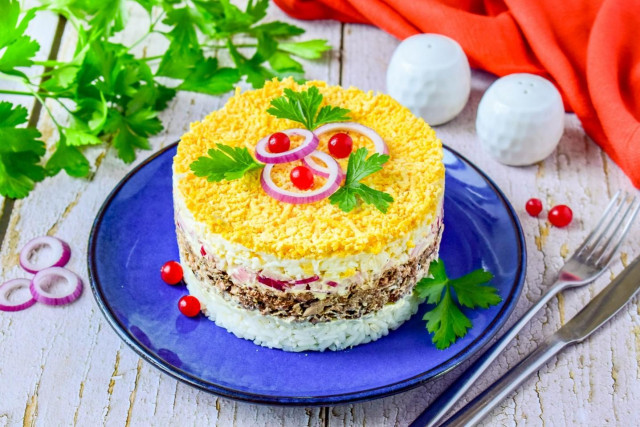 Step by step cooking


Time for preparing: 40 min
PT40M


Step 1:

How to make canned fish salad with rice and egg? Prepare the necessary ingredients for this. As canned fish, you can take saury, sardine or any other fish in oil, except for sprats. Take steamed, long-grain rice.

Step 2:

Rice and eggs must be boiled in advance. Boil the eggs in boiling water for 7-8 minutes. Then drain the hot water and cool the eggs by pouring them with cold water. Peel the cooled eggs. Boil the rice in boiling water until soft, adding a little salt. It usually takes about 15 minutes. Follow the instructions on the package. Drain soft rice in a colander and rinse with cold water.

Step 3:

Finely chop the red onion and pour boiling water, then cold water. This will take the bitterness out of the onion.

Step 4:

Drain the liquid from the canned food, and mash the fish with a fork, removing the bones.

Step 5:

We will lay out the salad in layers in the ring. To do this, put the serving ring on a plate and put the boiled rice in it with the first layer. Press it down to thicken the layer. Lubricate this layer and all the following with a little mayonnaise.

Step 6:

Put the mashed canned fish in the second layer.

Step 7:

Place a layer of onion over the fish.

Step 8:

Separate boiled eggs into whites and yolks. Leave 2 yolks for decoration. Grate all the whites and one yolk and place in the ring with the next layer of lettuce.

Step 9:

Sprinkle with grated yolk on top and remove the ring from the salad. Garnish the finished salad with fresh herbs and cool slightly before serving. Bon appetit!
Mayonnaise is better to cook yourself. It will be tastier and healthier. See interesting homemade mayonnaise recipes here.
Also, as a dressing, you can use not only mayonnaise, but also sour cream or natural yogurt. They can be taken separately or mixed with mayonnaise in any proportion to your taste – this will reduce the calorie content of the dish.
Important! To make dishes with rice consistently delicious, read the article about the intricacies of choosing rice and the secrets of its preparation.
Shake the tin before buying. The more liquid in it, the less fish.
Calorie content of products that are possible in the composition of the dish
Onion

–

41

kcal/100g

Chicken egg

–

157

kcal/100g

Egg white

–

45

kcal/100g

Egg powder

–

542

kcal/100g

Egg yolk

–

352

kcal/100g

Ostrich egg

–

118

kcal/100g

wild rice raw

–

353

kcal/100g

Raw brown rice

–

360

kcal/100g

Rice brown boiled

–

119

kcal/100g

Rice white fortified raw

–

363

kcal/100g

White rice fortified boiled

–

109

kcal/100g

White rice, steamed, with long grains, raw

–

369

kcal/100g

White rice, steamed, with long grains boiled

–

106

kcal/100g

Dry Instant Rice

–

374

kcal/100g

Instant rice, ready to eat

–

109

kcal/100g

Fig

–

344

kcal/100g

Salad mayonnaise 50% fat

–

502

kcal/100g

Mayonnaise light

–

260

kcal/100g

Mayonnaise Provençal

–

624

kcal/100g

Mayonnaise "Provençal"

–

627

kcal/100g

Table mayonnaise

–

627

kcal/100g

Salt

–

0

kcal/100g

Saury blanched in oil

–

283

kcal/100g

Atlantic sardine with oil

–

238

kcal/100g

Sardine in oil

–

221

kcal/100g

Sardine in tomato sauce

–

162

kcal/100g

Mackerel in oil

–

278

kcal/100g

Sprat in tomato sauce

–

154

kcal/100g

Soup greens fresh-frozen in the package

–

41

kcal/100g

Green

–

41

kcal/100g
Food calorie content: Fig, Canned fish, Onion, Eggs, Mayonnaise, Green, Salt
#Canned #fish #salad #rice #egg #recipe #photo #step #step