Chicken rolls with asparagus: here's how to prepare them
Simple and delicious, chicken rolls with asparagus are a light second course. Try them with balsamic vinegar and yogurt sauce.
Who said that to bring to the table a healthy dish do you have to give up on taste? The chicken rolls with asparagus are a light second course, excellent cooked in the oven, and enriched with a balsamic vinegar glaze and a sauce based on greek yogurt and curry.
The meat rolls are the ideal solution to serve something refined, while maintaining a quick and easy preparation. To prepare them, very few ingredients will be enough: chicken breast, asparagus, yogurt and balsamic vinegar.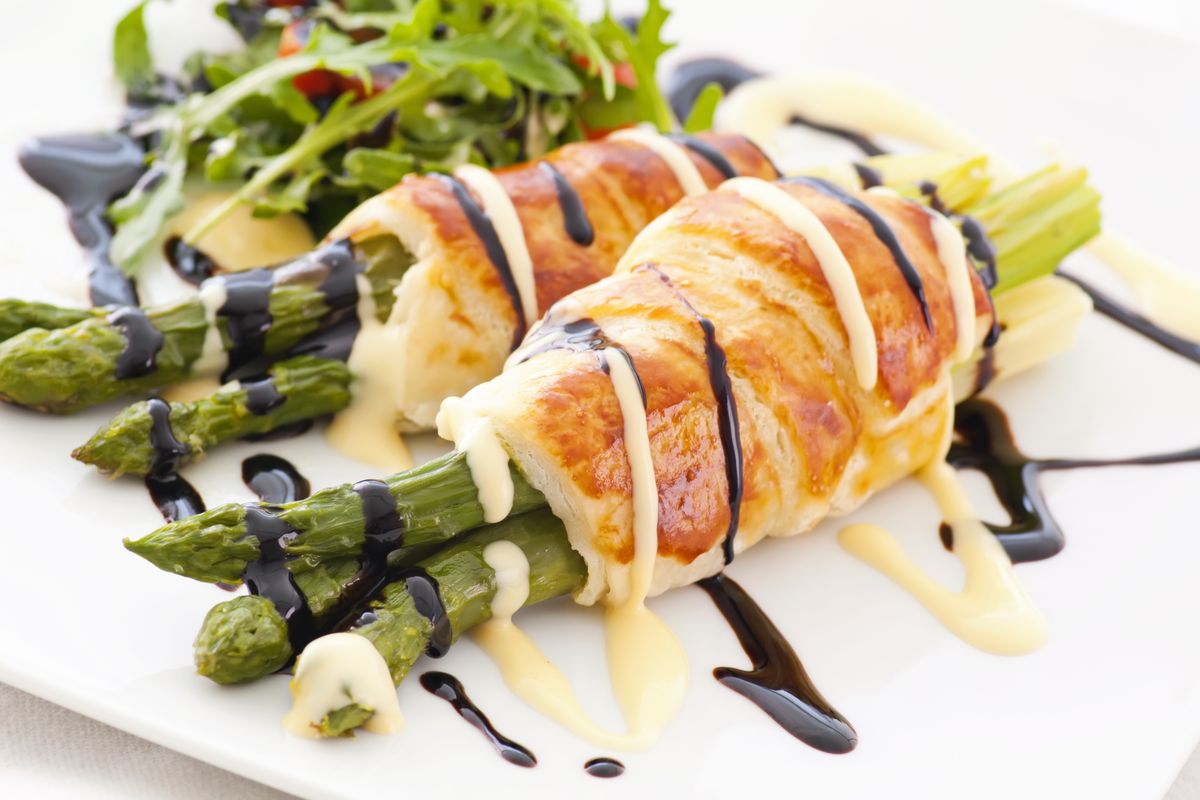 How to prepare chicken rolls with asparagus
First thing clean the asparagus. Slightly bend the final part of the stem until it breaks: in this way you will divide the woody part from the tender one.
Then rinse them under running water and pat them dry with kitchen paper.
Now lay the chicken breast on the cutting board and divide it in half. From each side make slices half a centimeter thick. Alternatively, you can have the butcher carry out this operation or buy ready-made chicken slices.
Arrange 3 asparagus on each slice, salt both the meat and the vegetables well, then roll up tightly and stop with a toothpick. If you are not on a diet and want to enrich the dish, you can add a slice of cheese inside the roll.
Arrange the meat rolls on a baking tray lined with parchment paper and cook 180°C for 30 minutes.
In the meantime prepare the salsa al curry mixing Greek yogurt with curry powder. Also add a pinch of salt and a tablespoon of lemon juice.
When the rolls are ready, arrange them on plates and decorate with the balsamic vinegar glaze and the curry sauce. Serve accompanied by a light salad.
For a more elaborate dish, substitute the yogurt sauce for the mornay sauce. How about trying all our recipes with asparagus too?
Sign up for the Primo Chef newsletter to find out about new recipes, advice and news. Before anyone else.

Reserved reproduction © 2023 – PC

#Chicken #rolls #asparagus #heres #prepare