Classic winter salad with sausage recipe with photo step by step
Step 1: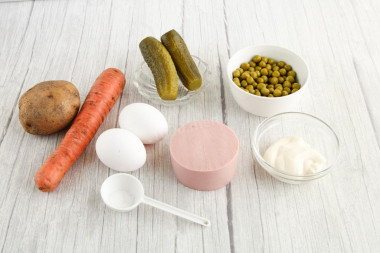 How to make a classic winter salad with sausage, cucumber and peas? Prepare the necessary products. Onion can be added if desired. Drain the green peas from the marinade.
Step 2: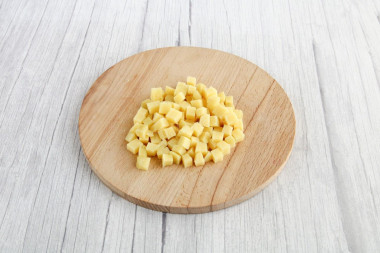 Rinse potatoes and carrots with a brush under running water. Cook vegetables over moderate heat until tender. How to check the readiness of vegetables? Pierce vegetables with a knife. If they are soft, then they are ready. Remove vegetables from water and cool completely. Peel potatoes, cut into small cubes.
Step 3: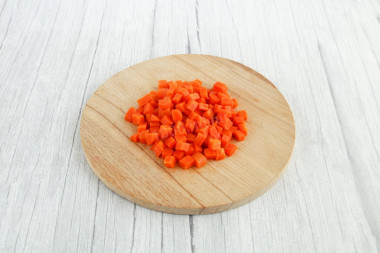 Peel the carrots and cut into cubes as well.
Step 4: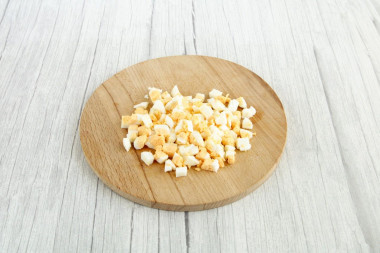 Wash the eggs. Be sure to wash your eggs before use, as even seemingly clean shells can harbor harmful bacteria. Hard boil the eggs. How to boil hard boiled eggs? So that the eggs do not crack during cooking, put them in cold water and put them on a boil over low heat. Boil the eggs for 7 minutes after boiling, then cover with cold water and cool. From a sharp temperature drop, the shell will be better cleaned. Peel the eggs, cut into cubes.
Step 5: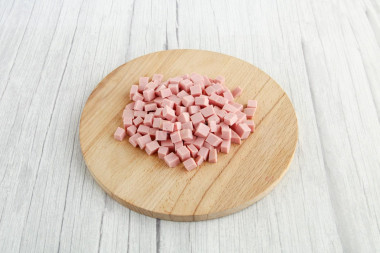 Cut the sausage into cubes in the same way as the rest of the ingredients. Choose good quality sausage to make the salad tastier.
Step 6: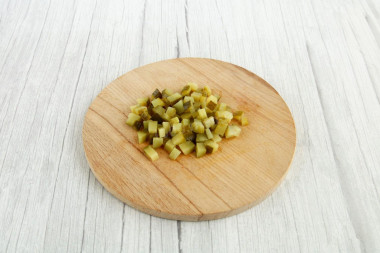 Cut pickled cucumbers in the same way into small cubes.
Step 7: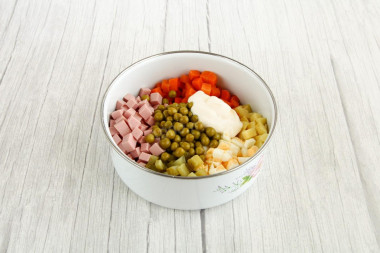 Combine all prepared foods in a suitable salad bowl: potatoes, carrots, sausage, green peas, pickled cucumbers and eggs. Add mayonnaise or sour cream, salt and mix well.
Step 8: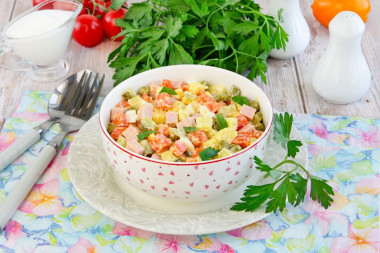 Before serving, you can cool the winter Olivier salad a little or serve immediately. Bon appetit!
#Classic #winter #salad #sausage #recipe #photo #step #step