cold leek and potato soup
Vichyssoise is a soup made with leeks and potatoes, a dish to be served cold and which encompasses the flavors of French cuisine.
It was 1917 when Louis Diat, renowned chef of the Ritz-Carlton in New York, invented the recipe for vichyssoise. His aim was to present a dish that brought together some characteristic flavors of the Vichy territory, near his homeland Montmarault. In fact, the main ingredients are leeks and potatoes. The result is a tasty soup, made creamy by adding cream and broth. Another peculiarity is that this dish it is served cold; for this reason, it also becomes a typical product good to serve in the summer.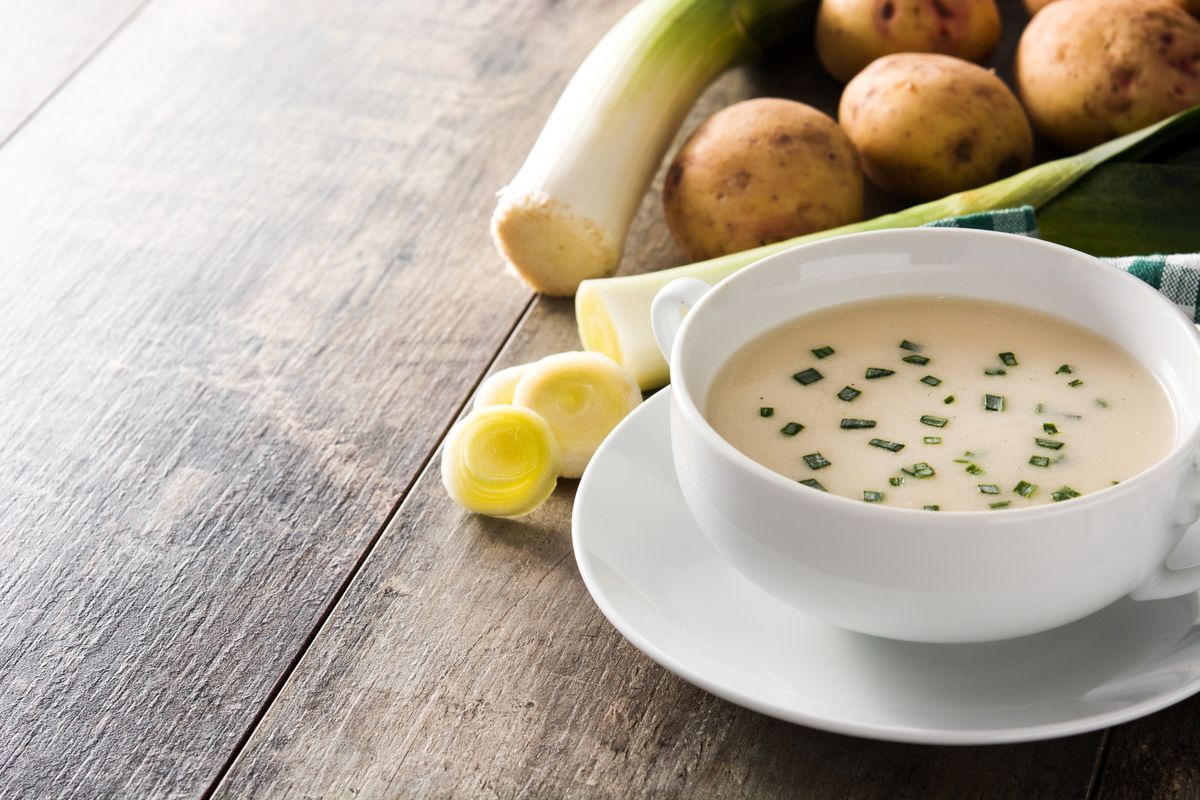 Preparation of the recipe for the vichyssoise
To begin, wash and peel the potatoes; Then, cut them into small cubes.
Cut the ends of the leeks, also removing the green part; cut them in thin strips and rinse them.
Peel the onion and cut it into thin strips.
In a pan, melt the butter. Add the onion and leeks and cook on the heat for 10 minutes covering with the lid.
After this time, pour the broth into the pan.
Immediately add the potato pieces and season with salt and pepper.
Stir and leave cook for 30 minutes on low heatalways with the lid on.
When cooking ends, transfer everything into a mixer for blend the mixture (Alternatively, you can leave everything in the pot and blend with a stick blender).
Subsequently, return the mixture to the pan; add the cream and nutmeg.
Cook for a few minutes to mix and blend everything.
Leave to cool and let it cool for a couple of hours in the fridge.
When serving, flavor with chopped chives or in the way you prefer.
If you like soups you can't not try the Aosta Valley soup, near the French border!
storage
Vichyssoise with leeks and potatoes is a cold soup that conquers everyone at first taste. You can save it for 1 day in the fridgein an airtight container.
Sign up for the Primo Chef newsletter to find out about new recipes, advice and news. Before anyone else.

Reserved reproduction © 2023 – PC

#cold #leek #potato #soup