Cranberry with honey recipe with photo step by step
Useful preparation for the winter, you can cook in any season! Cranberries with honey keep well almost all winter. During this time, you can treat your family to delicious drinks based on this mixture several times. A couple of spoons and a charge of vitamins is provided to you!
Cranberries with honey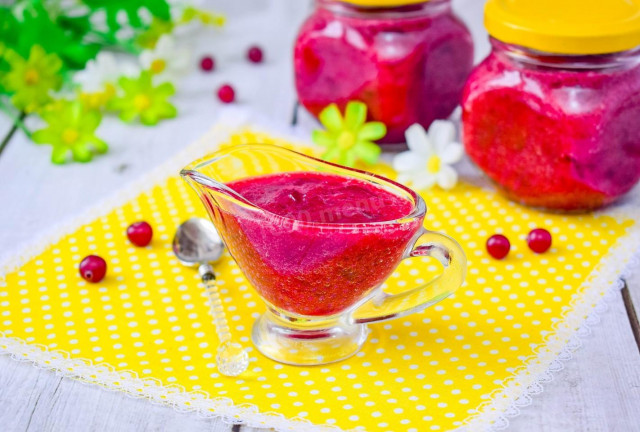 Step by step cooking


Time for preparing: 30 min
PT30M


Step 1:

How to make cranberries with honey? Prepare the necessary ingredients for this. Choose natural honey. If for some reason honey is not suitable for you to consume, then it can be replaced with the same amount of sugar.

Step 2:

Cranberries need to be washed. To do this, fill it with water and gently rinse the berries from dirt with your hands. It is convenient to do this in a deep bowl. Berries that float to the surface are the strongest and can be stored in the refrigerator for 3-4 months. Dry them and store them. And the berries that have settled to the bottom must be recycled.

Step 3:

Throw the washed cranberries in a colander and leave to drain the water from them. Then dry the berries with paper towels to remove excess moisture from the berries.

Step 4:

Transfer dry berries to a separate bowl and pour honey. Even if the honey is candied, add it without melting too. It will subsequently mix with cranberry juice and dissolve.

Step 5:

The entire mass must be crushed. This is easy to do with an immersion blender. Bringing the mass to homogeneity is optional (but not prohibited). It is enough just to break the berries. I like it better when there are pieces of cranberries. The mass is neither liquid nor thick. Due to the added honey, it is a little viscous.

Step 6:

Sterilize the jars in any way convenient for you. This can be done in the oven, in the microwave, or over hot steam. Cover the lids with boiling water and dry. Arrange the cranberry mass in prepared jars and close the lids.

Step 7:

Cranberries with honey are ready! Remove the jars from the refrigerator. This treat will keep for 3-4 months. But, most likely, it will end earlier. Add a couple of spoons to tea or just hot water and fortify. Herbal tea would be a great addition. Have a nice meal!
How to calculate the number of cans, why cans explode and how to avoid it, as well as secrets and life hacks, read the article about preparations for the winter.
Calorie content of products that are possible in the composition of the dish
Cranberry

–

26

kcal/100g

Med

–

400

kcal/100g
#Cranberry #honey #recipe #photo #step #step