Crispy cucumbers with vinegar for the winter in jars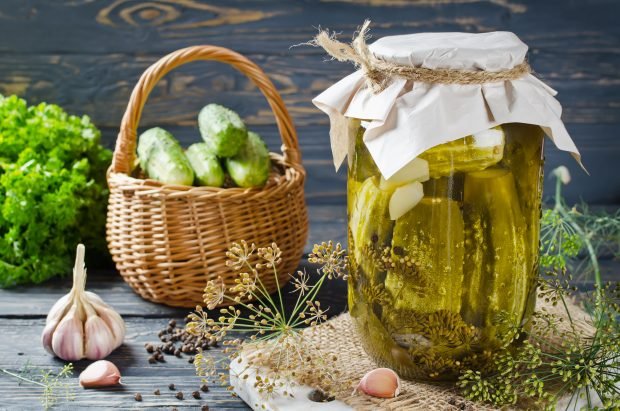 vkuslandia, stock.adobe.com
Crispy cucumbers for the winter according to this recipe were prepared by my grandmother. The recipe is simple and does not involve sterilization. For convenience, I indicate the number of products per 1 liter jar. From 5 kg of cucumbers, on average, I get 9 liter cans of a delicious snack.
Step by step cooking recipe
Soak cucumbers in cold water for 1-2 hours. Then rinse well and pat dry.
At the bottom of a pre-sterilized jar, place dill umbrellas, currant and cherry leaves, bay leaves, peppercorns, garlic cloves peeled and cut in half.
Tightly fill a jar of greens with cucumbers.
Boil water and pour boiling water over cucumbers in a jar. Cover the jar with a sterile lid and leave to warm up for 20 minutes. Then drain the water from the jar into a saucepan, add salt and sugar, bring to a boil.
While the marinade is being prepared, once again pour the cucumbers in the jar with new boiling water, cover the jar with a lid and leave for another 10 minutes to warm up. Then drain the water from the jar into the sink.
Add vinegar to the boiling marinade, boil for 3-5 minutes and remove the saucepan from the heat.
Pour the marinade over the cucumbers in the jar. Roll up the jar, turn it upside down, wrap and leave to cool completely. Store the cooled workpiece in a cool dark place.
#Crispy #cucumbers #vinegar #winter #jars