Cucumber salad with onions for the winter without sterilization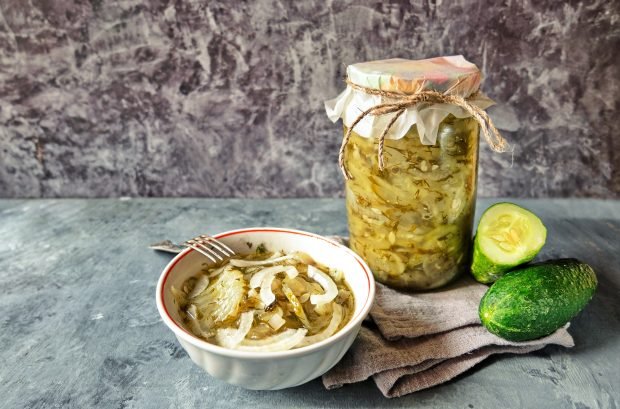 helen111, stock.adobe.com
Cucumber salad with onions is an excellent winter preparation that will help diversify your menu in the cold season. Serve salad with various side dishes, meat dishes and poultry dishes. In such a salad, you can safely use substandard cucumbers.
Step by step cooking recipe
Rinse cucumbers and greens, dry slightly.
Peel the onion and garlic, cut the onion into half rings, chop the garlic in any way.
Cucumbers cut into thin slices (approximately 3-4 mm thick), finely chop the greens.
In an enameled bowl, combine the prepared vegetables and herbs, salt, add sugar and vinegar. Mix everything well, cover the bowl with a lid and leave the salad in a cool place for 12 hours so that the vegetables release the juice.
Then put the salad in pre-sterilized jars, fill the neck with the resulting juice and pour 1 tbsp into each jar. vegetable oil. Seal the jars tightly and place in the refrigerator. After 3-4 days, the cucumber salad with onions will be ready to eat, but it is better to wait a couple of months and then serve the appetizer to the table.
#Cucumber #salad #onions #winter #sterilization