Cucumbers in tomato paste with garlic for the winter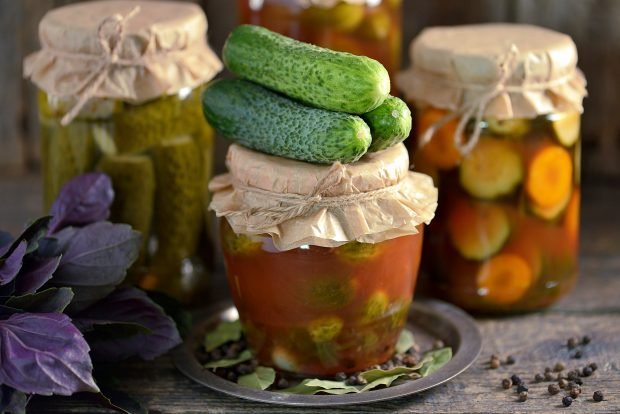 chudo2307, stock.adobe.com
Today I want to share a recipe for a delicious preparation for the winter of cucumbers with tomato paste. Cucumbers turn out crispy, and moderately spicy, with garlic flavor, tomato sauce is ideal for adding to other dishes: sauces, gravies, frying, etc.
Step by step cooking recipe
Rinse the cucumbers, cut off the tails, cover with cold water and leave for 1.5 hours.
Place tomato paste in a cooking pot, add water, vegetable oil, salt and sugar. Stir well until smooth and bring to a boil over medium heat. Boil the sauce, stirring, 15 minutes from the moment of boiling.
Rinse the cucumbers again, dry slightly and cut into large circles.
Place the cucumber slices, chopped garlic, black pepper and vinegar into the boiling tomato sauce. Mix well and boil everything together for 10 minutes, stirring occasionally.
Put allspice on the bottom of pre-sterilized jars, fill the jars with hot cucumbers and pour boiling tomato marinade to the top.
Cover the jars with sterile lids and send them to be sterilized in a pot of boiling water (sterilization time is 15 minutes from the moment the water boils in the pan).
After sterilization, roll up the jars, turn upside down, wrap and leave to cool completely. Then move the workpiece to a cool dark place.
#Cucumbers #tomato #paste #garlic #winter