Cucumbers with seasoning for Korean carrots for the winter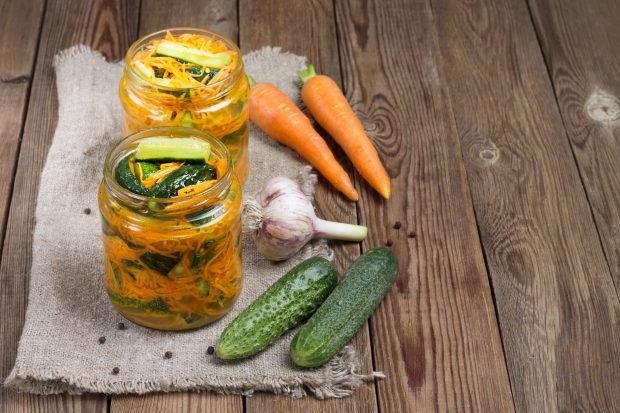 photography, stock.adobe.com
Korean-style spicy cucumbers are a spicy, moderately spicy snack that will complement your any dishes well in winter. In order not to sterilize the workpiece, we will lightly stew the salad before preservation. I advise you to adjust the amount of spices at your discretion.
Step by step cooking recipe
Rinse cucumbers, cut into cubes.
Peel and grate the carrots for Korean carrots.
Toast the sesame seeds in a dry frying pan until golden, then set aside.
Combine salt, sugar, nutmeg, Korean carrot seasoning, minced garlic and toasted sesame seeds. Add vinegar and vegetable oil, mix.
In a cooking pot, combine cucumbers and carrots, pour dressing, mix gently. Put on fire, bring to a boil, then over low heat, stirring, boil for 15 minutes. Taste the salad and adjust the amount of salt, sugar, and spices to your taste if necessary.
Pack the salad in pre-sterilized jars, fill to the top with the remaining marinade. Roll up the jars, cool and store in a cool dark place.
#Cucumbers #seasoning #Korean #carrots #winter