Cucumbers with tomatoes for the winter – a simple and tasty recipe, how to cook step by step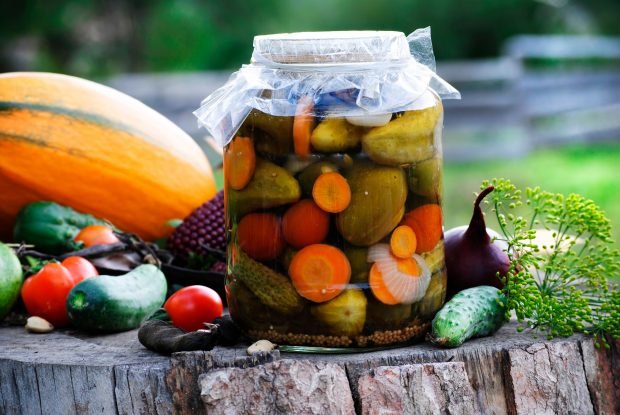 lbordeafelicia, stock.adobe.com
I love pickled vegetable platter for its versatility – I opened a jar and there are various savory pickles on the table. Choose what your heart desires! Today we will prepare cucumbers with tomatoes for the winter. Serve with a variety of side dishes, meat dishes and roasted poultry.
Step by step cooking recipe
Soak cucumbers in cold water for 2 hours.
Rinse the tomatoes, remove the stalks. Choose firm, well-ripened, small tomatoes.
Peel the bell peppers from seeds and stalks, cut into strips. Cut carrots into slices, onions into large rings. Peel the horseradish root, cut into strips. Peel the garlic.
At the bottom of a pre-sterilized jar, put half the dill umbrellas, garlic, peppercorns, chopped onions, bell peppers, carrots and horseradish.
Fill the jar with cucumbers and tomatoes, trying to fill the entire space as much as possible. Top with the remaining dill umbels, allspice and garlic.
Boil water and pour boiling water over the contents of the jar. Cover the jar with a sterile lid and leave to warm for 15 minutes.
Then drain the liquid from the jar into a saucepan, add salt and sugar (the amount of salt, sugar and vinegar is indicated per 1 liter of water). Stir, bring to a boil and boil for several minutes until the salt and sugar are completely dissolved.
Pour the contents of the jar with boiling brine to the top, add vinegar. Roll up the jar immediately, turn it upside down, wrap it up and leave it to cool completely. Store the cooled workpiece in a cool dark place.
#Cucumbers #tomatoes #winter #simple #tasty #recipe #cook #step #step