Dried tomatoes in oil for the winter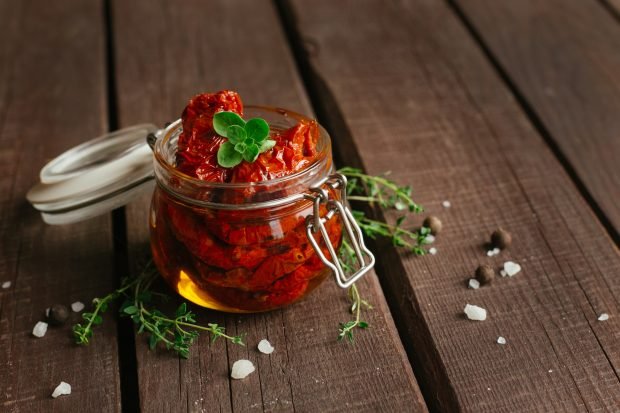 petropavlovskaja, stock.adobe.com
Sun-dried tomatoes are the most spicy tomato appetizer. Such a preparation will delight you with its taste in winter and will complement many different dishes: salads, sauces, gravy, etc. I recommend for drying to choose fleshy dense tomatoes, for example, "cream".
Step by step cooking recipe
Rinse the tomatoes, cut into quarters, remove the middle (pulp with seeds and juice).
Drizzle the tomato wedges with olive oil and place skin side down on a parchment-lined baking sheet. Sprinkle the tomatoes with salt and send to the oven preheated to 70-80 ° C. Keep the oven door ajar. Depending on the variety of tomatoes and heating, the drying process will take from 4 to 6 hours. From 5 kg of fresh tomatoes, I get about 900 g of dried tomatoes.
At the bottom of pre-sterilized jars, put 2 peeled garlic cloves and 1 sprig of rosemary. Start stacking the sun-dried tomatoes tightly, sprinkle with dried oregano: a layer of tomatoes, oregano, then another layer of tomatoes, oregano, etc. to the top of the jar. At the end, add some black ground pepper.
Bring the olive oil to a boil over low heat.
Pour hot oil over the tomatoes in jars to the very top. Seal the jars tightly and leave to cool completely. Store the cooled workpiece at room temperature, and it is better to keep an open jar in the refrigerator.
#Dried #tomatoes #oil #winter