Dried tomatoes in the oven with butter and garlic for the winter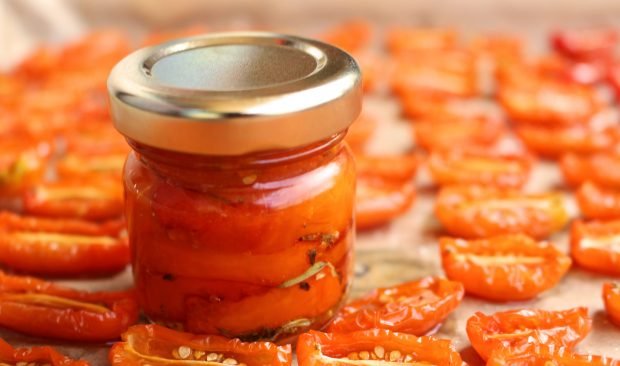 avoferten, stock.adobe.com
Sun-dried tomatoes are a savory mediterranean snack that can be prepared at home. The drying process, although not fast, does not require special culinary skills. Serve these tomatoes to the table with feta and black bread croutons.
Step by step cooking recipe
Rinse the tomatoes and cut into quarters, peel the garlic.
Arrange the tomatoes, cut side up, on a parchment-lined baking sheet and sprinkle with the salt, sugar, and black pepper mixture. Top with some rosemary and basil leaves and 5 cloves of garlic.
Sprinkle the workpiece with olive oil and send it to the oven preheated to 120 ° C for 4-5 hours (convection mode).
Pour olive oil into a pre-sterilized jar, place a clove of garlic and some of the remaining herbs.
Put the finished sun-dried tomatoes in a jar of oil in layers, alternating with the remaining herbs and garlic cloves. Thus, fill the jar to the top. Then close the jar with the workpiece hermetically, cool and store in the refrigerator.
#Dried #tomatoes #oven #butter #garlic #winter