Eggplant lecho for the winter – a simple and tasty recipe, how to cook step by step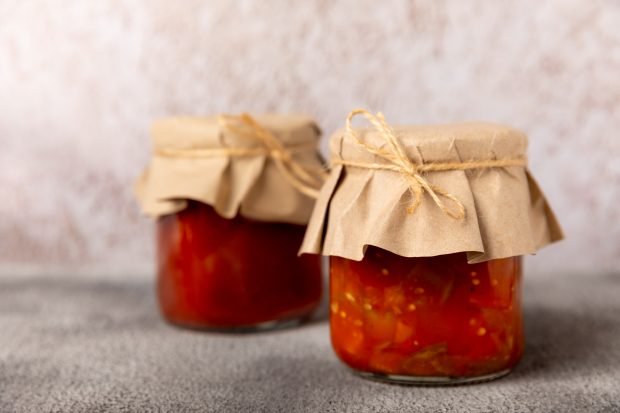 Eggplant lecho is a delicious Hungarian appetizer. It is not difficult to prepare it, and such a blank will certainly help to diversify the usual menu. Tasty and simple with bread, and on the festive table, and in addition to any side dishes or meat dishes. I share the recipe.
Step by step cooking recipe
Rinse the eggplant, cut off the tails without peeling, cut into medium sticks.
Rinse the tomatoes and pass through a meat grinder.
Place the resulting tomato mass in a cooking pot, add salt, sugar, vinegar and vegetable oil. Put the chopped eggplants into the tomato mass and boil on low heat under the lid for 10 minutes after boiling.
Cut the onion into half rings and send to the pan with the workpiece. Boil 10 minutes.
Peel the Bulgarian pepper from seeds and stalks, cut into long thin strips and send to the pan with vegetables.
Add ground pepper, bay leaf, chopped garlic and hot pepper, boil for another 10 minutes.
Pour the boiling lecho into pre-sterilized jars, roll up, turn upside down, wrap and leave to cool overnight. For long-term storage, move the workpiece to a cool, dark place.
#Eggplant #lecho #winter #simple #tasty #recipe #cook #step #step