Genoese pesto pasta recipe: tradition, variations and history
Pasta with pesto is a simple and quick recipe to prepare a delicious fragrant and flavourful first course.
Pasta and pesto are a perfect combination, rich in flavour, tradition and perfumes inviting. This first course is undoubtedly one of the best known and loved in Italy and abroad, and after pasta with tomato sauce, it represents a must of Italian cuisine.
But have you ever tried to prepare the basil pesto recipe with your own hands? With some trick and secret, we assure you that in a short time you will be able to create a creamy and delicious sauce!
To prepare this sauce you can use the mortar or more simply an immersion blender. The important thing, however, is to blend at low speed ea regular intervals in order to prevent the mixer from overheating and the basil from oxidizing. Let's see now how to prepare this marvelous dish: here is the recipe for pasta with Genoese pesto!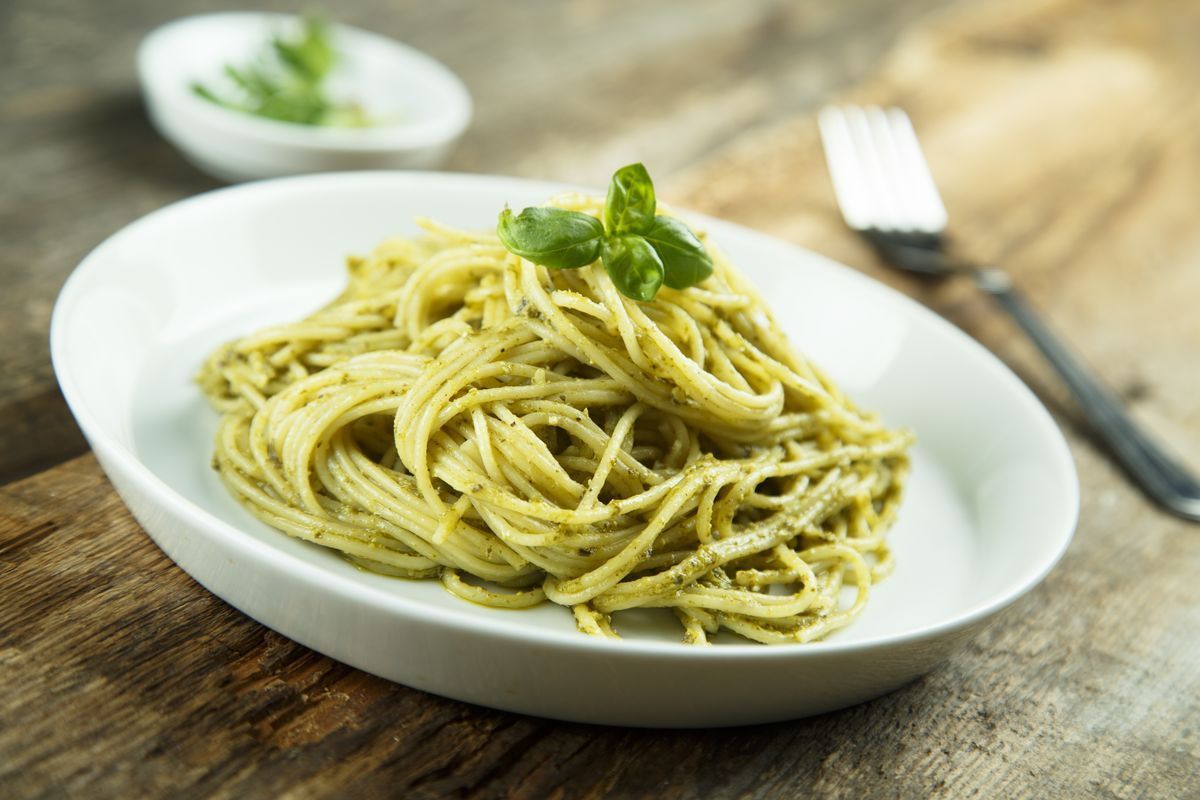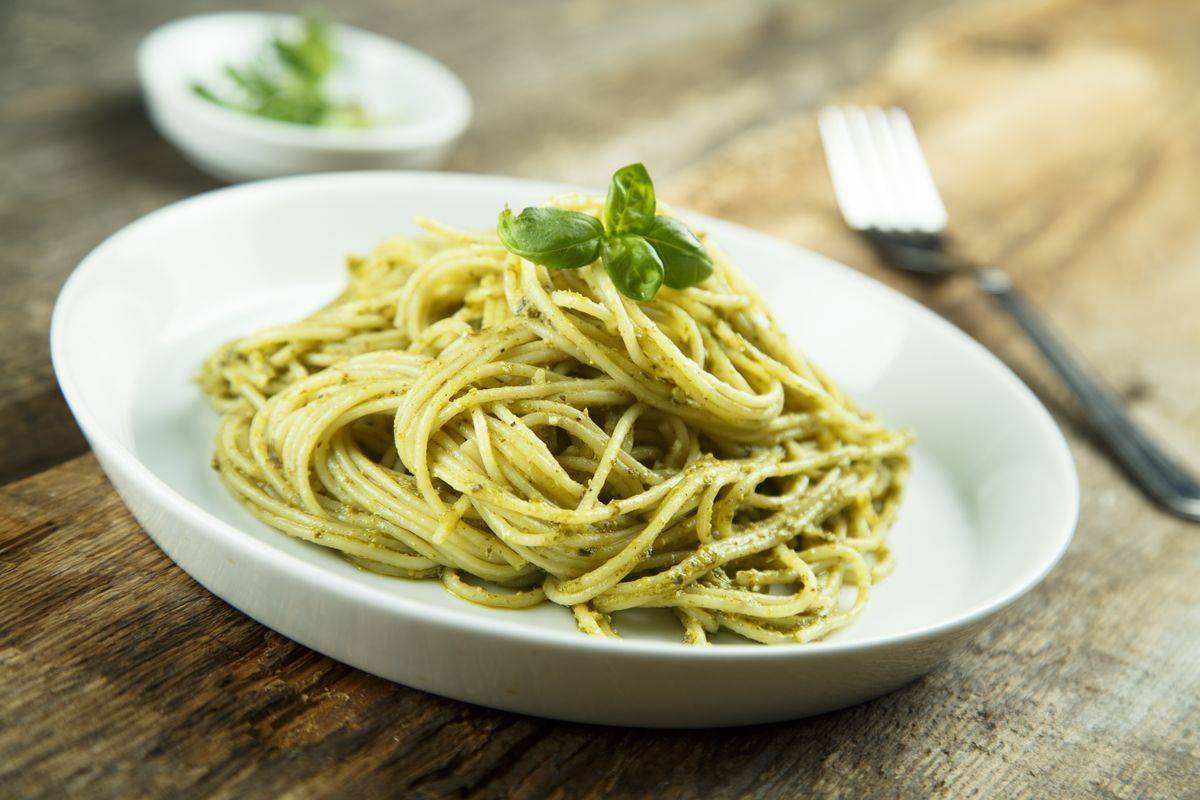 How to make pasta with pesto
Start by preparing the dressing: take the fresh basil leaves and clean them with a kitchen cloth clean. Then place them in a glass with high sides. Add the peeled and cored garlic, the pine nuts, 1 pinch of salt and the grated cheese.
At this point start blending intermittently, slowly adding the olive oil just enough to obtain a smooth creamy sauce, homogeneous and with a typical bright colour. To obtain an even more vivid color you can break an ice cube into flakes and add it to the mixer.
Then put a pot of water on the fire, bring to a boil and salt the water.
Continue adding the spaghetti (or bavette) and cook them for the time indicated on the package.
When cooked, drain the pasta, keeping one cup of water cooking pasta. Put the pesto in a large bowl, dilute it with a little cooking water, mix and add the spaghetti.
Turn everything well in order to bind the pasta to the sauce, and finally, serve. Finish by decorating with fresh basil and a dusting of cheese if needed. Your spaghetti with pesto are ready, enjoy your meal!
How about trying all our quick first courses? Know that if you have a mortar at home you can prepare the sauce as per tradition, mixing all the ingredients until you reach the desired consistency. The more traditional technique also avoids the classic increases in temperature which occur with the rotating blades of the mixer and can make less bright color the final result.
How to make pesto alla genovese: recipe, tips and tricks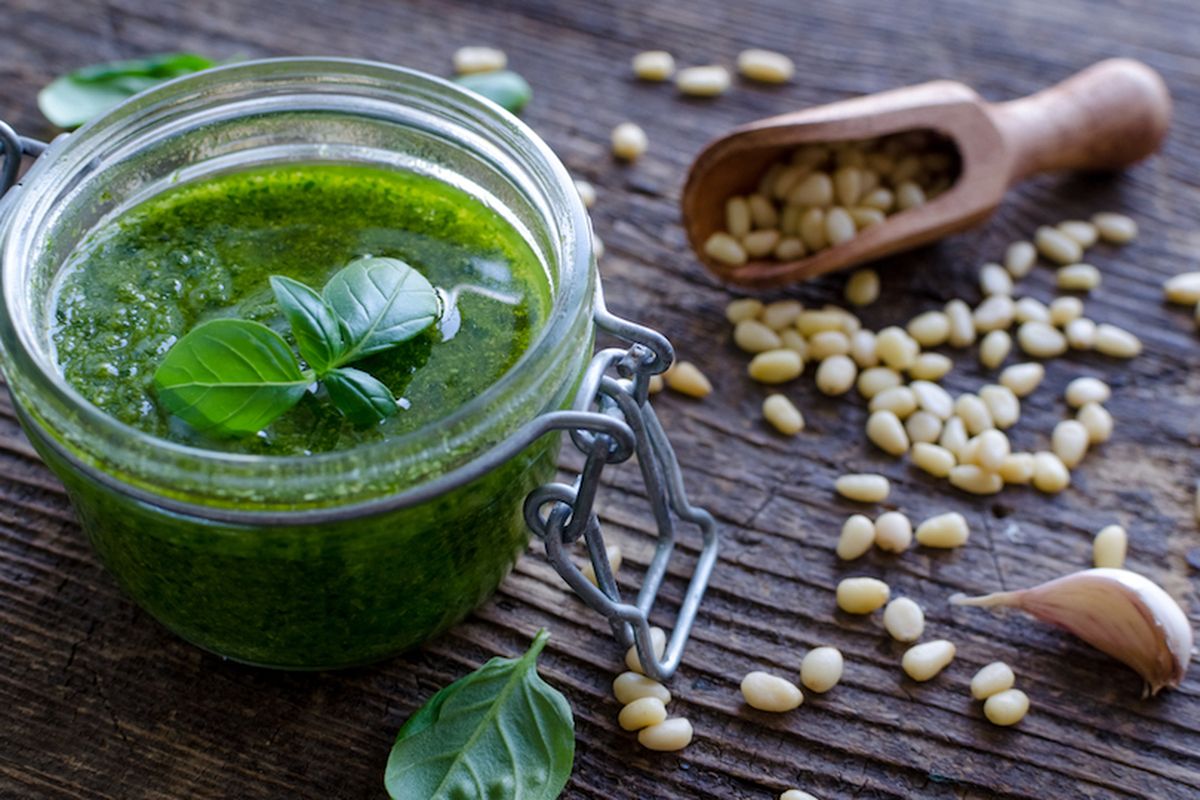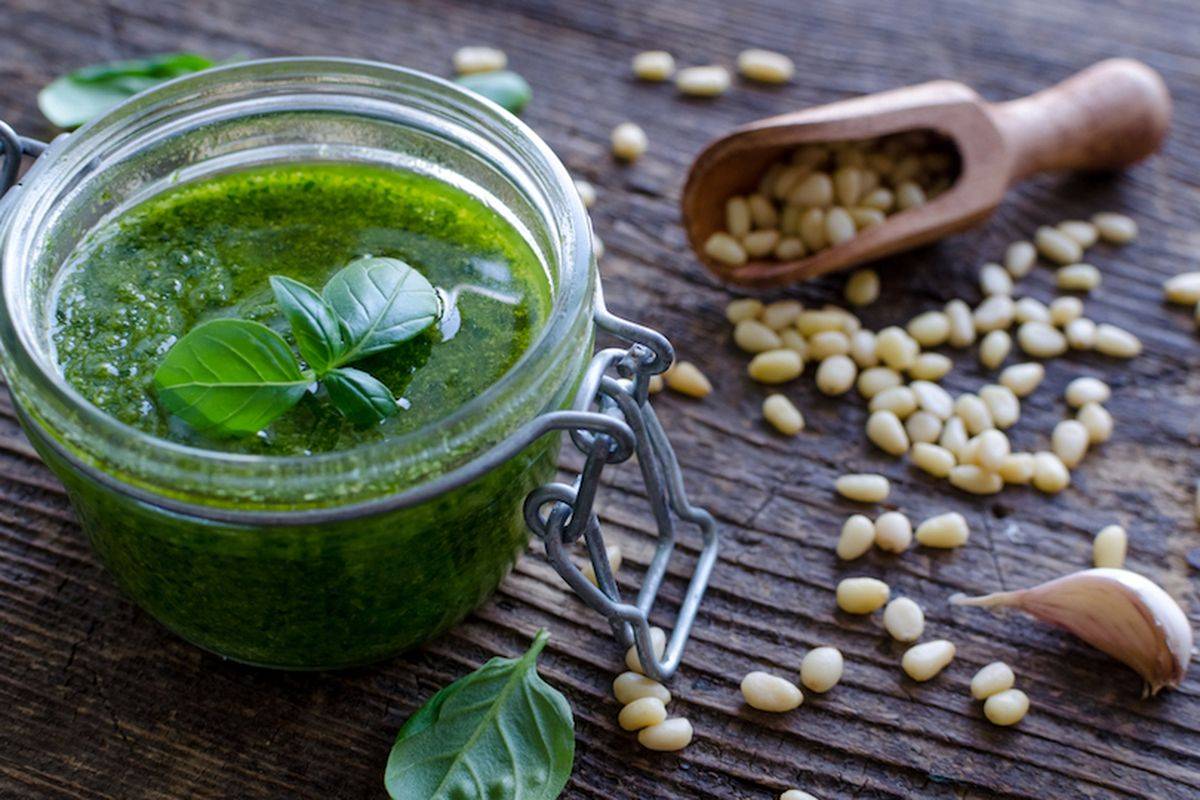 We understand that homemade pesto is certainly better than jarred pesto. But what are the secrets to obtain a gravy Perfect and in a workmanlike manner?
– First of all, as we have already said, working pesto with a mortar definitely gives and extra touch to this recipe, because all the elements are crushed, and not cut. Furthermore, it would be good to follow a precise order during the processing phase.
– We start with the garlic, which is crushed with salt, then we move on to the pine nuts, and only then to the basil, the cheese and finally the oil. And it is precisely during these phases that the real trick of this sauce: the dosages.
Taste to verify that the sauce is not too savory and measure out the oil and cheese well to achieve one creaminess perfect!
When pesto meets tradition
If you want to get even closer to tradition, we advise you to serve with your pesto some trofie, some train net or testaroli, the main types of pasta that are combined with the famous basil sauce.
And if you are looking for a variant instead richer, you can add green beans and potatoes to the pasta with pesto, an ancient preparation that is still very common today. All you have to do is cut the vegetables into small cubes and make them blanch in salted water until cooked. Add them to the pasta during the creaming phase. And bon appetit!
Recipes with pesto: some tasty ideas
We've seen everything about tradition, but that doesn't mean you can't experiment with delicious dishes that go a little out of the box. In fact, pesto goes perfectly with many other ingredients, so you can really try many dishes!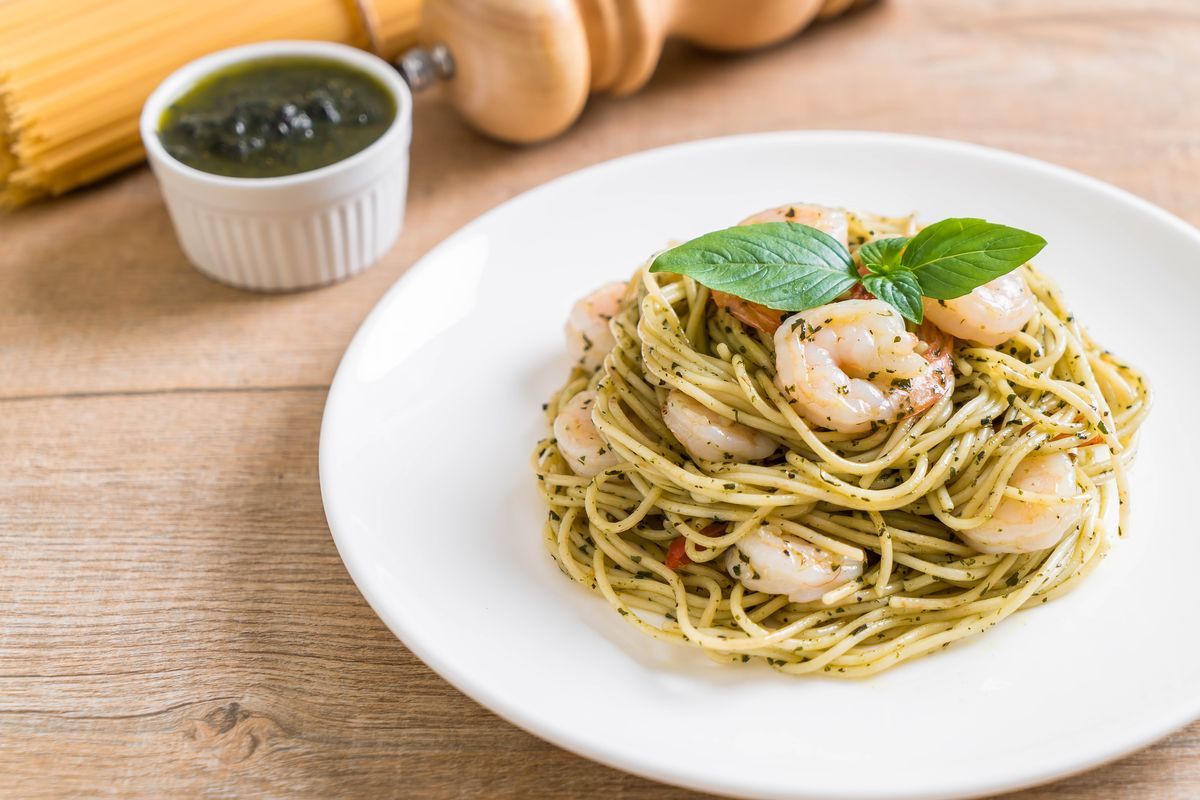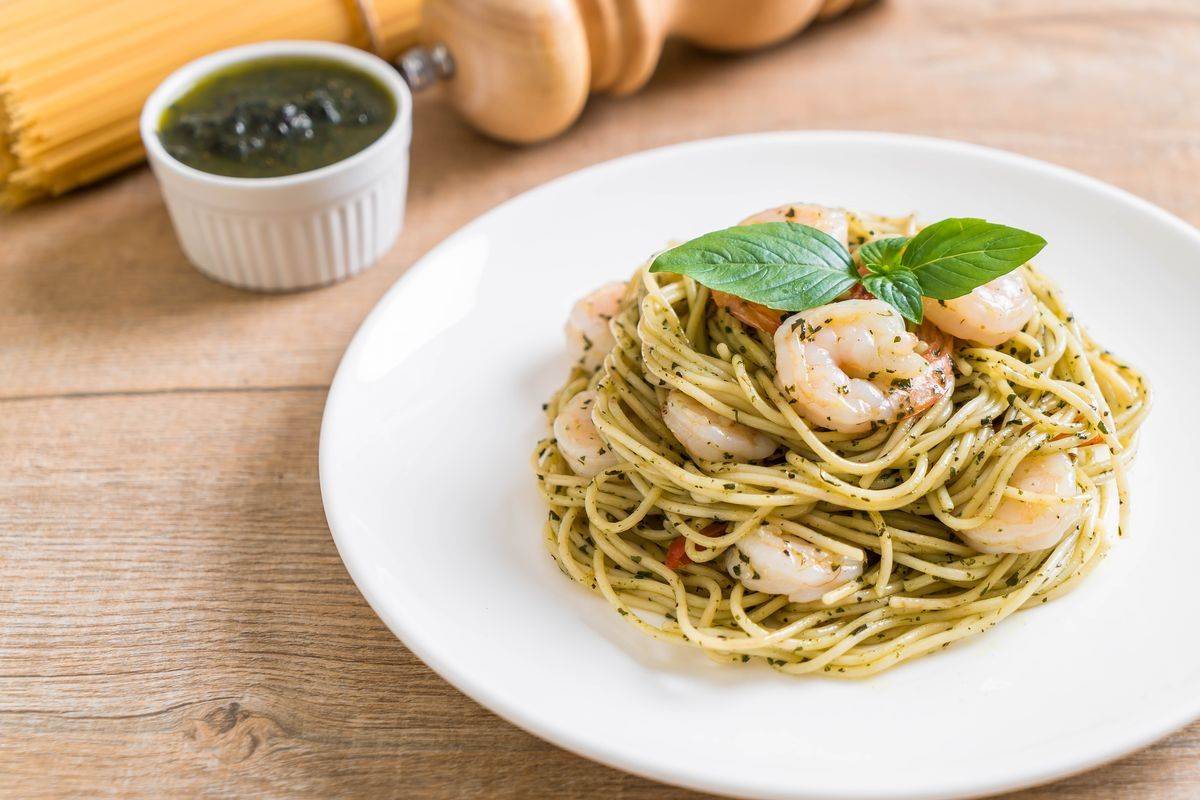 – Cold pasta with pesto: to prepare this dish we recommend a format of pasta short (butterflies, half sleeves or fusilli will be great). Once cooked and left to cool, season it with pesto and if you want others ingredients fancifullike cubes of mozzarella, cherry tomatoes, olives and anchovies!
– Pasta with pesto and cherry tomatoes: simple, fresh, effective. Just add a handful of raw cherry tomatoes to turn a plate of pasta into a dream!
– Pasta with pesto and prawns: fish with pesto goes very well. Pan-seared some prawns and add them at the fineyou will see what a bomb!
– Pasta with pesto, squid and potatoes: you know that delicious pasta that is prepared with squid and potatoes, where a lot of basil leaves are added at the end. Here: try it with homemade pesto, you won't be able to do without it anymore!
We have included it among our best summer first courses, but this pasta is tasty all year round.
storage
Pasta with basil pesto is best kept for 1 day in the fridgewell covered by the transparent film, we still recommend consuming it at the moment to fully appreciate its unmistakable aroma.
Instead, basil pesto can be preserved in many ways: you can safely leave it in the pantry, well preserved in a vacuum-packed jar, for about 2-3 months. Once opened, you can instead leave it in the fridge for about a week, just remember to add oil as needed so that the sauce does not dry out. Or you can freeze it, or create nice and practical basil cubes that are very similar to pesto!
History of pesto: the origins of the Ligurian sauce
It is not clear where pesto alla genovese really came from, it seems certain instead that the first to talk about it officially was the writer John the Baptist Ratin his book "Genoese cuisine" which was published in the second half of the nineteenth century. It seems that the recipe reported in the text was not completely relevant to the one we know today, however the reason is very simple: the Ligurians and even more the Genoese were a people who lived on exports thanks to the access to the sea, for this reason the cheese used could change according to the momentary exchanges. Also also the basic herbs of the recipe they were not limited to basil, given its short seasonality, but could also be extended to other qualities such as marjoram or similar.
As the name indicates the sauce comes from pound the ingredients with the mortarmoreover it seems that it derives from the oldest garlic-based garlic sauce which was also used to preserve food for longer.
One last curiosity about the history of pesto? This part is not certified in any writing but refers more to local legends that tell of how it was a monk of a convent in the locality of Prà to create the sauce. In fact, it seems that he picked the basil from the monastery garden and then combined it with other simple ingredients they had in the pantry, including cheese crusts remained unused.
Sign up for the Primo Chef newsletter to find out about new recipes, advice and news. Before anyone else.

Reserved reproduction © 2023 – PC

#Genoese #pesto #pasta #recipe #tradition #variations #history