Gluten-free pear and chocolate cake, a quick and genuine dessert
The quick and easy recipe for gluten-free pear and chocolate cake, a genuine snack to prepare in no time at all.
The gluten-free pear and chocolate cake is a variation of the classic recipe. Suitable for every season, it is a soft and fragrant cake that melts in your mouth. A perfect combination that of pear and chocolate, which have always been excellent spouses when it comes to desserts.
The addition of crunchy dried fruit, if desired, will give an extra touch to your dessert. Also there lactose-free variant it will please anyone with its unchanged and absolutely exquisite taste. Served to your friends during a chat over coffee, it will make your afternoons with friends even more enjoyable.
Let's go prepare this delicious cake now!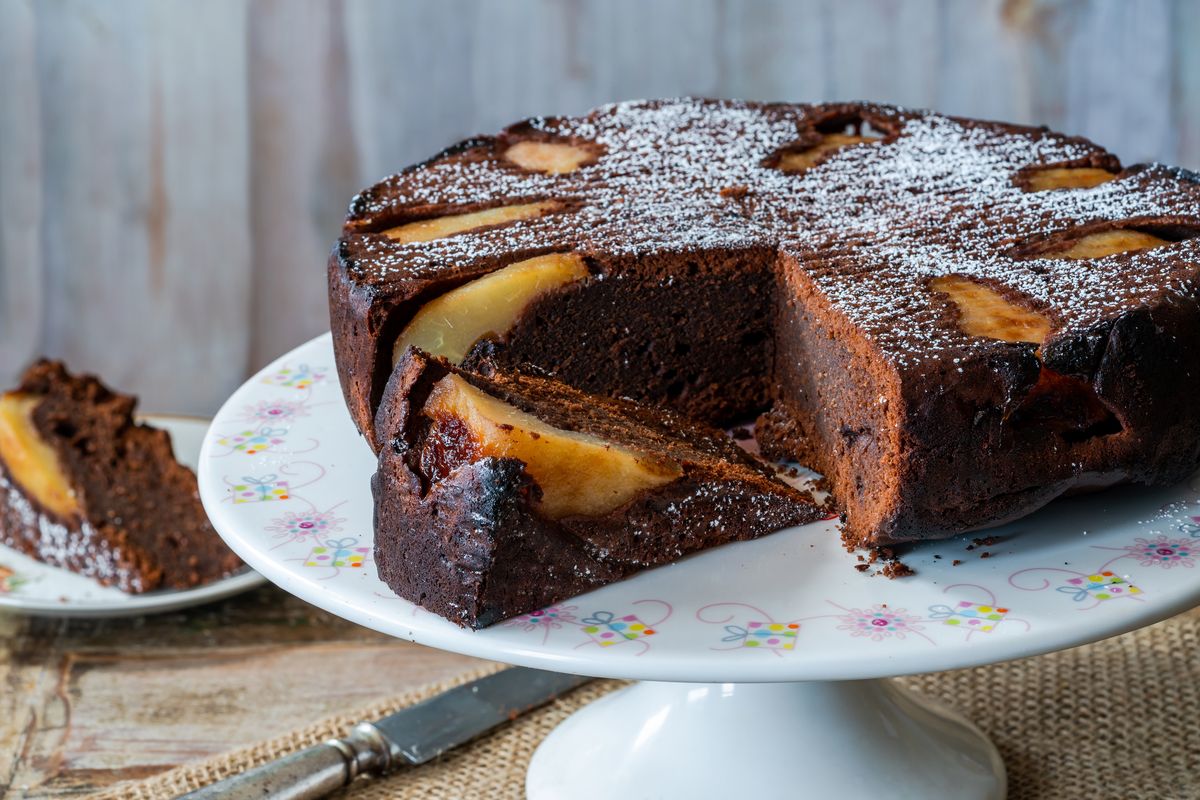 Gluten-free pear and chocolate cake recipe
Wash, peel and cut the pear sliced ​​not too much sexcellent. Put it in a bowl with lemon juice and a teaspoon of sugar, mix and set aside.
Beat the eggs with the sugar until you get a light and frothy mixture. Add cocoa sieved.
Combine corn starch, potato starch, flour and baking powder separately sift they too.
Add the milk to the eggs, alternating with the flour mix.
Pour little at a time the oil while continuing to beat.
Take a pan and grease it slightly with the oil and then pour a part of the mixture.
Drain the pears from the lemon juice and place them in the mixture poured into the pan.
Cover the pears with the remaining mixture and cook in a convection oven at 180° C for about 45 minutes.
Leave to cool in the oven turned off slightly open. Then take it out of the oven completely and when it has cooled down, decorate your soft gluten-free pear and chocolate cake with a sprinkling of icing sugar.
Variations and ideas of the gluten-free pear and chocolate dessert
You can decorate the surface of the cake before baking with hazelnut grains, sugar grains or chocolate chips. A pinch of cinnamon will give an exceptional and pleasant note to your delicious and gluten-free pear and chocolate cake.
The use of dried fruit will certainly be an excellent decoration, but its tasty and crunchy flavor will also please you with the use of almond flour in the cake mix. As an alternative to the gluten-free version, you can also try using one spelled flour or one type 1 flour. For the lactose-free version, instead replace the whole milk with vegetable milk or soy milk.
storage
Keep the cake at room temperature for maximum 4 days. A glass bell or an airtight container will do just fine.
For an ultra dark version, try the pear and dark chocolate cake recipe.
Sign up for the Primo Chef newsletter to find out about new recipes, advice and news. Before anyone else.

Reserved reproduction © 2023 – PC

#Glutenfree #pear #chocolate #cake #quick #genuine #dessert