Grilled artichokes, the easy recipe for a light side dish
From Sicily comes the perfect recipe for grilled artichokes to accompany second courses of roasted meat.
It's a'ancient Sicilian recipe the one that teaches us how to make grilled artichokes, also known as "roasted cockles". And vegetarian side dish to be seasoned with a few very simple ingredients, excellent as an accompaniment to roasted meat or simply as a starter course. Usual dish of the Easter period, it will be pleasant to prepare these artichokes in the summer, to be savored during lunches with friends and relatives. Those who do not have an outdoor space available can also prepare artichokes in the oven or in many other ways that we will see together.
Let's go prepare them now!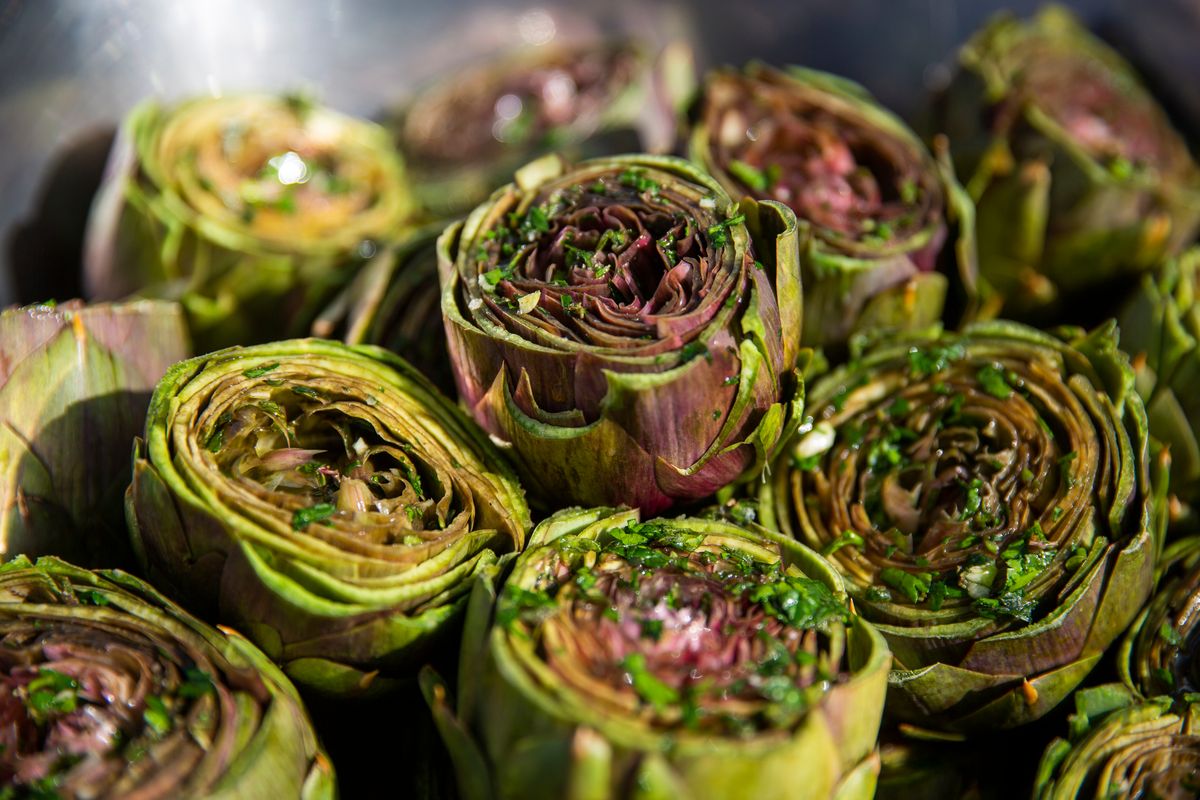 Recipe preparation of grilled artichokes
Clean the artichokes by removing the outer leaves, the tip and the hard part of the stem.
Cut them in half, turn them upside down and tap on the outside to open their leaves. Wash the artichokes under running water and remove the central beard.
Wash the parsley leaves and chop grossly the garlic.
Then put the artichokes in a large container and season with garlic, parsley, oil, salt and pepper.
Arrange the artichokes on the almost extinguished embers with the cut side facing upwards. Cook for 20-30 minutes until the outer leaves have burned.
When cooked, remove the burnt outer leaves and serve the artichokes hot.
You can also leave them whole, even if they are well cleaned, but calculate that in this case the cooking times are extended by approx. 10-15 minutes.
Variations of grilled artichokes
If you don't have the possibility to cook on the grill, you can also prepare the artichokes on the grill. One will do too grill or one no stick pan.
Try seasoning the artichokes with the juice of a lemon before serving them and, if you like the spicy note, add some chili to the seasoning. The authentic tradition instead provides for the use of lard and bacon in pieces instead of oil.
And what about the grilled artichokes in oil? The process will be slightly longer but not at all complex. It is a variation of the recipe for simple artichokes in oil which includes an additional phase after boiling and drying the artichokes. After the procedure just mentioned, in fact, you will have to roast them a few at a time on the embers then cool for 7 hours. It will be at this moment that you will fill your jars with artichokes and their condiments, as per the original recipe.
storage
It would be advisable enjoy right away artichokes fragrant, but if you really want to keep them you can store them in the fridge in an airtight container for maximum one day.
Also try the recipe for poached artichokes!
Sign up for the Primo Chef newsletter to find out about new recipes, advice and news. Before anyone else.

Reserved reproduction © 2023 – PC

#Grilled #artichokes #easy #recipe #light #side #dish