History of Spanish tapas in 10 recipes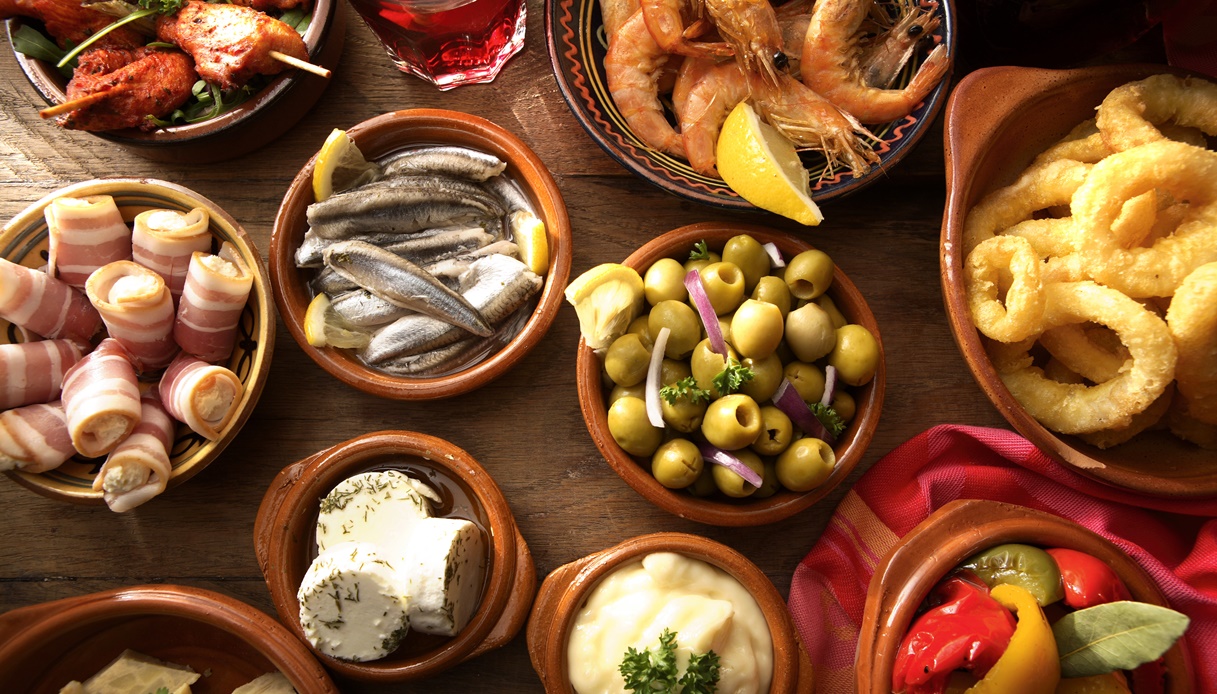 It will certainly have happened to you to take a trip to Spain and to have tasted the very famous ones spanish tapas. But, what's it about? When we talk about Spanish tapas we mean those small tastes which are served at any time of day (and night). Don't confuse tapas with our aperitif appetizers, it would be a serious mistake to do so because if our aperitif is a simple taste to accompany a drink in view of dinner, Spanish tapas are real dishes that you can have dinner with.
What are Spanish tapas
The spanish cuisine boasts iconic dishes that have made this Mediterranean area a great reference point for international gastronomy. This is where trends and influences started that have changed the entire way of cooking around the world (just think of haute cuisine molecular cuisine by Ferran Adrià).
The spanish tapas have very ancient origins and it is perhaps here that the custom of accompanying wine (or a more contemporary cocktail) with a taste. The name tapas comes from the Spanish term coverthat is to cork your glass of wine with one slice of bread to prevent insects or dust from ending up inside the goblet. Ham (jamon) was then placed on top of that slice of bread and slowly what was only a practical necessity became a real symbol of taste.
Curiosities about Spanish tapas
L'origin of tapas can be recognized in the region ofAndalusia, the southern area of ​​Spain which boasts a mild climate all year round but very hot in summer. For this reason flies and gnats partied to enter the sherry, a typical nineteenth-century Spanish drink. The insects, attracted by the sugary substance, tried to get into the glasses, but with the tapas they couldn't do their job. Someone, very hungry, must have seen fit to eat the slice of bread after having finished the sherry in the glass. The whole world must thank this person who, unknowingly, gave us the delicious spanish tapas.
Difference between tapas and pinchos
Often confused, tapas and pinchos are actually two different types of dishes. Although born in other ways, nowadays both tapas and pinchos have their own precise identity:
the tapastypical of Andalusia, are small portions served on a plate and usually eaten standing up with the use of cutlery;
i pinchostypical of the Basque Country, can be eaten standing up at the counter and are single bites served with a wooden toothpick.
10 Spanish tapas recipes to try
In the world of tapas you will not be able to give up the famous garlic sauce (or aioli), similar to a mayonnaise but with the addition of garlic. This sauce never fails tapas bar and is served with bread sticks or croutons together with the characteristics olive seasoned with oil and aromatic herbs. The versatility of tapas also allows you to enjoy traditional Spanish dishes, provided they are offered in small tasting quantities. An example? The Gazpacho, the famous cold soup with summer flavors and aromas based on tomatoes, peppers and cucumbers. But what are the 10 tapas to try absolutely? Pour yourself a glass of sangria and make yourself comfortable, we're about to go to Spain!
Spicy potatoes
They will never be lacking in any self-respecting tapas offer. It's spicy potatoes, that is potatoes prepared in a pan and seasoned with very little tomato concentrate, smoked paprika and Mediterranean herbs. These potatoes they can be served both hot and coldbut the result does not change: they are delicious.
Tortilla Of Potatoes
Don't call her frittata! The traditional potato tortilla, typical of Iberian gastronomic culture, is tall, creamy inside and irresistible. You can choose the basic version, prepared with potatoes and eggs, or the tastier version or the potato and onion tortilla.
Serrano ham with artisan spikes
Iberian ham will never be missing in a good selection of tapas. Then order a nice plate of Serrano ham cut with a knife and together with it will come the handmade spikes, the classic short and pot-bellied breadsticks which with their almost neutral flavor do not cover the flavor of one of the most famous sausages in the world. The picos artesanitos are perfect with the spanish hambecause with their texture cookie dampen the sinuous fatty texture of this cured meat with excellent characteristics.
croquettes
The croquettes they are not meatballs, this must be very clear. It's small golden and crunchy nuggets with a soft and stringy heart. At the base there are always potatoes, tubers very used in Spain. Once boiled, the potatoes are mashed while still hot and mixed with the cheese (queso) and very small cubes of jamon. At this point the dough is transformed into small balls which are then stretched to take the shape of classics croquettes. They are dipped in egg, breadcrumbs and fried until they become crispy and golden on the outside.
bread and tomato
At the table, simple things are the ones that hardly get boring. It is the case of bread and tomato (bread and tomato), not to be confused with our classics bruschetta. Pan y tomate is served not only for lunch, dinner or as an aperitif, but also for breakfast. You simply heat the bread until it is crunchy and then the tomatoes are rubbed on this bread, you add a drizzle of extra virgin olive oil and a pinch of salt to taste. Very good!
Galician Octopus
As its name says, the Galician Octopus it is a recipe of Galician origins. Galicia is an area very rich in precious fish products, such as the sea ​​urchins and the curious barnacles, crustaceans very difficult to catch and therefore very expensive (someone says they are the most expensive crustaceans in the world). After being cooked in its water, the octopus it is cut into small pieces and served on thin slices of boiled potato. Among the condiments of this recipe, sweet or smoked paprika cannot be missing according to taste.
Fried squid
That's right, among the seafood tapas you will also find crunchy fish rings fried squid in batter or with plain flour. On these just add a pinch of salt and you're done. Even in Spain a question remains unresolved: on fried squid, lemon yes or lemon no? There is no right answer!
Shrimps a la plancha
Don't let the name scare you, i plancha prawns they are simple grilled shrimp. Red, large and very tasty, plancha prawns will never be lacking in fish tapas proposals. If desired, they can be seasoned with oil, pepper and chopped parsley.
Padron peppers
Vegetarian friends, tapas is for all types of palates and for all food styles. To prove it are the remember de padron. These are small green peppers, very similar to ours friggitelli, which are cooked in a pan and simply seasoned with oil and salt. Have no fear, these peppers are very sweet and not spicy at all.
anchovies in vinegar
I anchovies in vinegar it's marinated anchovies. Once cleaned and opened like a book, the anchovies are covered with a marinade of oil and white wine vinegar, salt and pepper. Naturally, garlic cannot be missing, a flavor and aroma that is very present in all Spanish cuisine.

#History #Spanish #tapas #recipes