Simple, fast, delicious, made from natural products! Homemade cocoa candies with nuts, pumpkin seeds and flax are a great alternative to store-bought factory candies. The composition of such sweets is natural, without dyes and other chemicals. Such a delicacy is interesting to cook with children.
Homemade cocoa candies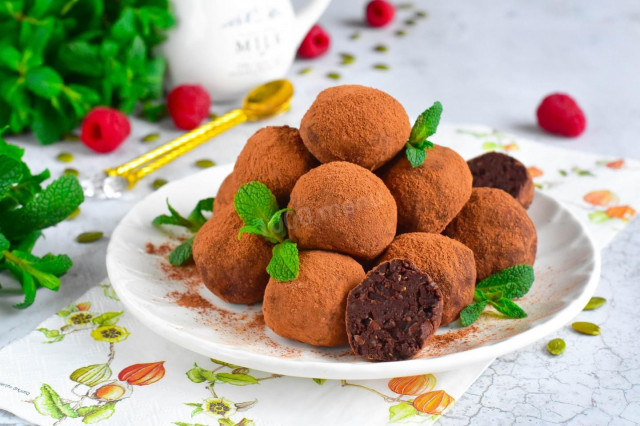 Step by step cooking


Time for preparing: 3 h
PT3H


Step 1:

How to make homemade cocoa candies? First, prepare the necessary ingredients according to the list. Dry cocoa powder is desirable to take high-quality, for example, the Golden Label. Poor-quality cocoa may not completely dissolve and crunch unpleasantly on the teeth. You can take cream of any fat content. I have 20% Part of the butter can be replaced with coconut oil.

Step 2:

Put the flax seeds, pumpkin and walnuts into the blender bowl. You can take any sets of nuts and seeds. Grind them to a state of fine crumbs. If you want to grind even more, you can grind the flax and pumpkin seeds separately in a coffee grinder.

Step 3:

Pour 50 g of cocoa and sugar into a saucepan.

Step 4:

Add cream and stir. Place the saucepan over medium heat and, stirring constantly, bring the cream and cocoa to a boil. Remove the saucepan from the fire.

Step 5:

Add the butter to the hot chocolate mixture and stir until completely melted. The mass will thin out a little.

Step 6:

Add chopped walnuts, flax seeds and pumpkin seeds to the chocolate mass.

Step 7:

Mix everything thoroughly until smooth. The mass will strongly thicken and become viscous. Cool the mass completely. In winter, I take the saucepan to the balcony, and in the summer I put it in the refrigerator. The colder the mass, the less it sticks to the hands. If the mass remains liquid even after cooling, add a little more mixture of crushed pumpkin seeds, flax and walnuts to it.

Step 8:

Use your hands to form the resulting chocolate mixture into even round balls about the size of a walnut or slightly smaller. Roll them in the remaining cocoa powder (10 g).

Step 9:

Send the resulting sweets for 2 hours in the refrigerator for complete solidification. Enjoy your meal!
Cream for this recipe can be of any fat content, but remember that the higher the fat content of the products you use, the higher the calorie content of the dish.
Instead of sugar, you can use a sweetener that is not afraid of heat treatment.
How to choose the perfect pot for cooking, read the article on pots.
Similar recipes
Other categories
Calorie content of products that are possible in the composition of the dish
Cotton

–

36

kcal/100g

Cream 20% fat

–

300

kcal/100g

Cream 10% fat

–

120

kcal/100g

Cream

–

300

kcal/100g

Pumpkin

–

29

kcal/100g

walnuts

–

650

kcal/100g

Black Walnut English Walnut

–

628

kcal/100g

Black Walnut Persian

–

651

kcal/100g

Walnut oil

–

925

kcal/100g

Sugar

–

398

kcal/100g

Sugar

–

398

kcal/100g

Butter 82%

–

734

kcal/100g

Amateur unsalted butter

–

709

kcal/100g

Peasant unsalted butter

–

661

kcal/100g

Peasant salted butter

–

652

kcal/100g

Melted butter

–

869

kcal/100g

cocoa powder

–

374

kcal/100g

Flax seeds

–

534

kcal/100g
Food calorie content: cocoa powder, Sugar, Cream, Butter, Flax seeds, Pumpkin, Walnuts
#Homemade #cocoa #candies