Horns with stew in a pan recipe with photos step by step and video
Step 1: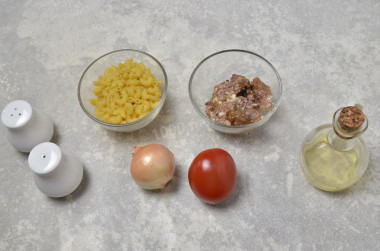 How to make horns with stew in a pan? Prepare food. In addition to horns, pasta of any shape is suitable, the main criterion is their quality. Choose pasta made from durum wheat, they are tastier, healthier and do not boil soft. Any stew is also suitable. I took beef. You can not put a tomato, but it will turn out much juicier with it. You can also add carrots.
Step 2: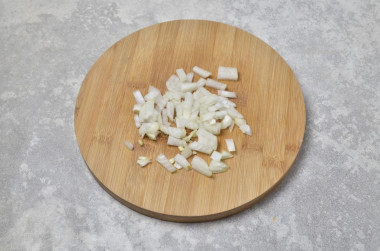 Peel the onion from the husk, wash and dry. Cut the onion into small cubes. To prevent irritation of the mucous membranes of the eyes when cutting onions, rinse the onion and knife with cold water. A cutting board will not absorb an unpleasant onion smell if you rub it with a slice of lemon before cutting it.
Step 3: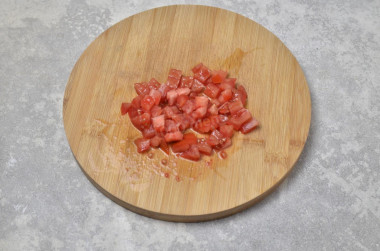 Wash the tomato, dry it. Cut it into cubes too. You can first remove the peel from the tomato. How easy is it to peel a tomato? Cut across the top with a sharp knife. Dip in boiling water for 1-2 minutes. Then immediately transfer to cold water. Take out the tomato and remove the skin.
Step 4: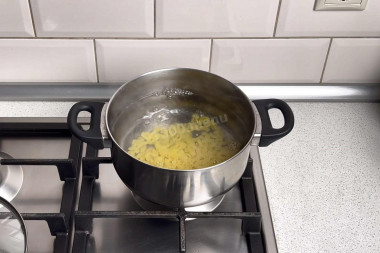 Place a pot of clean cold water over high heat. It should be a lot – for every 100 grams of pasta 1 liter of water. As soon as the water boils, add salt and toss the horns. Be sure to stir them so the pasta doesn't stick to the bottom. Boil the horns according to the time indicated on the package. The main thing is not to overcook the pasta, but leave it a little firm, al dente.
Step 5: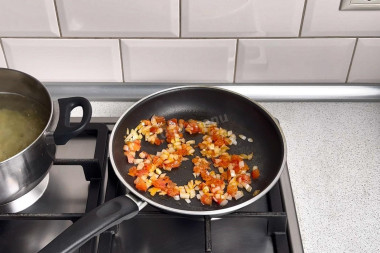 While the pasta is cooking, fry the stew. To do this, heat a frying pan with a little oil over medium heat. Put onions and tomatoes in it. Fry them for 3-4 minutes, stirring occasionally.
Step 6: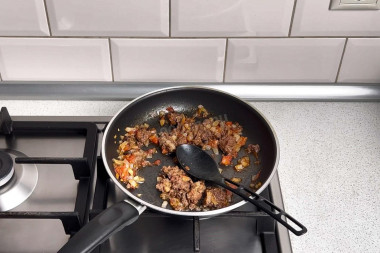 Then put the stew to the vegetables, after kneading it a little with a fork. You can not put fat from stew. Fry everything together for about 5 minutes. Taste the meat for salt and pepper, adding if desired.
Step 7: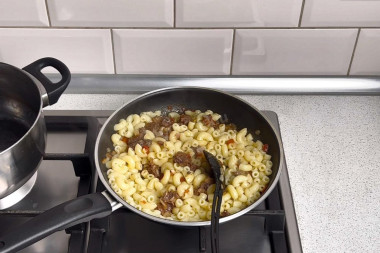 Throw the finished horns into a colander. Then throw them to the stew in the pan. Stir and heat everything together over low heat under the lid.
Step 8: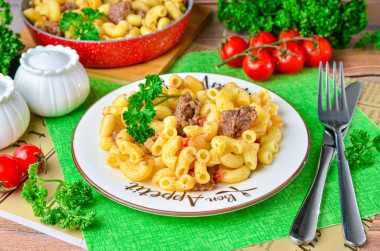 Serve hot horns with stew. Enjoy your meal!
#Horns #stew #pan #recipe #photos #step #step #video