how to do it and which foods are suitable
Steam cooking is perfect for preserving the characteristics of the food. Here's how it's done, the pros and cons and for which foods it can be used.
Steam cooking is a technique usually chosen by those who wish to prepare light dishes while maintaining most of the nutrients present in food. This cooking technique has very ancient origins and was mainly used in oriental, Chinese and Tibetan cuisine. Today there are several ways in which it is possible to exploit the power of steam to cook food. Let's see together which ones.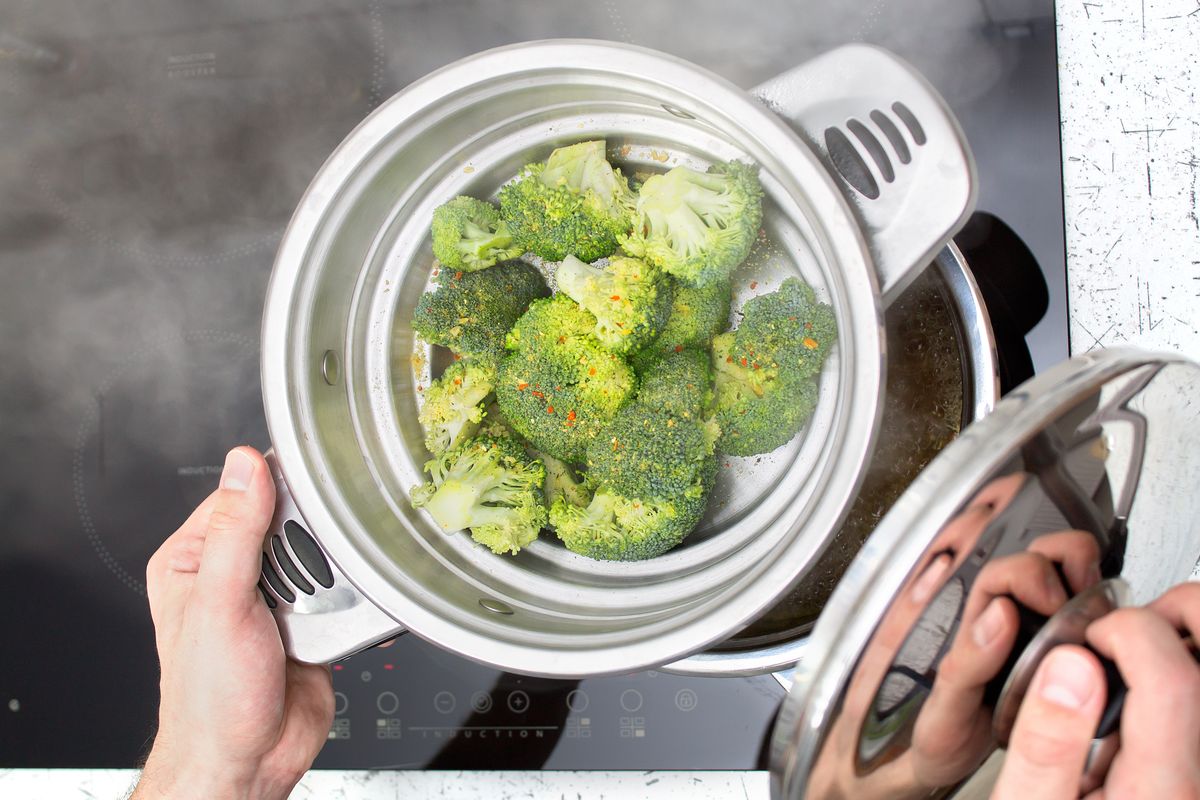 How to steam: the tools
Steam cooking, in essence, is obtained by subjecting food to a heat of about 100°C obtained from the evaporation of water placed in a pot. Therefore it does not foresee contact between water and foodsince the latter are placed on a permeable surface that is not in contact with water.
There are several ways to steam. There are special ones on the market baskets which can be of bamboo oh you steel. The former are more delicate and must be purchased in the size corresponding to the pot with which they will be used. The latter, on the other hand, open like an umbrella and adapt to pots of different sizes. In both cases you will need a lid to contain the steam inside and thus allow the food to cook.
You can also steam cook in a pressure cooker. In this case, a must be used steel basket whose underside is not in contact with water. Steam is formed in the pressure cooker between 112 and 125 °C and this allows for faster cooking, reducing times by 2/3. Be sure to let all the steam escape completely before removing the lid.
There are then steam ovens and microwaves able to steam cook without the use of particular utensils.
Advantages and disadvantages of steam cooking
It's really hard to find downsides to steaming. The main one concerns the timing: steam cooking in fact takes longer than boiling, but to speed it up it would be sufficient to use a pressure cooker.
As for i benefits instead they are really many. First the water soluble vitamins and the phytocompounds remain inside the food and are not dispersed in the water. Secondly, they are not foreseen condiments such as oil and salt, guaranteeing lighter dishes. Finally be the color that the gusto of foods remain unchanged.
What to steam
Various foods can be steamed.
Verdure, perhaps the most suitable for steam cooking due not only to the limited cooking times, but also and above all to the possibility of keeping the nutrients unaltered. Times vary according to the vegetables: from a few minutes for leafy vegetables to 15-20 minutes for cabbage. For the steamed potatoes, depending on the size, about ten minutes should be enough.
Pesce, preferably in fillets and fresh. In this case the addition of aromatic herbs and spices directly during cooking helps to make it tastier. But be careful not to overdo it.
Carne, only white meats that do not require long cooking times. Excellent steamed chicken to accompany with a light sauce perhaps based on yogurt.
Sign up for the Primo Chef newsletter to find out about new recipes, advice and news. Before anyone else.

Reserved reproduction © 2023 – PC

#foods #suitable