How to make tartar sauce: the original recipe
It is similar to mayonnaise, but its particular taste will win you over: here's how to prepare the recipe for homemade tartar sauce!
Tartar sauce is a very tasty sauce of origins french. It is used cold to season fish or meat, but also for snacks and canapés. In general it is a recipe very similar to that of mayonnaise, but the difference it lies in its components.
What Are the Ingredients of Tartar Sauce? First of all the eggs, which are used partly hard-boiled, but also others such as gherkins, capers, parsley and tarragon.
The latter, to be used fresh and not dried (because it loses its aromas when dried), is an aromatic herb widely used in transalpine cuisine to accompany main courses, given its pungent taste reminiscent a bit of mint a bit of celery.
In short, are you ready to prepare it together? At that time follow us in the kitchen!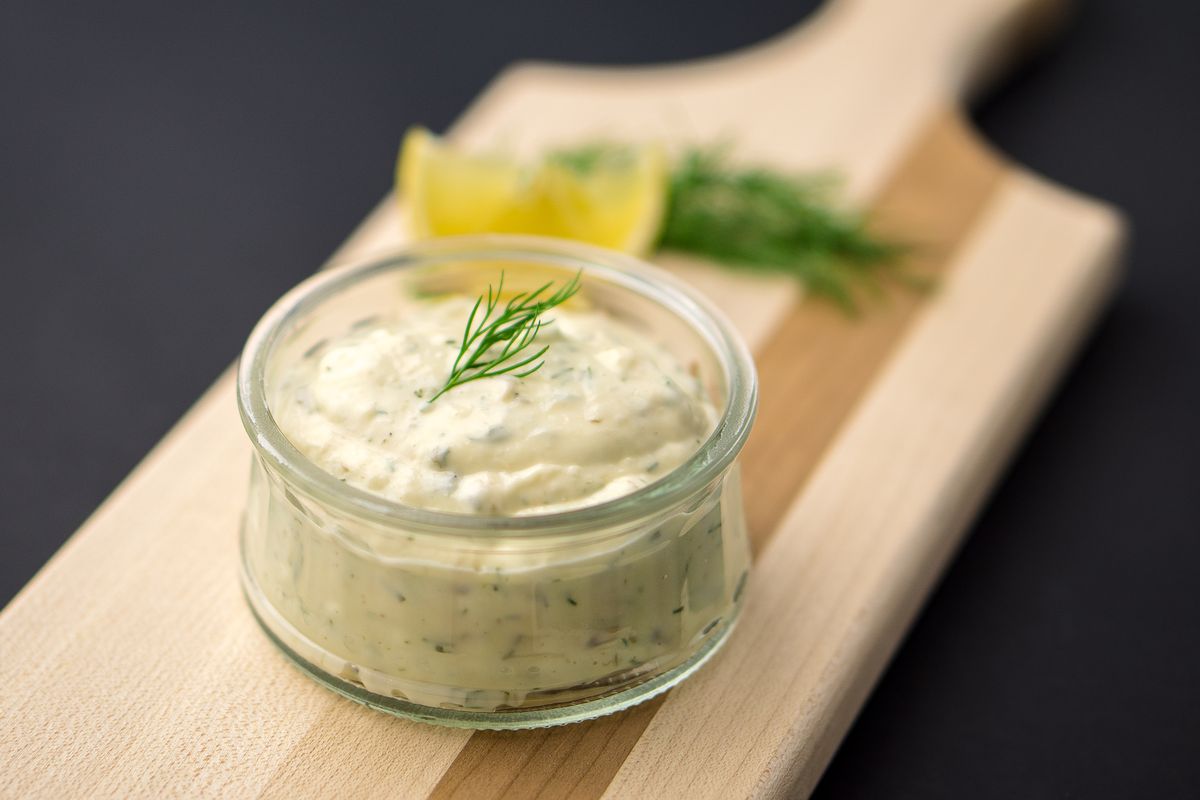 How to make tartar sauce
To prepare the tartar sauce, put 4 eggs in a saucepan, completely covered with water, and cook until hard-boiled (it will take about 8-10 minutes after boiling).
Meanwhile, finely chop the capers (it is advisable to soak them in water cold for a few minutes and then drain), the gherkins, the parsley and the tarragon.
Let the eggs cool down, then peel them and remove them 4 yolks. Put them in a bowl with vinegar, salt and pepper and mash them with a fork, then work everything with a wooden spoon until you get a composed homogeneous.
Add two yolks fresh and whisk with electric whisks, pouring the oil slowly, just as if you were preparing mayonnaise. It will be very important not to pour it all at once but slowly, so as not to go crazy the sauce.
When the tartare has a creamy consistency, add the chopped capers, gherkins, parsley and tarragon and jumbled up.
The sauce is ready Good appetite!
Also try our recipe for making barbecue sauce!
Tips for preparing the perfect tartare
The only slightly more complicated part of all this preparation is certainly that which concerns the yolks, just like with classic mayonnaise it can go crazy, so here are 3 simple tips to prevent it from happening or to recover the sauce.
– Used eggs at room temperature for using raw egg yolks. Don't go wrong with this step, cold yolks from the fridge are much more difficult to whip.
– Flush oil. Little and always flush, for a good result of the tartar sauce (or mayonnaise) put it a little at a time but always flush. If you are afraid that the bowl will move, place it on a damp cloth which will create more friction.
– Finally, how to recover the crazy tartare. Put an additional yolk to another bowl. Start whipping it with the oil and, only when it begins to thicken like the best of mayonnaises, gradually add the crazy mixture, continuing to mix or blend. This way you should be able to recover the sauce.
storage
We recommend keeping the sauce in the fridge, in a container with a special lid, for maximum 3-4 days. We do not recommend freezing in the freezer.
Sign up for the Primo Chef newsletter to find out about new recipes, advice and news. Before anyone else.

Reserved reproduction © 2023 – PC

#tartar #sauce #original #recipe