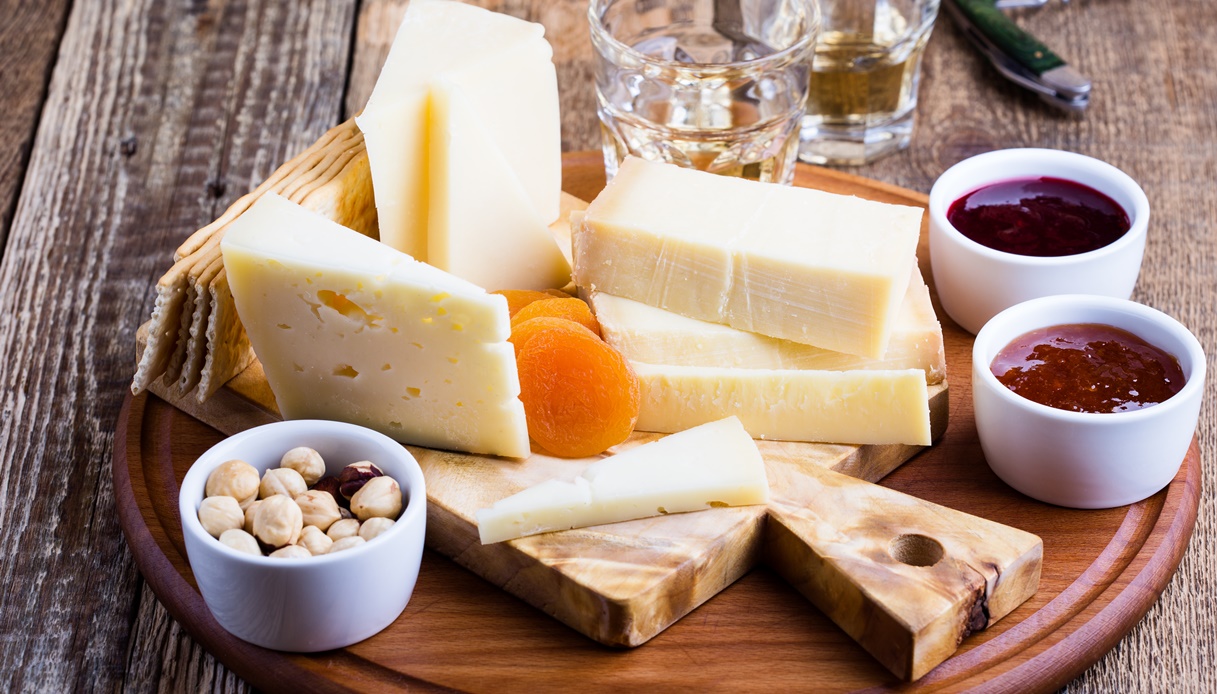 Good in purity, perfect as an appetizer, as an aperitif but also after a dinner, but how to match cheeses? Per match the cheeses correctly they serve some rulesare not difficult, but you need to have some knowledge of the dairy world. The pairing of cheeses includes jams, marmalades, honey and cured meats, but also vegetables, breads and pairings with wine.
How to serve cheese
Before moving on to cheese pairing rulesyou need to know how to serve a perfectly cheese platter. Presenting cheeses on the table is in fact a kind of art that will allow you to always create new combinations and refined tastings. Here's how to compose a cheese plate:
remember to extract i cheeses from the refrigerator an hour before serving them, cold is the enemy of the taste of these ingredients;
you can use a chopping board or a tray, in the case of a wooden support it would be better to cover the surface with a sheet of parchment paper or, better, with fig leaves or lemon;
brought to the table in cheeses that are not whole, but already partially sliced ​​or cut. It will be the responsibility of each guest to then cut further pieces with the appropriate knives;
try to don't serve only white cheesesbut play with colors, you can also decorate with aromatic herbs and fruit;
don't serve just one type of cheese.
What cheeses to serve
Per a perfect cheese platter play on the balance of taste and texture and above all advise guests to always start with the lightest and finish with the tastiest. Always expect:
1 cheese molle (gorgonzola, robiola, crescenza, mascarpone, stracchino, stracciatella);
1 cheese pasta filata: (mozzarella, provolone, provola, caciocavallo, buffalo mozzarella, burrata);
1 cheese hard dough (grana, gruyere, fontina, emmenthaler).
The cheese knives
Take care to serve the cheeses with their knives. If you don't have them, it doesn't matter, but plan a knife for each type so that the flavors don't mix. Among the main cheese knives we find:
Il cheese knife with a thin, serrated blade. This knife has a double point slightly curved backwards which is used to pierce the pieces of cheese after having cut them. It is not individual but service cutlery. It is not used for Parmesan cheese.
Il grain cutter which is small in size with a drop-shaped blade and a short pommel-shaped wooden handle. It is used to obtain small flakes of cheese.
L'slice cheesewhich is a useful tool for slicing medium-aged cheeses.
Pair cheeses with jams and marmalades
This is the most common combination and remember that jams are only made with citrus fruits, while jams are made with fruit and vegetables.
aged cheeses and savory: jams of onions, plums, pears and cherriesbut also dried fruit (walnuts, almonds, hazelnuts;
goat cheeses: jams of blueberries, raspberries and red fruits;
fresh cheeses: fresh fruit (grapes, apricots, peaches).
How to combine cheese with honey
Honey is also perfect to accompany cheeses, but be careful because not all honey tastes the same:
aged cheeses and hard: eucalyptus honey, chestnut honey;
cream cheeses: wildflower honey and acacia honey.

#pair #cheeses