Jam from Isabella grapes with seeds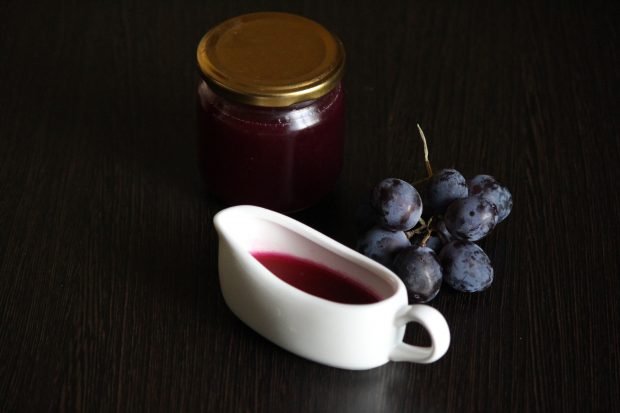 I don't know about you, but in my family, any jam flies away in jars during the cold season. Not so long ago, I learned an amazing recipe for jam from Isabella grapes, which ripens so much in the country that it's a sin not to prepare for future use. I will share with you the recipe.
Step by step cooking recipe
Prepare the syrup: Combine water and sugar in a bowl and mix well. Bring syrup to a boil over high heat, reduce heat and simmer, stirring, for 10 minutes.
Separate the grapes from the bunches, rinse, then lightly dry.
Place dried berries in a bowl of boiling syrup, stir, bring to a boil, then remove from heat and leave to infuse for 5-6 hours, preferably overnight.
After the specified time, put the jam back on the fire, bring to a boil again and boil for 5 minutes over low heat. Do not forget to remove the resulting foam. Leave for another 5-6 hours.
Boil the jam again for 5 minutes and can pour into pre-sterilized jars.
Tip for those who like thicker jam: after boiling three times, you can remove the berries from the bowl with a slotted spoon, and boil the syrup to the desired consistency. Then return the berries to the bowl with the syrup, boil the jam again for reliability and pour it into jars hot.
Serve grape jam with freshly brewed herbal tea with pancakes, pancakes, cottage cheese or cheesecakes.
#Jam #Isabella #grapes #seeds