Japanese mochi – a simple and delicious recipe, how to cook step by step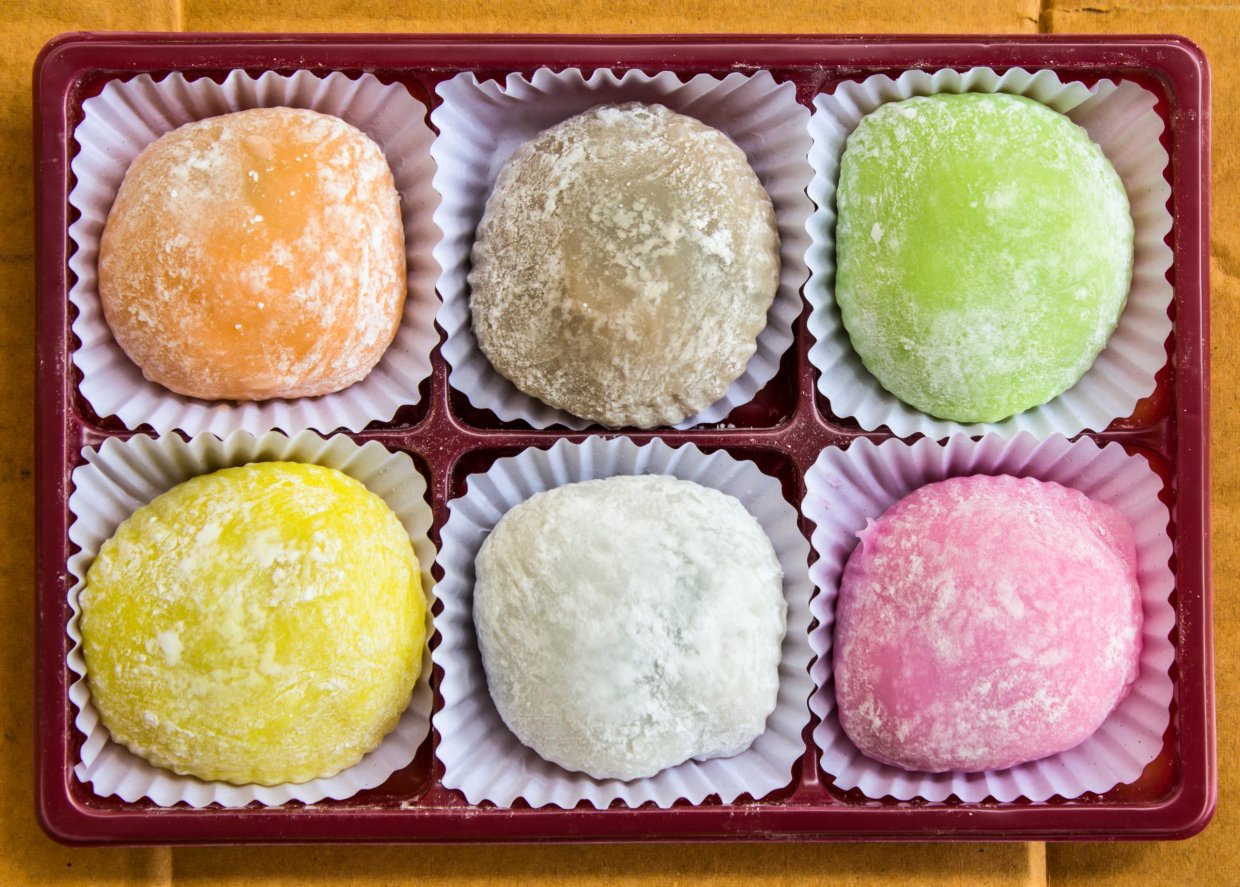 An unusual dessert came to us from Japan and has already managed to win the hearts of the sweet tooth. It can not be compared with anything, mochi you just need to try! The most delicate texture of the dough and explosive combinations of flavors of the 100% filling will impress lovers of sweets.
Step by step cooking recipe
In a non-metallic bowl, combine sugar, salt, water and milk, mix well.
Add rice flour, mix again until smooth.
Add vegetable oil and food coloring (if you are going to make colored cakes). Keep in mind that after cooking, the dough will become brighter. Cover the bowl with cling film, make a few punctures with a toothpick and send the dough to the microwave for 2-3 minutes at maximum power (it should thicken well). Cool the dough down to room temperature.
Engage in confiture: beat the frozen berries with a blender, add sugar and corn starch, beat again. Transfer the mixture to a saucepan and bring to a boil over low heat, stirring constantly. After boiling, boil for another 20-30 seconds. Cool the finished confiture slightly, put it in a pastry bag and send it to the refrigerator to thicken.
Prepare the filling: beat cream cheese a little with a mixer with condensed milk, add vanillin, beat again. Transfer the cream to a pastry bag and refrigerate as well.
Lubricate the surface of the table and hands with a small amount of odorless vegetable oil, lay out the rice dough and knead it until a smooth, uniform texture. Then roll up the sausage and divide it into 8 equal parts.
Form mochi: roll each part of the dough into a cake, using a pastry bag, place a small amount of cream filling in the center, and then – berry confiture. Connect the edges of the cake to the center (according to the khinkali assembly principle), sprinkle the cake with a small amount of a mixture of starch and powdered sugar and give it a neat round shape.
Put the finished mochi cakes into paper cupcake liners and refrigerate for 1-2 hours. Serve chilled dessert.
#Japanese #mochi #simple #delicious #recipe #cook #step #step