Ketchup with prunes and tomatoes for the winter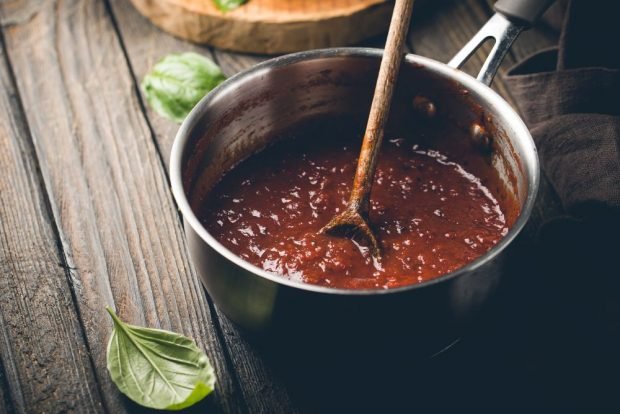 Imagine what a splash homemade ketchup with prunes and tomatoes will make on the festive table. It harmoniously complements meat and fish dishes. Be sure to prepare a couple of jars of this delicious sauce for the winter.
Step by step cooking recipe
Rinse the prunes, cover with boiling water and cover for 15 minutes.
Drain the water and pat the prunes dry with paper towels.
Peel the tomatoes and grind in a blender.
Add the prunes and turn the blender on for another 40-60 seconds.
Finely chop the basil leaves and peeled garlic.
Mix all the preparations in a large saucepan with a thick bottom.
Add sugar, salt, spices, oil and boil for 15 minutes over low heat.
Pour in the vinegar, stir and remove from heat after 1 minute.
Pour the hot ketchup into sterilized jars and roll up.
#Ketchup #prunes #tomatoes #winter