Korean-style tomatoes for the winter – a simple and tasty recipe, how to cook step by step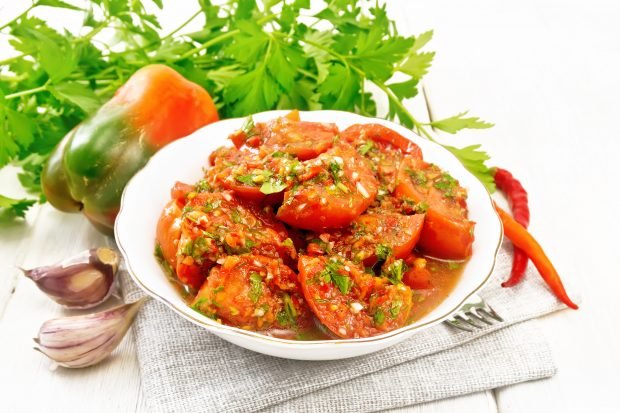 kostrez, stock.adobe.com
Not a single carrot … Today I want to share with you another interesting recipe for Korean preparations for the winter, namely Korean tomatoes. Spicy, moderately spicy appetizer diversifies your table during the winter cold. Catch the recipe in a piggy bank!
Step by step cooking recipe
Rinse the tomatoes and cut into slices.
Peel the onion and cut into slices. Grate carrots for Korean carrots. Finely chop the hot pepper.
Combine vegetables in a bowl. Add minced garlic, chopped herbs, salt, sugar, vinegar, and Korean carrot seasoning. Mix everything well, cover the salad bowl with a lid and leave for 30 minutes to form juice.
Pack the salad together with the marinade in pre-sterilized jars.
Cover the lettuce jars with sterile lids and send them to be sterilized in a pot of water (for half-liter jars, the sterilization time is 15 minutes from the moment the water boils in the pan).
After sterilization, roll up the jars, turn upside down, wrap and leave to cool completely. Store the cooled Korean-style tomatoes in a cool, dark place.
#Koreanstyle #tomatoes #winter #simple #tasty #recipe #cook #step #step