Lasagna with leeks, the creamy and easy to prepare recipe
Very few ingredients are enough to prepare lasagna with leeks, a quick and easy first course suitable for special occasions.
Making lasagna with leeks may seem like aunusual idea: the particular flavor of this vegetable does not in fact make it loved by everyone, but we can guarantee you that slow cooking in a pan will bring out all its delicate flavour. As always, there is no single way to prepare lasagna with leeks: some add ham, some other cheese and some prefer to mitigate the flavor with other vegetables.
We offer you the basic recipe which, by its nature, is perfect for a vegetarian diet, but as always we will leave you some indications to enrich and personalize the dish. In fact, when it comes to baked lasagna, everything you prepare will be on your plate.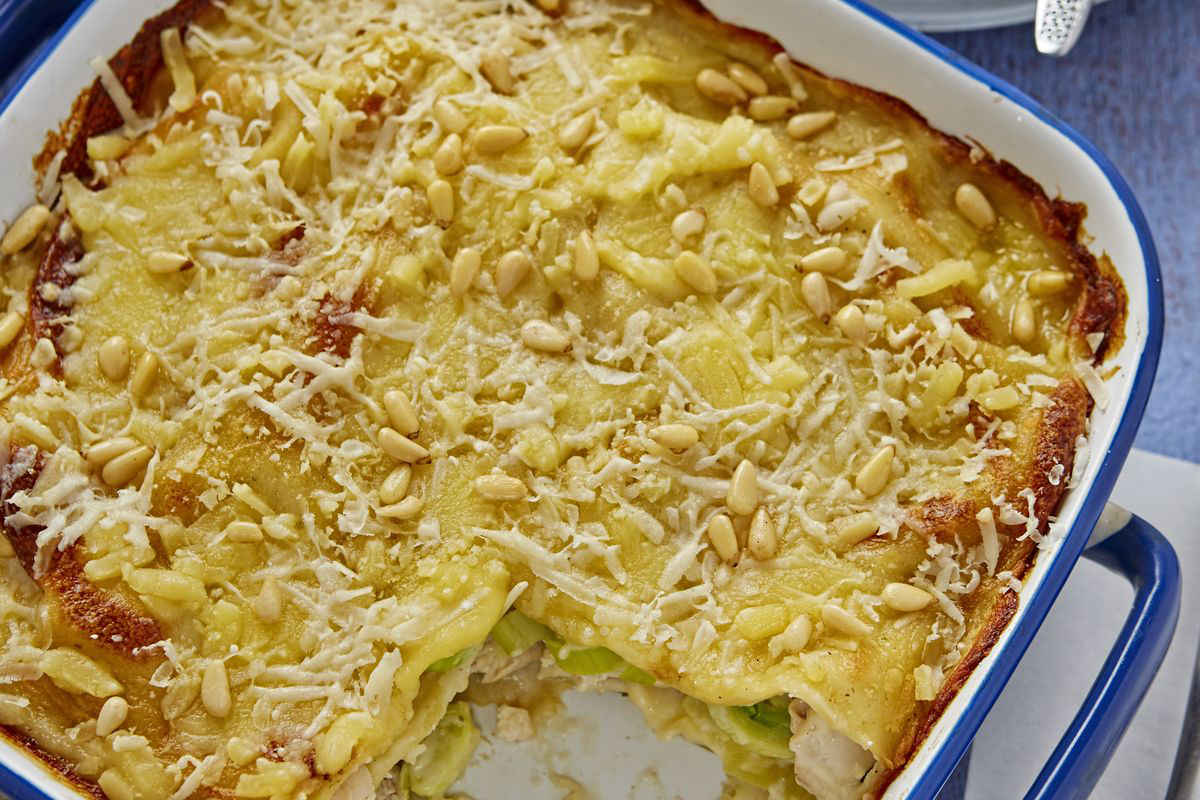 How to prepare the leek lasagna recipe
First of all clean the leeks removing the final beard and the outermost layer. Then cut them in half lengthwise and finally into slices that are not too thick (2-3 mm would be perfect).
Melt the butter in a pan, then add the leeks and brown over high heat. Then lower the heat, put the lid on and leave cook for 10 minutessalting about halfway.
In the meantime prepare the béchamel melting the butter in a saucepan and then adding the flour. Mix with a wooden spoon until it has taken on a nice hazelnut color then pour in the milk slowly, using a whisk to avoid lumps forming.
Cook the béchamel for about ten minutes, until it thickens, season with salt and nutmeg and set aside.
Now that all the components of the dish are ready, all that remains is to assemble. Spread a thin layer of béchamel on the bottom of one baking dish suitable for cooking in the oven, then cover with a layer of fresh lasagna pasta. Start alternating the ingredients forming the various layers: béchamel, leeks, parmesan and then pasta again, until everything runs out. Decorate the surface with pine nuts.
Cook the lasagna a 180°C for 35 minutesleaving them to cool before serving them.
Tips and variations for lasagna with leeks
As mentioned, this recipe lends itself to many variations. For example, you can prepare lasagna with leeks and scamorza, adding some 250 g cut into cubes and distributed among the various layers, or refined lasagne with porri and asiago, proceeding in the same way. Also excellent is the idea of ​​giving the dish a crunchy note, adding some walnut kernels. If, on the other hand, you are not interested in preparing a vegetarian savory pie, add slices of prosciutto in each layer will make this lasagna even more delicious.
storage
The lasagna with leeks can be kept in fridgewell covered by film, for 2-3 days. They can also be prepared a few hours in advance, stored at room temperature and baked just before serving.
Sign up for the Primo Chef newsletter to find out about new recipes, advice and news. Before anyone else.

Reserved reproduction © 2023 – PC

#Lasagna #leeks #creamy #easy #prepare #recipe