Meat with mushrooms in a pan recipe with photos step by step and video
Step 1: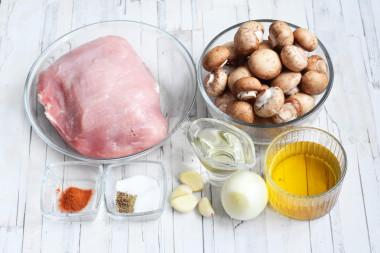 How to stew meat with mushrooms in a pan? Very fast and easy! First, prepare the necessary ingredients according to the list. What kind of meat can be taken besides pork? Any. Suitable beef, lamb, chicken or turkey. But at the same time, keep in mind that the calorie content and cooking time will change. In addition to these spices, you can add your own to taste.
Step 2: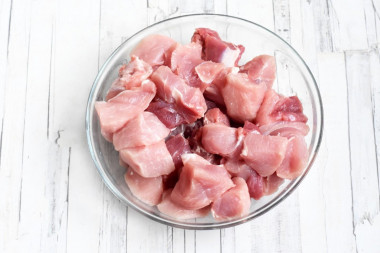 Wash the meat, pat dry and cut into medium cubes. Pork is needed without bones, only pulp. Choose a part of the carcass to your liking. It can be a ham, shoulder blade, chop, tenderloin, etc. I have a ham.
Step 3: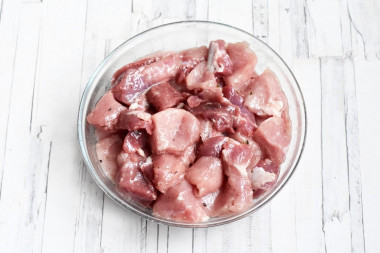 Pour the meat with vegetable oil, sprinkle with salt and pepper and mix. Leave to marinate for 30 minutes.
Step 4: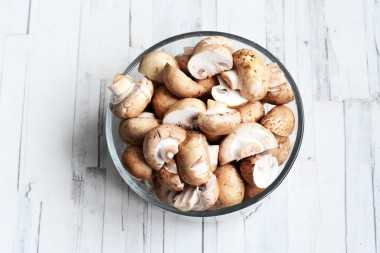 Wash mushrooms, dry. Cut large mushrooms in half, leave small ones whole. Mushrooms, if possible, choose young and fresh. I have royal mushrooms. In addition to champignons, you can use any other mushrooms to taste. But they may have to be boiled first, especially if they are fresh forest mushrooms.
Step 5: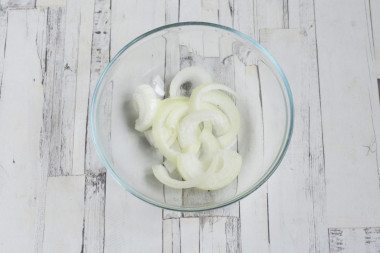 Cut the onion into half rings or small cubes, as you like.
Step 6: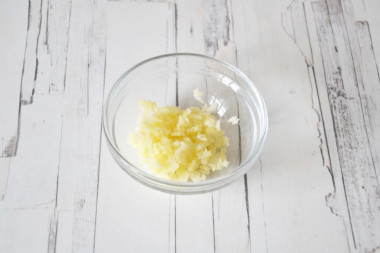 Finely chop the garlic from the husk. Fresh garlic can be replaced with 1 tbsp. l. dry.
Step 7: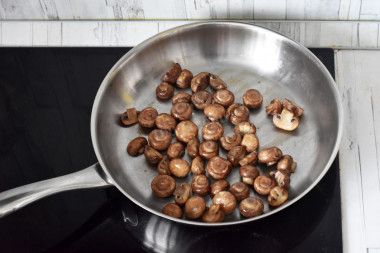 Heat the pan over high heat. Add mushrooms and sauté, stirring, 5 minutes, until golden brown. Transfer the mushrooms to a plate. If you have a Teflon pan, you can not lubricate it with anything, if it is metal, like mine, it is better to add a little vegetable oil.
Step 8: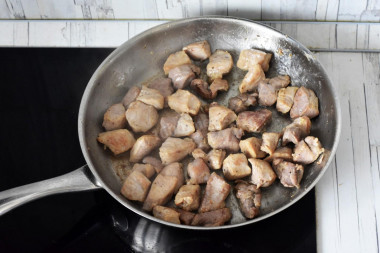 Place the pork in the skillet along with the marinade. Fry over high heat, stirring occasionally, for 5 minutes until golden brown.
Step 9: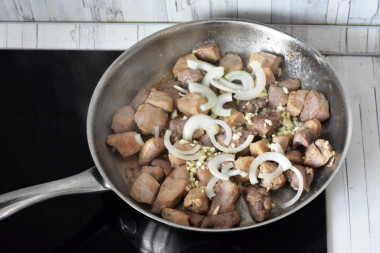 Sprinkle meat with onion and garlic. Fry everything together for another 2-3 minutes.
Step 10: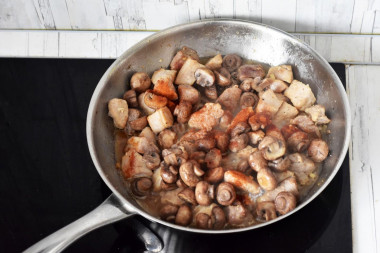 Return the mushrooms to the pan. Pour in apple juice, sprinkle with paprika, salt and pepper to taste and stir. Simmer over low heat covered for 10-15 minutes until tender.
Step 11: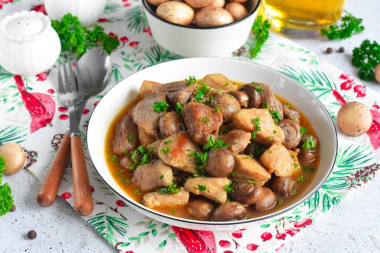 Arrange the prepared pork with mushrooms on plates, sprinkle with chopped herbs and serve. Enjoy your meal.
#Meat #mushrooms #pan #recipe #photos #step #step #video