Milk pelamushi with chocolate dessert recipe with photo step by step and video
Step 1: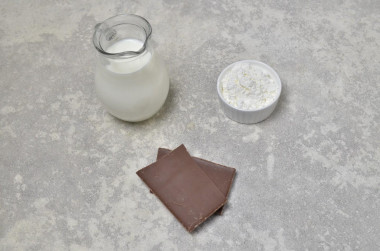 How to make milk dessert pelamushi with chocolate? Prepare food. Milk is suitable for any fat content. Choose delicious, high-quality, natural chocolate – the taste of the whole dish will depend on its taste. Milk bar with vegetable fat instead of cocoa butter will not work. It is better to use corn starch – it is softer in properties, but if you only have potato starch, then reduce the amount to 20 grams.
Step 2: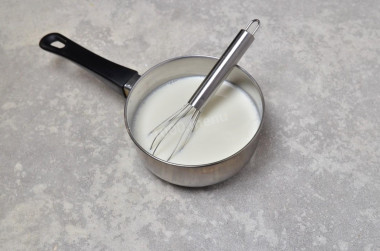 Take a saucepan with a thick bottom – then the milk with starch will not burn during cooking. Pour starch into it. In a thin stream, with constant stirring, pour all the milk into the saucepan. Mix starch with milk until all lumps disappear completely.
Step 3: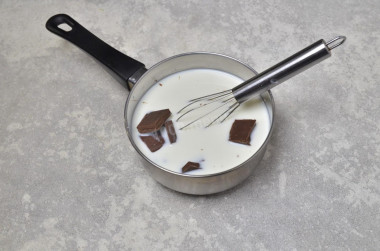 Then break all the chocolate into a saucepan with milk. It really needs two bars – it is because of the large amount of chocolate that the dessert turns out to be very tasty.
Step 4: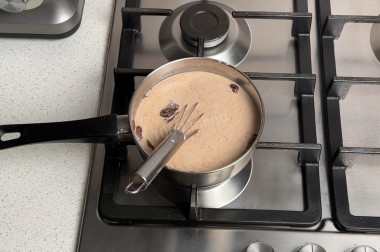 Place the saucepan with milk over medium heat. Boil the mass with constant stirring with a whisk. Chocolate from heating will gradually begin to melt, and the starch will thicken the milk. When this starts to happen, turn down the heat, and start stirring more intensively, otherwise the bottom of the "jelly" may stick to the bottom.
Step 5: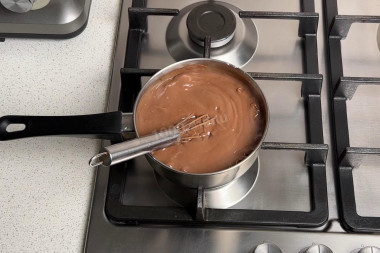 Bring the mass to a boil, it will become very thick and homogeneous. Boil it for about half a minute, then turn off the fire.
Step 6: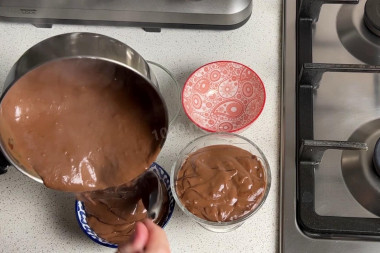 Immediately, hot, pour thick jelly into cups or molds. It is convenient to then get it out of silicone molds, but ordinary glass is also suitable. This jelly hardens very quickly, so it is better to act quickly. Wait until the dessert has cooled to room temperature and put it in the refrigerator for complete stabilization and cooling.
Step 7: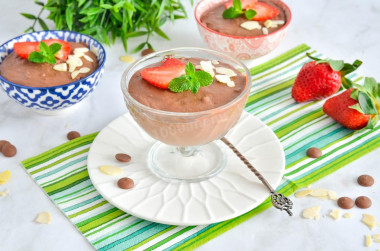 You can serve pelamushi in the same bowl in which it was frozen or by laying it out on a saucer. Dessert very easily "jumps" out of the molds. When serving, sprinkle the pelamushi with nuts and berries. Bon appetit!
#Milk #pelamushi #chocolate #dessert #recipe #photo #step #step #video