Millet and onion mini burgers, a quick and vegetable appetizer
The millet and onion mini burgers are a delicious dish where an encore is a must. Let's find out the recipe to prepare it at home and serve it as an aperitif or appetizer.
The millet and onion mini burgers are delicious and can be enjoyed on their own or inside small cereal sandwiches stuffed with vegetables. We have decided to make it happen 100% vegetalee, if you're skeptical, you really don't know what you're missing! Of course you can enrich it with many other ingredients, the next move is yours but first let's prepare this quick appetizer (also spot on for an aperitif).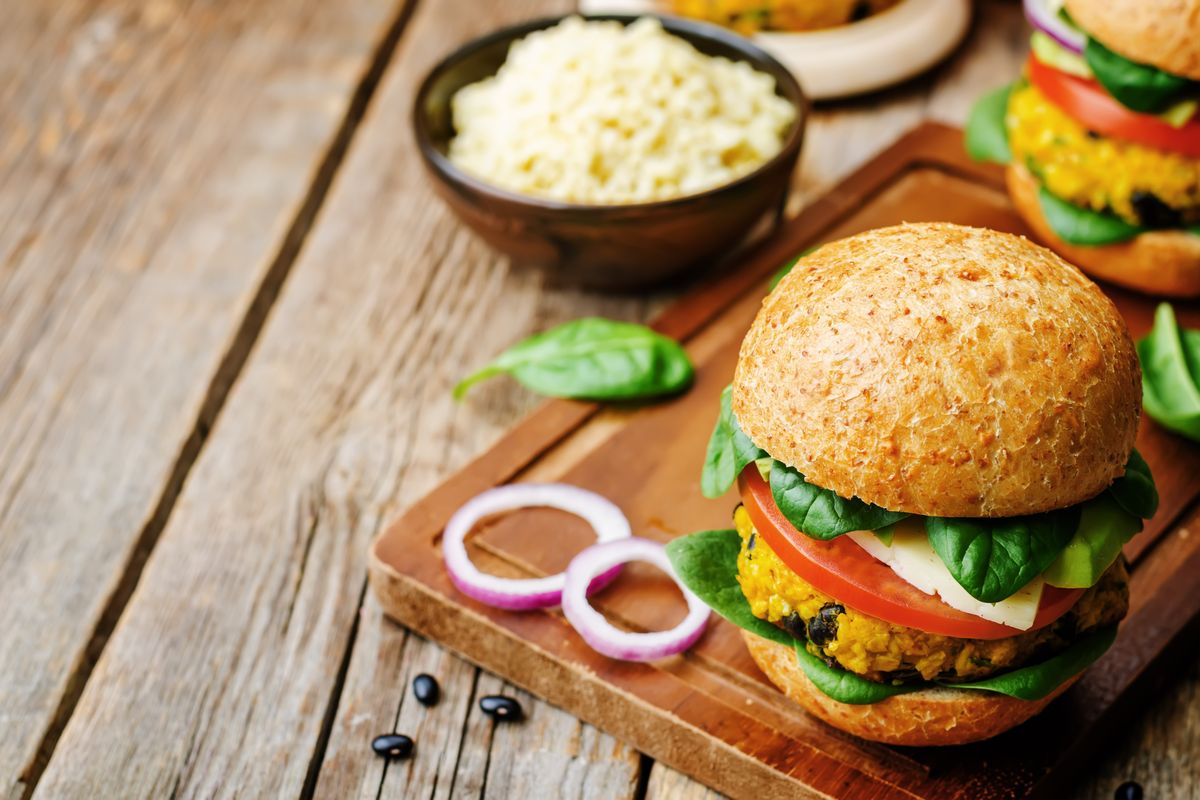 Preparation of millet and onion mini burgers
Briefly cook the onion in a little extra virgin olive oil and add the millet flakes with hot water, continuing to cook the flakes. On the package you will find the indications that may vary slightly depending on the manufacturer, however normally the millet flakes are cooked in a short time with water.
Preheat the oven at 180°Cstatic.
When the flakes and the onion are cooked and soft, transfer everything into a bowl.
Add a tablespoon of turmeric powder and salt, then stir well. The millet will become a beautiful golden yellow and will be soft and workable.
Create 8 small burgers with the help of a pasta cup or a coffee cup. Press well and cover each small burger with a gluten-free breading made with sesame seeds.
Take a baking tray, cover it with parchment paper and distribute the mini burgers on top, adding a drizzle of oil on the surface of each one. Bake for 15 minutes.
Meanwhile, cut the cereal rolls (or wholemeal flour) in half, wash the tomato and cut into 8 fairly thick slices, season them with oil, salt and pepper and put one for each small roll.
Add hot millet and onion burgers on top, more ingredients to taste like a few songino leaves, a slice of veg cheese and freshly cut avocado and savor these healthy and tasty burgers with your guests.
If you are interested in discovering other similar preparations, you could try lentil burgers!
storage
We recommend eating the assembled burgers on the spot, instead you can keep only the millet and onion medallions in the fridge, once cooked, for 1-2 days inside a special container with a lid. We do not recommend freezing in the freezer.
Sign up for the Primo Chef newsletter to find out about new recipes, advice and news. Before anyone else.

Reserved reproduction © 2023 – PC

#Millet #onion #mini #burgers #quick #vegetable #appetizer