Mimosa salad without cheese classic recipe with photo step by step and video
Step 1: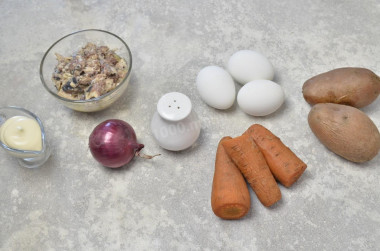 How to make a classic Mimosa salad without cheese? Prepare food. Boil vegetables and eggs beforehand and cool. Open the canned food and transfer the fish to a bowl along with the liquid. In addition to sardine, you can take other canned fish – pink salmon, tuna, mackerel. Fish is suitable both in oil and in its own juice.
Step 2: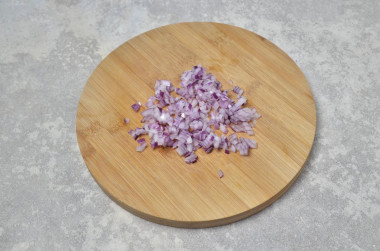 Peel the onion and cut into small cubes. I took the purple onion – it is sweeter and juicier, but you can cook with regular white.
Step 3: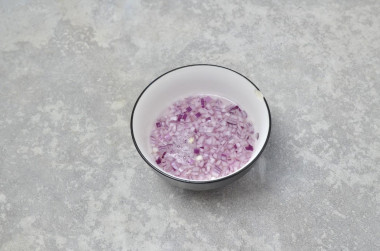 Put the onion in a bowl and pour boiling water over it – this way you will remove bitterness from it. Let the onion soak in water for 10 minutes.
Step 4: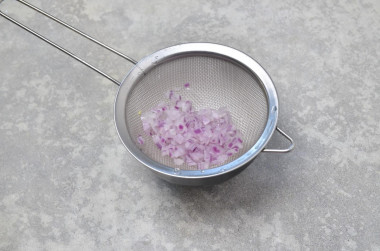 Then put the onion in a sieve and rinse it with cold water.
Step 5: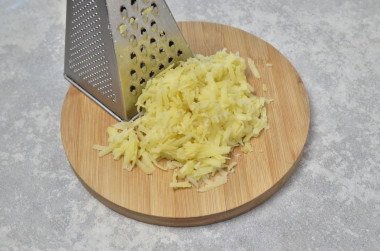 How to cook vegetables for salad? Wash the tubers well with a brush under running water, put them in a saucepan. Pour clean cold water, put to boil over medium heat. After boiling, boil potatoes with carrots for about 30 minutes. The exact time will depend on the size of the vegetables. Check readiness with a knife – it should easily pierce the fruit. Cool the boiled vegetables and peel them. Grate potatoes on a coarse grater.
Step 6: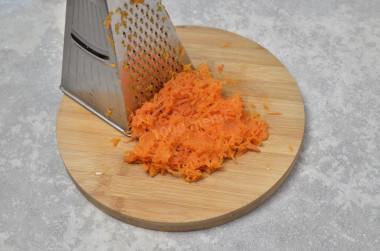 Grate the carrots on a medium grater – then the salad will turn out more tender.
Step 7: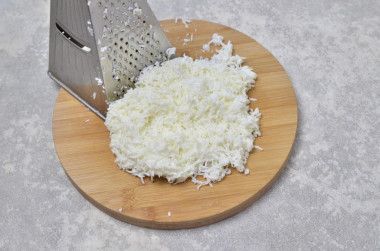 Divide the peeled eggs into yolks and whites, set aside the yolks to decorate the top of the salad. Proteins also grate on a medium grater.
Step 8: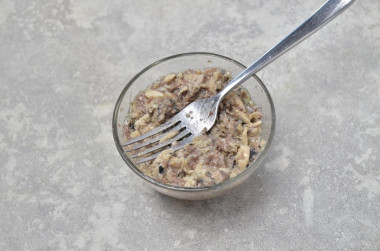 Mash the sardine with a fork until smooth. Remove large bones.
Step 9: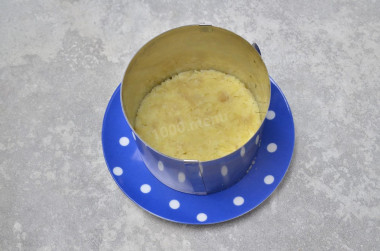 Start collecting lettuce. Traditionally mimosa is cooked in layers. You can serve it in a regular salad bowl or use a cooking ring like I did. Lay the grated potatoes in the first layer. Tamp down the layer. If you have a sardine in your own juice, then spread a layer of potatoes with mayonnaise. I have a sardine in oil, so I did not smear the potatoes.
Step 10: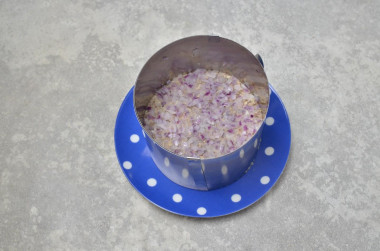 Put the sardine on the potatoes, sprinkle the fish with onions on top.
Step 11: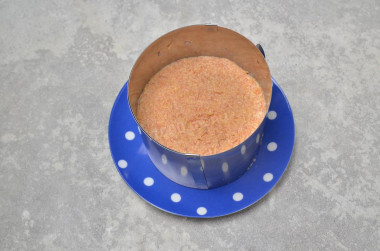 Mix the carrots in a separate bowl with half the mayonnaise. Lay it out in the next layer, tamp it down.
Step 12: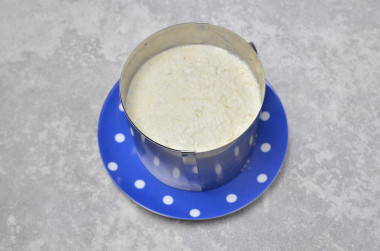 Lay the grated squirrels on top of the carrots, I salted this layer. Lubricate it with the remaining mayonnaise. You can also mix proteins with mayonnaise, like carrots.
Step 13: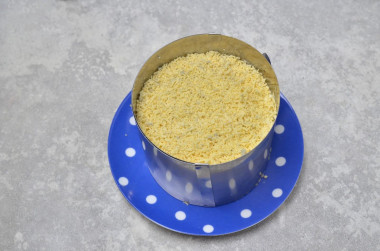 Grate the reserved yolks on top of a fine grater. Place the salad in the refrigerator for at least an hour to soak.
Step 14: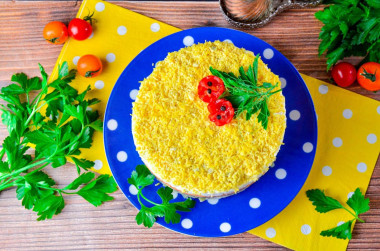 Then release the salad from the ring, decorate the top as desired. Mimosa salad without cheese and butter with canned food is ready, serve it to the table. Enjoy your meal!
#Mimosa #salad #cheese #classic #recipe #photo #step #step #video