Mise en place for New Year's Eve: the best ideas
Here are all the tips and the best ideas for the perfect mise en place for a New Year's party, to celebrate and eat in style.
The end of one year and the beginning of another are near. After the Christmas festivities, we are preparing to welcome a new future. Don't be caught unprepared and do it in style, choosing from the many ideas for the perfect setting for the New Year's Eve dinner. From the crockery to the tablecloth, without forgetting the important toasting glasses, everything must be coordinated. However, keep two keywords in mind: that's the right balance between elegance and simplicity.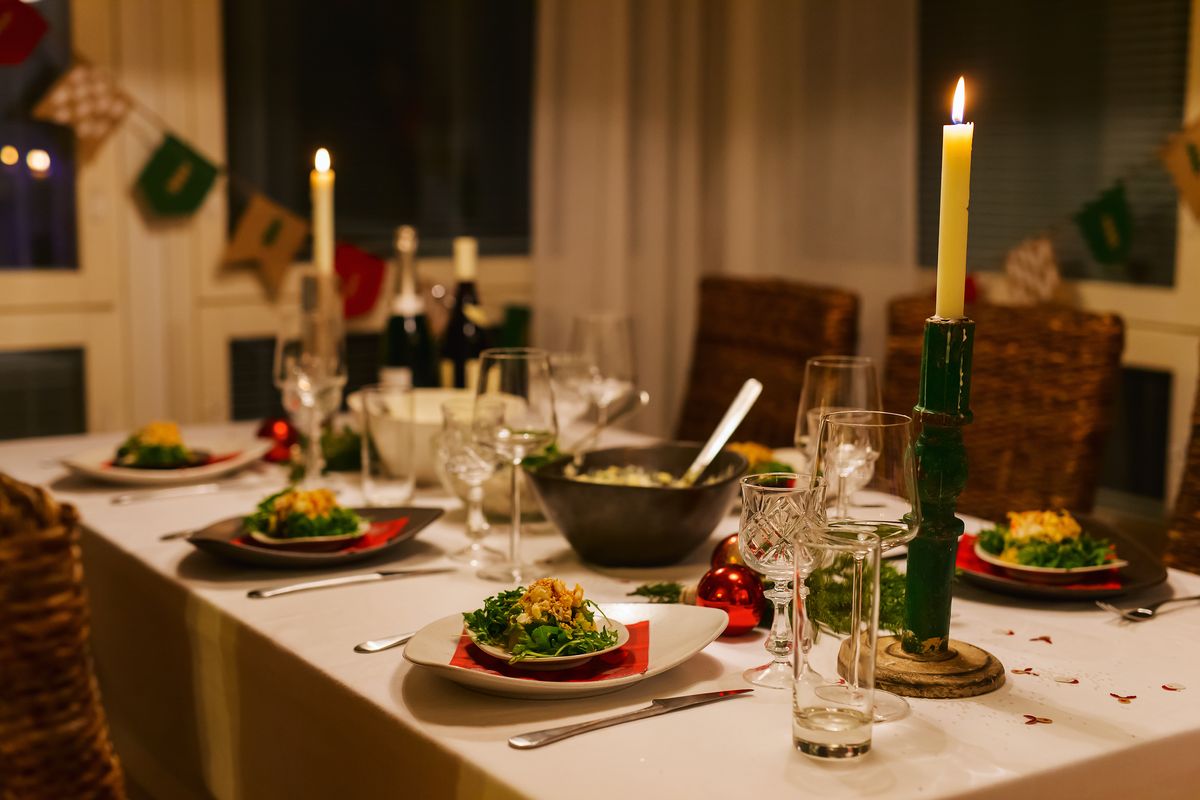 Mise en place for New Year's Eve, which one to choose?
Let's start with the choice of tablecloth. The most popular colors for the New Year's Eve dinner table are red and white. Choose the first if you want to give a bold touch to the evening, but remember to combine crockery and decorations in neutral tones. If you prefer to focus entirely on the decorations, it is advisable to use a white or ivory background.
Gold is the symbolic color of light, so it can be used abundantly in this table. If you choose a light-colored tablecloth, prefer a colored, red or gold underplate. To give elegance to the whole, you could opt for white plates and bowls, embellished with embossed embroidery. Avoid using plastic objects, to obtain a more effective result.
Complete it all with silver cutlery and glass glasses. Above all, the flûtes, designated for toasting, must be made of glass, to make the typical noise at the time of the toast. eat eat. For a more modern mise en place for the New Year's table, you can also rely on total white. In this case, bet everything on the decorations.
The right decorations
The goal is to get a sparkling mise en place to celebrate New Year's Eve. What can help you are the decorations. First of all, one cannot be missing centerpiece. For this, choose one with little poinsettias or sprigs of mistletoe. Alternatively, you can place glass jars with candles inside (or classic candle holders) and scatter small sprigs of mistletoe along the center of the table.
Remember that the decorations must be proportional to the size of the table: if it is small, don't overdo it. To make the white plates more colorful, you can fold the cloth napkins, colored in red, and place them in their center. Accompany them with little ones placeholder handmade, perhaps small gifts to keep, or simply close them in a bow of string.
We continue with the suggestions for the menu, with 10 simple recipes for the New Year's Eve dinner.
Sign up for the Primo Chef newsletter to find out about new recipes, advice and news. Before anyone else.

Reserved reproduction © 2022 – PC

#Mise #place #Years #Eve #ideas