Mother-in-law's tongue from eggplants with tomatoes and peppers for the winter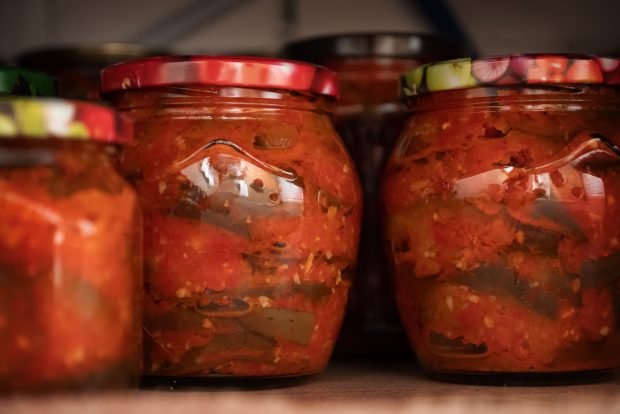 Gioia, stock.adobe.com
Fans of eggplant blanks have at least once prepared "Teschin's tongue" – a delicious spicy snack that flies away in no time in winter. There are many recipes on the net, I love this one because eggplants are pre-baked in the oven. It turns out even tastier, I recommend!
Step by step cooking recipe
Rinse the eggplant, remove the tails, cut into cubes along with the peel.
Place the prepared eggplants on a baking sheet covered with parchment and greased with vegetable oil, sprinkle with a small amount of vegetable oil and put in an oven preheated to 220 ° C for 30 minutes. Turn the pieces over while baking so that the eggplant cooks evenly.
Garlic, Bulgarian and hot peppers, peel and chop arbitrarily. Also chop the tomatoes.
Grind the prepared vegetables with a blender until smooth or pass through a meat grinder.
Place vegetable puree in a cooking pot, add salt and sugar, bring to a boil and boil, stirring, for 15-20 minutes.
Place the baked eggplants in the boiling sauce and pour in the vinegar. Mix everything gently and boil over low heat for 2-3 minutes.
Pack the boiling billet in pre-sterilized jars, roll up, turn upside down, wrap and leave to cool completely. Store cooled eggplants in a cool, dark place.
#Motherinlaws #tongue #eggplants #tomatoes #peppers #winter