National Prevention Day, from Orogel 3 original recipes against waste
Beyond 30kg each. It is the incredible amount of food that every year, on average, an Italian throws in the trash. A waste that mainly affects fresh fruit, vegetables and greens with all their precious healthy load, and which has a heavy environmental, as well as social, implication. In fact, soil is used to produce everything that we do not eat (73 m2 each), water (2.5 m3) and energy (62 kg of CO2 emitted), data Campagna Zero Spreco – Waste Watcher International Observatory on Food and Sustainability.
He remembers it Orogel, the Italian specialist in frozen vegetables which, due to the very characteristics of the frozen product and its production philosophy, has always been committed to reducing waste and inefficiencies. To set a good example, on the occasion of National Food Waste Prevention Day suggest three original recipes which transform what is left over from the day before into real delicacies.
Pokè Bowl Lightness
Typical dish of Hawaii, in just over 5 years it has become part of the diet of many Italians. Young people especially like it and those looking for healthy, fresh, appetizing and easy to prepare alternatives.
To make the Anti-waste poke just add basmati rice cooked separately, speck roses to be seasoned with a drizzle of oil and aromatic herbs to the leftover minestrone. Serve in a large bowl. Simple, fast and healthy.
Lightness version of Ramen
Typical soup of Japan, together with sushi, it conquered our palates in a very short time with its rich and enveloping flavor.
Il Anti-waste ramen suggested by Orogel it is prepared in just a few steps: just heat the leftover minestrone and add vegetarian noodles, hard-boiled eggs, miso broth and coriander.
Burger Veg
A classic in a veg version, also very useful for offering vegetables to children.
To prepare the Burger Veg anti-waste just whisk together the leftovers of the minestrone with boiled potatoes, an egg, spices to taste and breadcrumbs. Once the mixture is soft and malleable, proceed to make hamburgers and cook them in the oven for 20/25 minutes. Finally, the sandwich can be composed with a base of fresh cheese or with a sauce.
Orogel's commitment to waste reduction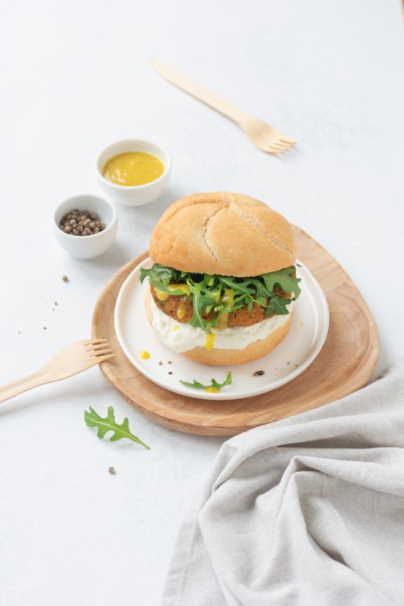 Frozen food is by definition a precious ally in the fight against waste, thanks to the intrinsic characteristics of the product:
– long shelf life;
– greatest portion control;
– the quantity purchased corresponds to what you eat;
– minor Water consumption, because all foods are already washed and ready to be consumed;
– less waste of energy for cooking food, because preparation times are shorter.
In the last three years, moreover, according to the first Environmental Report made in Italy by IIAS – Italian Institute of Frozen Food e Perfect Foodthe industry has managed to reduce CO by as much as 10%.₂ issuedof the 4% water use he was born in 2% energy usageelectrical and thermaldespite a significantly increasing production.
In short, a particularly virtuous sector, of which Orogel – the Italian leader in vegetables long freshbut also an agricultural cooperative that has always been at the forefront of promoting sustainable production practices – represents an important example.
By fully controlling the supply chain, the reduction of waste already starts from the cultivation fields through the choice of suitable areas and suitable varieties, supporting the grower members on a daily basis thanks to internal agronomist technicians.
With a basic philosophy dedicated to circularity: nothing is thrown away. Thus the by-products of the processing are transformed into manure to return nutrients to growing media or in electric energy thanks to biogas plants.

#National #Prevention #Day #Orogel #original #recipes #waste