Neapolitan struffoli: history and original recipe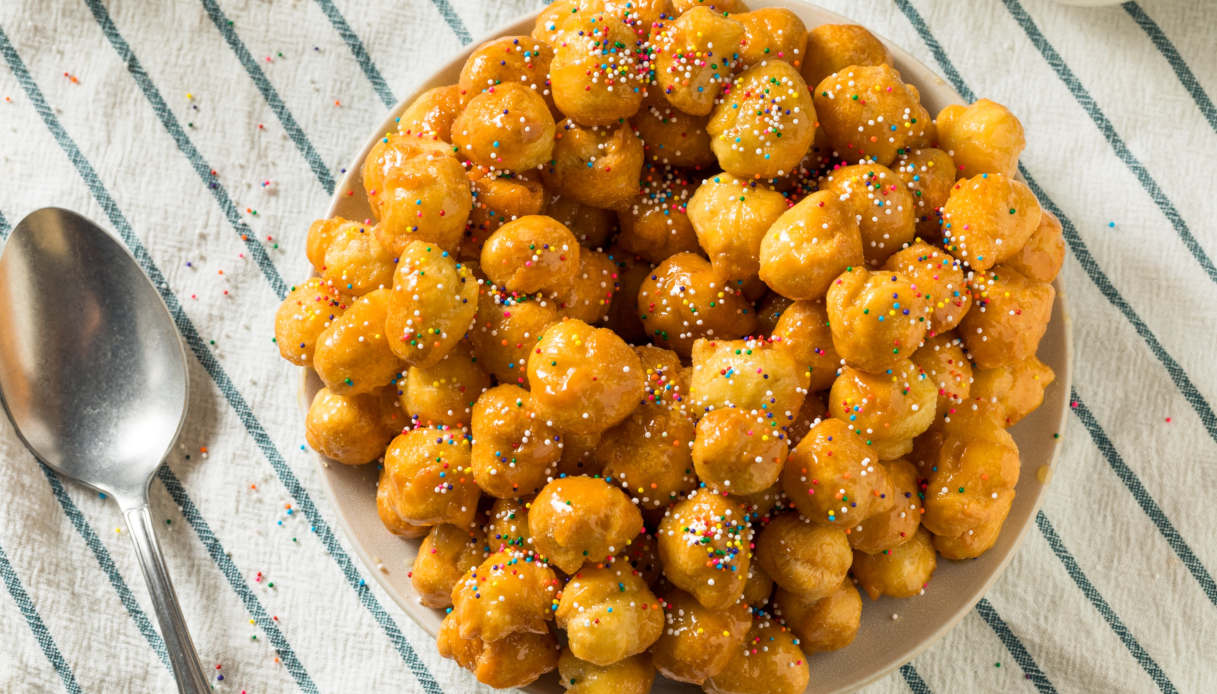 The struffoli they are small sweets in the shape of balls with a funny look but a tasty taste. Small balls are obtained from the dough which are fried and seasoned with caramelized sugar or honey and chopped candied fruit. A real treat that everyone likes so much, especially children! In Italy they have many different names, but the common element is that they are prepared on special occasions, such as Christmas or Carnival.
How Neapolitan struffoli were born
The origin of struffoli seems to date back to Greeks. In Greek cuisine, in fact, there are still similar desserts, the "loukoumades" (translated: delicacies). The name of the "struffolo", i.e. of the single ball that makes up the dessert, would derive from the Greek "strongoulos" or "stroggulos" which means "rounded in shape".
Some scholars, on the other hand, believe that the Neapolitan dessert is of origin Spanish, Andalusian to be precise. In fact, in this cuisine there is a dessert very similar to struffoli, the "piñonate", which has a different, more elongated shape compared to the Neapolitan struffoli. This thesis is quite likely, given the very long period of Spanish viceroyalty in Naples.
Regardless of their real origin, struffoli have also developed in other regions of southern Italy coming to assume different names (for example in Sicily they call them "strufoli", in Calabria or Basilicata instead "cicerata", in Umbria "cicerchiata").
Neapolitan struffoli: original recipe
To prepare the Neapolitan struffoli we start from farinawhich must be sieved on the pastry board, arranged in a fountain and in the center you have to put the salethe eggthe zest of lemon grated and theolio of olive. The dough should be worked as for shortcrust pastry, until obtaining a smooth, soft but solid dough: if it is too soft or runny, more flour can be added.
With the pasta obtained you have to form many long sticks and cut them, for fry them in oil very hot, then drain them and leave them to dry on absorbent paper. In 30-40 seconds of frying they will be ready.
Meanwhile, you have to warm up the miele with it sugar in a large saucepan so as to combine the grated orange peel and the cut candied fruit. Everything is mixed with a wooden spoon and cooked for a few minutes, until all the pieces of dough are well blended with the honey.
The struffoli are arranged on a serving dish, forming a donut, you have to sprinkle with sprinkles or colored balls and garnish them with candied cherries.
To avoid frying, there is a variant that provides for cooking in the oven. Once the balls are prepared, just place them spaced out on a baking sheet using baking paper, let them rest in the fridge for half an hour and then bake in a preheated oven at 180° for about 10-12 minutes. A lighter version for sure.
The secrets for excellent Neapolitan struffoli
Even if the original Neapolitan recipe does not include the use of yeasta small percentage of this ingredient in the dough allows for greater softness, but it is not mandatory.
The secret to perfect struffoli, however, is to make them little ones, in this way they will mix perfectly with the sauce, as well as cook very quickly. Also, they need to be fried a few pieces at a time (maximum 15) to avoid excessive foam, to be removed with a slotted spoon as soon as it forms.
Struffoli can be kept for more than a week covered with transparent film, but you don't have to put them in the fridge because they risk hardening.
The variants of Neapolitan struffoli
Since Neapolitan struffoli are prepared for the holidays and in particular for Christmas, why not try making a struffoli tree? An original idea for a special Christmas cake and very tasty!
Furthermore, it is possible to prepare the struffoli with the Thermomix, to prepare the dough in a few minutes and thus have a quick Christmas dessert perfect for a last minute idea but still very good!
Struffoli have many names throughout Italy and that's why the Sicilian variant of struffoli it is the Palermitan pignoccata, made up of balls of colorful and delicious struffoli arranged in small piles. In Umbria, on the other hand, we speak of cicerchiata, composed precisely of fried dough balls like the struffoli arranged in a circle and colored with scenographic sprinkles.

#Neapolitan #struffoli #history #original #recipe