Nonna Pina's Tagliatelle: the recipe is revealed
After hearing the song for a long time, it's time to prepare them: we're talking about the legendary tagliatelle from Nonna Pina!
It was 2003 when the now famous song of "Le Tagliatelle di Nonna Pina" began to ring in our ears, first with the Zecchino d'Oro and then with The cook's test. But tell us: did you know that Nonna Pina really existed? Originally from a small town in the province of Bologna, Baricella, she died at the age of 86 in 2022, not without leaving the recipe of its famous noodles.
To tell the truth, unless it is kept in some secret notebook bequeathed to children and grandchildren, the recipe is not so certain. We certainly have the noodlesthe fresh pasta par excellence of Bolognese cuisine, and the ragù, made however with meatballs. We prepared them and immediately the little song began to resonate in our heads: what do you think, did we hit the spot?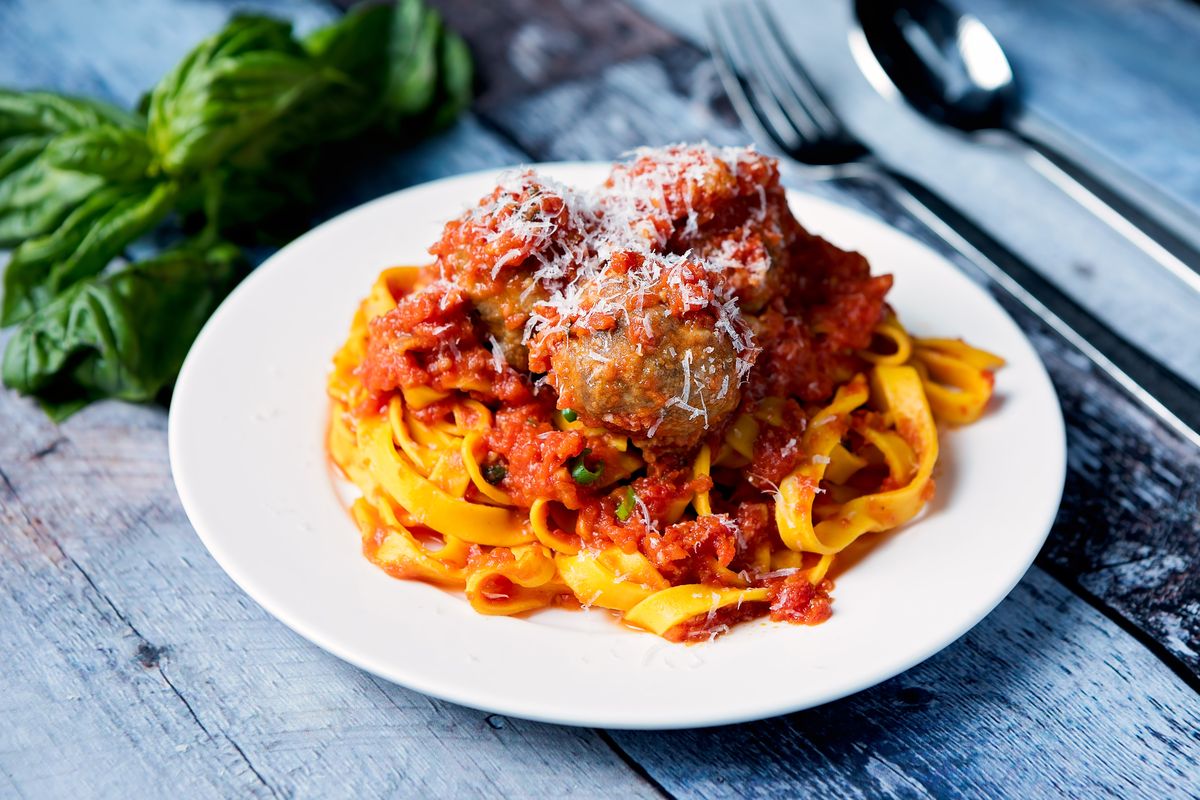 How to prepare Nonna Pina's tagliatelle recipe
First, soak the bread in milk.
Dedicate yourselves now to messenger. Then finely chop the celery, carrot and onion and brown them in a pan with a generous drizzle of oil. After about 5 minutes, pour the tomato purée and the concentrate and cook over medium heat for 15 minutes. Finally, season with the basil leaves and season with salt and pepper.
In the meantime prepare the meatballs: combine the minced meat, a spoonful of chopped parsley, the squeezed bread, the Parmesan cheese, an egg and a pinch of salt in a bowl. Knead with your hands then form some meatballs about the size of a walnut.
Fry them in a centimeter of seed oil, until they are golden on all sides. Then drain them with a slotted spoon, pass them on absorbent paper and add them to the sauce.
Prepared at fresh pasta making a fountain in the flour and adding the remaining eggs. Mix first with a fork and then by hand, on a pastry board, until you obtain a homogeneous and smooth dough. Wrap it in cling film and let it rest for 30 minutes.
Then roll it out with a rolling pin (as tradition dictates but if you are not practical you can also use the grandmother duck) until you reach a thin thickness. Help yourself with semolina if necessary. Then obtain the tagliatelle e boil them for 2 minutes in plenty of salted water.
Drain them and toss them in the pan with the sauce. Distribute on plates and enjoy.
For a menu entirely dedicated to this magnificent region, try the tagliatelle cake.
storage
The tagliatelle, once cooked and seasoned, are kept in the refrigerator for a couple of days. Heated in a pan they are really delicious!
Sign up for the Primo Chef newsletter to find out about new recipes, advice and news. Before anyone else.

Reserved reproduction © 2023 – PC

#Nonna #Pinas #Tagliatelle #recipe #revealed