Noodles with mushrooms and chicken recipe with photos step by step and video
Step 1: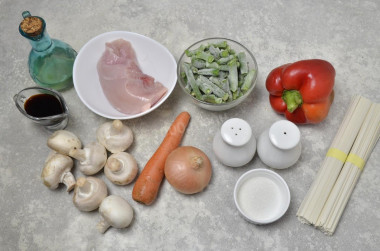 How to make noodles with mushrooms and chicken? Prepare food. Take any noodles – wheat, egg or buckwheat. I have udon (wheat). I have a breast fillet, you can take a thigh fillet. Frozen beans are suitable, you can take broccoli instead. You can take any vegetable oil – sunflower, olive, sesame.
Step 2: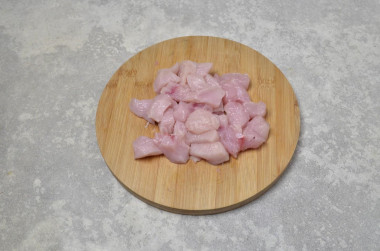 Wash and dry the fillet, then cut into small pieces.
Step 3: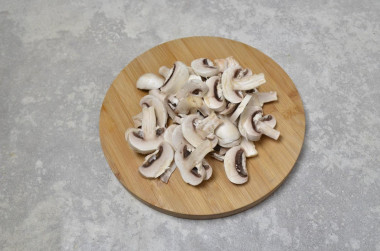 Wipe the mushrooms with a damp sponge, do not wet them too much so that they do not become watery. Cut the mushrooms into thin slices.
Step 4: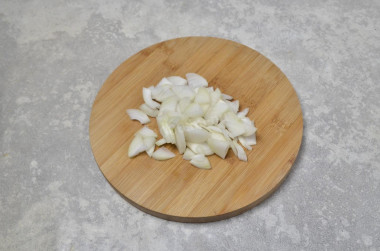 Cut the onion into feathers.
Step 5: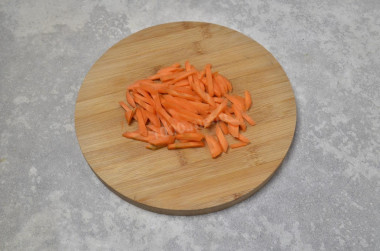 Cut carrots into thin strips.
Step 6: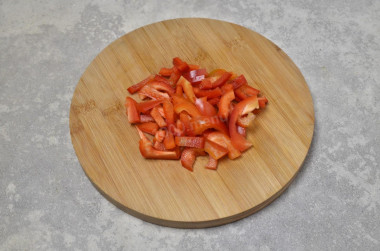 Bulgarian pepper also cut into strips, cutting out the middle with seeds.
Step 7: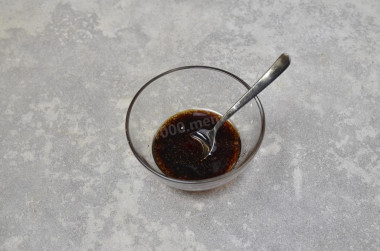 For the sauce, mix soy sauce, vegetable oil and sugar. Instead of this sauce, you can use ready-made teriyaki sauce.
Step 8: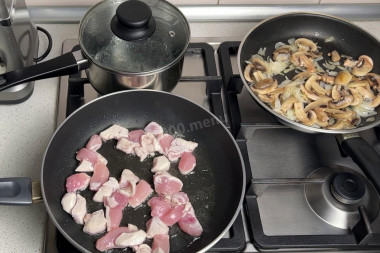 Put a saucepan with water for boiling noodles. On another burner, heat a frying pan over high heat. Pour vegetable oil on it, put chopped onion in it. Fry it for a couple of minutes while stirring. Then add the mushrooms to the onions. Fry them, stirring occasionally, for 7-10 minutes, until golden brown. At the same time, heat the vegetable oil in another pan and put the chicken in it. Fry it over high heat until the color changes.
Step 9: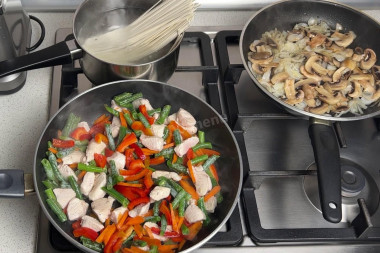 Put carrots, bell peppers and green beans to the chicken. Stir and fry the chicken with vegetables for 10 minutes over medium heat, stirring occasionally. Add salt to boiling water, throw in the noodles. Boil the noodles for the time indicated on the package. My udon boiled for 6 minutes.
Step 10: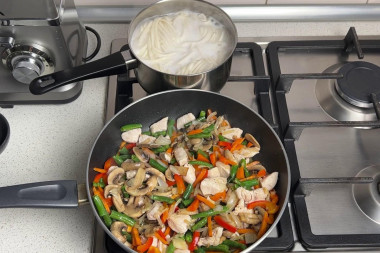 Transfer the fried mushrooms to the pan with chicken, salt and pepper the dish, mix. Drain the noodles in a colander, then rinse with cold water.
Step 11: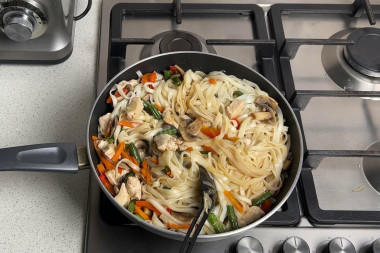 Throw the noodles to the chicken with vegetables, pour in the sauce. Stir and keep the dish on low heat for a few more minutes.
Step 12: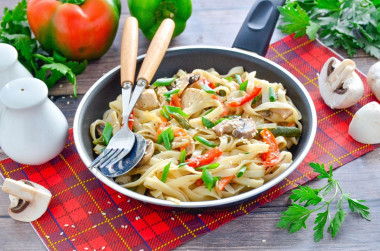 Serve noodles with vegetables, mushrooms and chicken at the table, you can sprinkle them with chopped green onions and sesame seeds. Bon appetit!
#Noodles #mushrooms #chicken #recipe #photos #step #step #video