Orecchiette with turnip tops: original recipe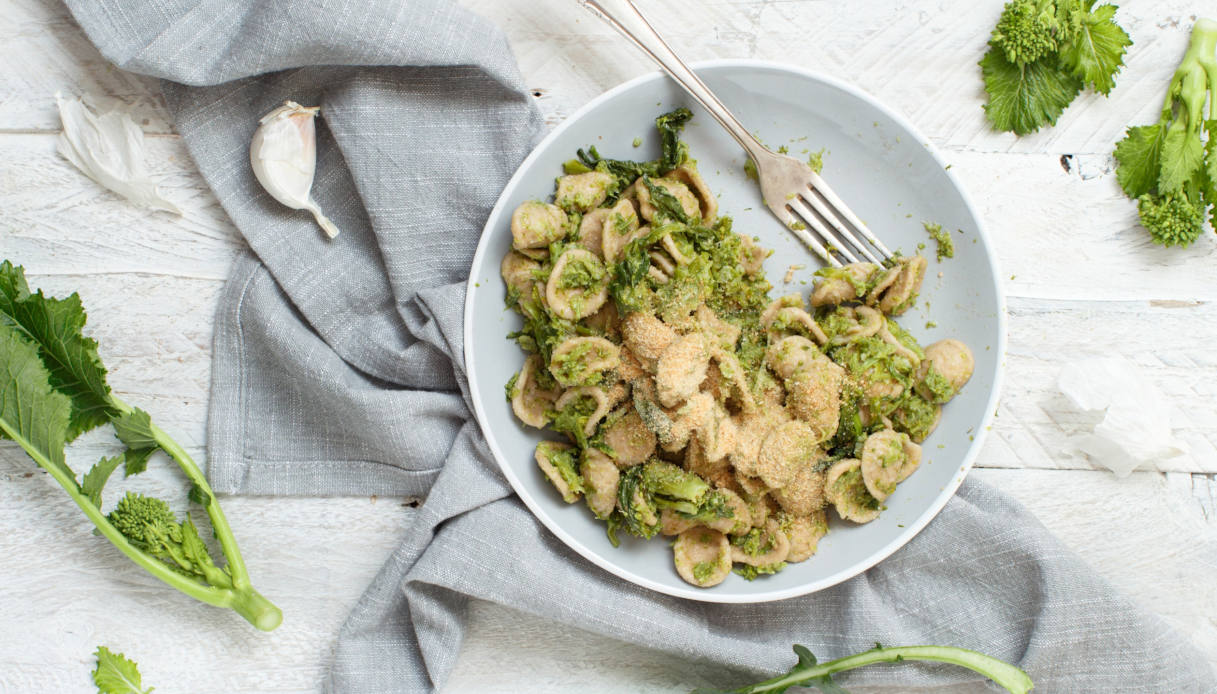 The orecchiette with turnip tops they are a tasty, delicious, delicious first course with an unmistakable taste. They are born in Puglia, in particular in the Bari area and there is no place where this recipe is not prepared. Orecchiette with turnip tops are a traditional peasant dish, simple but also cooked by great chefs. Tradition has it that orecchiette are prepared at home with durum wheat semolina, but even artisanal dried orecchiette are just fine.
How orecchiette with turnip tops were born
Orecchiette con cime di rapa have an uncertain origin, because there are no documents attesting to their birth. For example, in Marco Terenzio Varrone's "De Lingua Latina" the trashwhose discoidal shape recalls the orecchiette, but there is no certainty that they are related to the current orecchiette.
However, the origin of orecchiette con cime di rapa can be traced back to the medieval period between the 12th and 13th centuriesduring the Norman-Swabian domination, in the area of ​​Sannicandro di Bari.
Already at that time, in fact, one was being produced Apulian durum wheat artisanal pasta, with a circular shape and hollowed out in the center with thumb pressure. This pasta, once prepared, was dried so that it could be kept for long periods, even on ships leaving on long journeys.
Considered part of the dowry, the orecchiette would have spread to the rest of Puglia and Basilicata. The name, however, comes from Angevins in the thirteenth century, even if orecchiette are mentioned for the first time in a notarial deed of 1596 which concerns the inheritance of a master pasta maker to his daughter: the manuscript still exists today and is kept in the church of San Nicola di Bari.
Orecchiette with turnip tops: original recipe
The preparation of orecchiette with turnip tops begins by peeling and washing them turnip greens, which must be cut into small pieces; therefore, you need to fry 2 tablespoons of oil in a saucepan with the chopped chilli pepper and the clove of garlic.
Bring plenty of salted water to the boil in a fairly large saucepan, add the broccoli and after a few minutes add the orecchiette already ready (or alternatively you can prepare homemade orecchiette). The pasta and turnip tops should be drained together, seasoned with the chilli sauce, sprinkled with grated pecorino cheese and served immediately.
Orecchiette with turnip tops can also be seasoned with adesalted anchovy and boned and with one clove of garlic chopped dissolved in oil, otherwise a drizzle of raw oil will suffice.
The secrets for excellent orecchiette with turnip tops
Per remove the bitterness from turnip tops, after having blanched them in water, it is advisable to leave them to soak in a bowl for a couple of hours. In this way they lose all the bitter taste.
Traditionally this recipe is prepared in autumn and winter period, that is, when the turnip greens are harvested, therefore they are fresh. The most famous turnip greens are those of Fasanoan area full of peaks.
In Bari orecchiette are cooked mainly with turnip greens, but also with cauliflower, broccoli ed other vegetables. This dish, in ancient times, was served as a soup and it's just as good!
The variations of orecchiette with turnip tops
Orecchiette with turnip tops are prepared in different variations, the best known is that of orecchiette with broccoli, flavored with fresh chilli. A sub-variant, however, is that of orecchiette with broccoli and pine nuts, where the latter are mixed with cream.
However, turnip greens are used in other similar recipes, where they go to replace the orecchietteas in the tagliolini with chilli pepper and turnip tops or in the cavatelli with turnip tops.
Those who don't like the taste of turnip tops, on the other hand, can replace them with broccoli: the recipe for orecchiette with broccoli and tomatoes also incorporates the coppery tomatoes.

#Orecchiette #turnip #tops #original #recipe