Pallotte with cheese and eggs: original recipe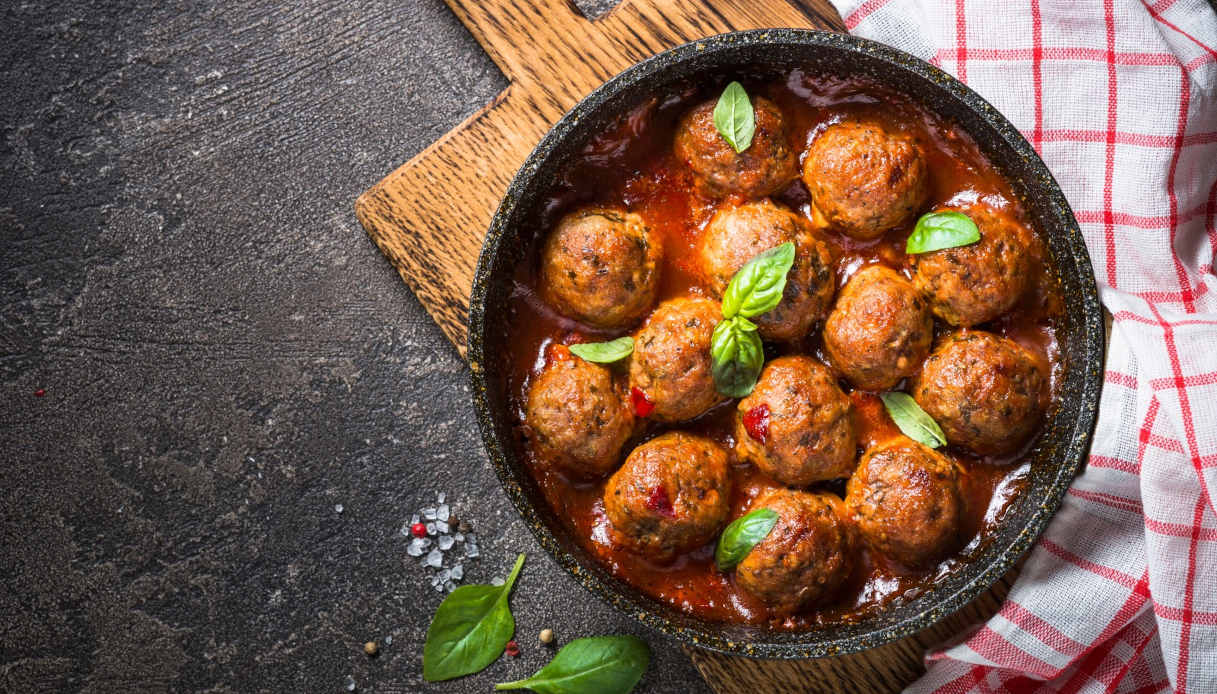 The Pallotte Cheese And Eggs they are meatballs of the Abruzzo culinary tradition. The bread, cheese, eggs and parsley make these meatballs soft and tasty. A recipe from the peasant tradition that can be found in typical Abruzzo trattorias but that can be easily recreated at home for a delicious appetizer or a second course full of flavour!
How the cheese and egg balls were born
The cheese and egg balls come from peasant traditioneven if by now they can be considered to all intents and purposes a symbol of gastronomy in Abruzzo.
The stories that are handed down orally tell that, during the World War IIdue to the looting of country houses and farmhouses, the little food available, i.e. cheese, some eggs and bread, was hidden under the floor beams or behind the brick walls.
Meat was scarce but women used these ingredients to cook these delicious meatballs and continued even after the war when you need a quick mealsubstantial and full of taste to refresh the peasants.
Today, this dish has been brought back to the fore, like many traditional country recipes, and numerous variations have spread, with or without meat, with sauce or plain.
Pallotte with cheese and eggs: original recipe
Pallotte with cheese and eggs are prepared by mixing crumbled bread, eggs, pecorino cheese, a sprig of parsley and a clove of garlic chopped up in a bowl. All these ingredients mix well until a soft (but not liquid) mixture is obtained, as is usually the case for meatballs.
The compound goes modeled by handbetter to avoid the whips of the blender even if for kneading, so as to form smooth and slightly larger than normal meatballs to be fried in abundant boiling oil.
Apart, you have to prepare the messenger with the tomato puree and, once boiling, the fried balls are immersed for at least 20 minutes. The meatballs, absorbing the sauce, will swell and will be ready to be served on plates!
The secrets for excellent cheese and egg balls
To prepare good and tasty cheese and egg balls, start from the choice of ingredients. Better to prefer good quality stale bread, possibly with natural leavening and a fairly seasoned DOP pecorino. If the pecorino was too strong for your taste, you could always replace it with the Parmesan Cheese.
If you don't have ready-made breadcrumbs available, you can leave the stale bread to soak in the latte, until it is soft enough to add to the other meatball ingredients. Alternatively, you can also use the bread crumbs but the taste will be different.
Another important secret for quality pallotte is that of dry well the fried balls to remove the excess oil.
The variations of the cheese and egg pallotte
Pallotte with cheese and eggs are in fact meatballs and there are many different variations, too vegetarian or without minced meat. For example, the pea balls, which include ricotta cheese, parmesan and cooked ham, or the fried aubergine balls, which are completely vegetarian.
If, on the other hand, you want to delicious meatballs and particular, the saffron meatballs are made with this spice. Why not use meatballs to make kebabs? Meatball skewers include meat, eggs, bread and Parmesan and are served on a stick.
Pallotte with cheese and eggs are prepared with tomato puree and there are many variations of gravy meatballs different, such as meatballs with capers or the classic bread balls. If you fancy a different seasoning and oriental references, then you must try the Teriyaki meatballs!

#Pallotte #cheese #eggs #original #recipe