Pasta with mussels, shrimp and squid recipe with photo step by step
Step 1: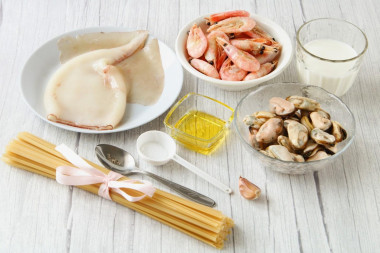 How to make pasta with mussels, shrimps and squids? Prepare the necessary ingredients. I took each type of seafood separately, you can use a ready-made sea cocktail. Defrost seafood first. How to do it correctly, read the link at the end of the recipe. Wash and dry the mussels. Use a paste made from durum wheat. Any will do, like spaghetti or linguine. Take the cream out of the fridge ahead of time.
Step 2: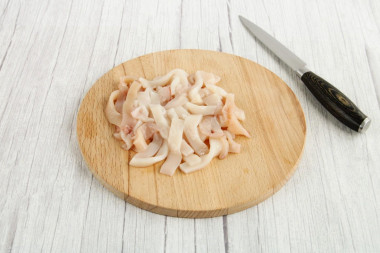 Peel the squids from the skin and thin film. Remove the chitinous plate inside. Rinse the squids well, dry and cut into short ribbons.
Step 3: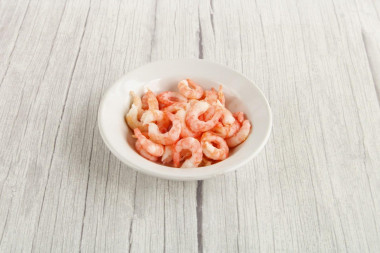 Peel the shrimp, remove the head and tail, wash and pat dry. In a peeled form, I got 130 grams of shrimp. You can take peeled shrimp of any type and size to your taste.
Step 4: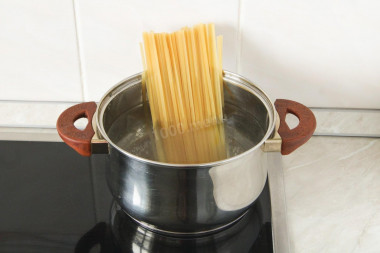 Boil the pasta. Bring water to a boil in a suitable pot. Salt the water and drop the pasta. Mix well so that the paste does not stick together. Cook the pasta at a moderate boil until al dente. The cooking time will depend on the quality of the pasta, follow the instructions on the package.
Step 5: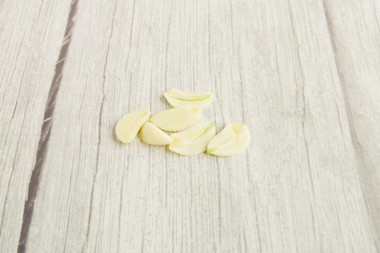 Peel the garlic, cut into thin slices.
Step 6: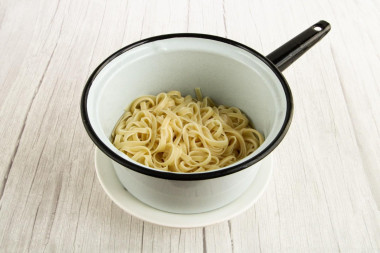 Drain the cooked pasta in a colander to drain the water. Add some olive oil to the pasta and stir.
Step 7: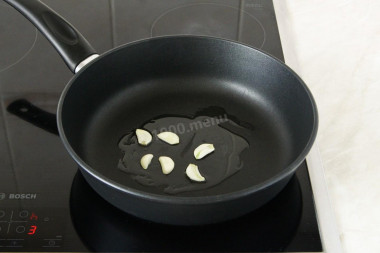 Lightly heat the olive oil in a skillet. Lay out the garlic cloves. Sweat the garlic in oil for 1 minute and remove from the pan. The oil will acquire a spicy aroma. If you want the garlic to be present in the dish, you can finely chop it or pass it through a press and leave it in the pan.
Step 8: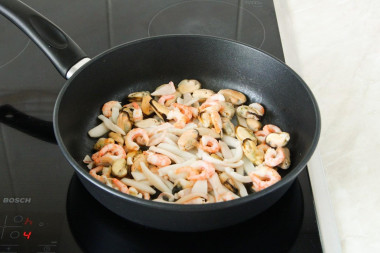 Put the prepared seafood in the pan. Fry the mussels, shrimp and squid, stirring occasionally, over moderate heat for 1-2 minutes.
Step 9: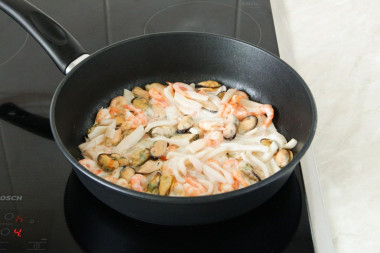 Pour cold cream into the pan, mix. Bring cream to a boil. Boil seafood in cream at a low boil for 1-2 minutes.
Step 10: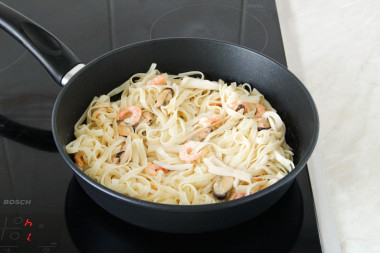 Put the pasta on the pan. Add ground black pepper or any spices to taste, mix. Warm the pasta over low heat for 1 minute. It will absorb the creamy sauce, become tender and fragrant.
Step 11: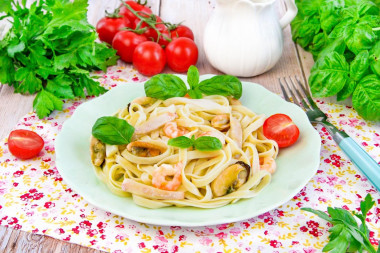 Pasta with squid, mussels and shrimps in a creamy sauce, serve immediately. Bon appetit!
#Pasta #mussels #shrimp #squid #recipe #photo #step #step