Pickled mushrooms with vinegar for the winter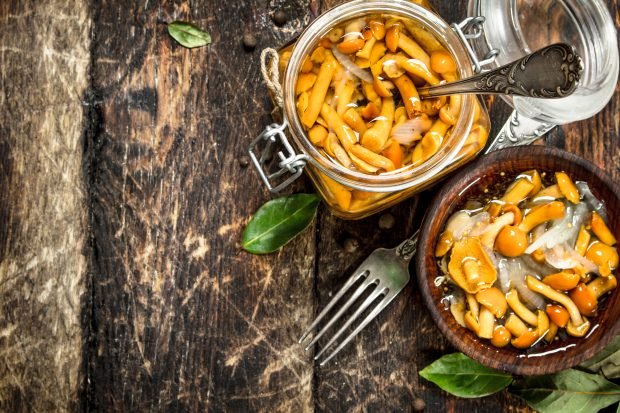 If you have not yet prepared canned mushrooms for the winter, we will correct ourselves. I share a proven recipe for pickled mushrooms. Mushrooms are very tasty, instantly fly away from the table! Use for cooking only those mushrooms that you are 100% sure of.
Step by step cooking recipe
Remove sand from mushrooms and rinse under running water. Boil the mushrooms in boiling water for 5 minutes, then drain in a colander.
Boil water. Add salt, sugar, bay leaf, cloves and allspice.
Place the mushrooms in the marinade, mix. Remove the foam, boil until tender, then pour in the vinegar.
Using a slotted spoon, remove the mushrooms from the marinade and fill sterile jars "up to the shoulders" with them.
Bring the marinade to a boil again, add currant leaves and dill. Boil 1 minute.
In jars on top of the mushrooms, put a currant leaf and a dill umbrella, pour boiling marinade.
Close the workpiece tightly and cool at room temperature. Move the cooled pickled mushrooms to storage in a cool dark place.
#Pickled #mushrooms #vinegar #winter